In the last pair of Pro Street's second qualifying session at PDRA ProFabrication DragWars, Nick Agostino and Bill Lutz made what is likely the quickest side-by-side pass in the class's history, with Agostino's 3.911-second blast topping Lutz's 3.919. Both drivers were eyeing record-setting passes in the 3.80s in the third session, but Agostino's tires broke loose around the 330-foot mark, sending him into the left retaining wall, then across the track into the right wall. Agostino walked away from the crash sore and disappointed, yet optimistic given the circumstances.
Last season, Agostino qualified No. 1 at four of the five races he attended with his twin-turbocharged, small-block-powered '69 Camaro. But he struggled with parts failures and early exits as he pushed the combination to its limits, so this season he changed his approach. He promised his crew he'd focus on charging hard in the front half of the track before applying more power past the 330-foot mark.
"Last year, you guys seen that thing go 210-212 [MPH]," Agostino said. "That's when it runs hard out the back. We didn't do that this year. Because that's hard on parts. You're taking crankshafts out and rods and pistons. So, we said, 'You know what? Let's do the smart thing. Let's start the race instead of just going and seeing how fast we can go.'"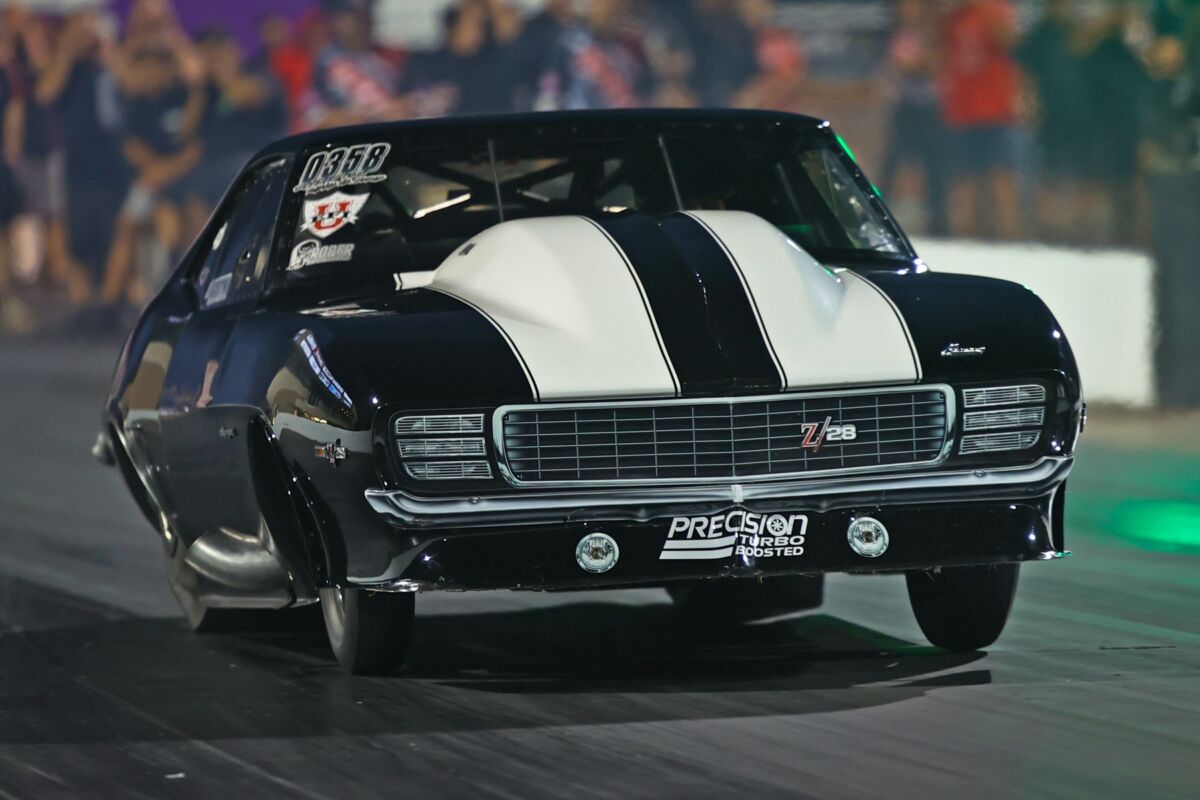 With two full months between the last Pro Street race in Martin, Michigan, and DragWars at GALOT Motorsports Park, Agostino and his team decided to go testing at their local track in Ontario, Canada. Testing produced results that gave Agostino the confidence to get aggressive out the back at GALOT.
"We found some of the things we were missing, and we went really fast at the home track, even though the home track was prepped a little different," Agostino said. "But we went like 1.00 [60-foot], 2.62 to the 330, which is probably .83 to .85 for us. So, when we got here, the track's a little different, and when I started putting the good runs together, we were pretty confident that this last one, I thought we'd probably go like .85 or .86 on that last one."
Another change in Agostino's program this season was the subtraction of waste gates on his twin 88mm turbo combo. After showing promising numbers earlier in the weekend, including a 3.97 at 197.51 in the first session, Agostino gave it all of the boost in Q3, and that's where things went wrong.
"I'm actually controlling boost through just turbo speeds, and I've got blow-off valves on the cold side," Agostino said. "So, what that means is I can have as much boost when I want it. So, now the trick was, as we're testing, finding out how we can use that, right? So, we figured it out until this run.
"Those are 88s, but we were running 58 to 60 pounds of boost the first two runs," he continued. "That last run, I had it set up to run probably 65 or 66 [pounds of boost]. So, that's all they make. I just had it really early to go fast to the 330, and it kicked them just before 330."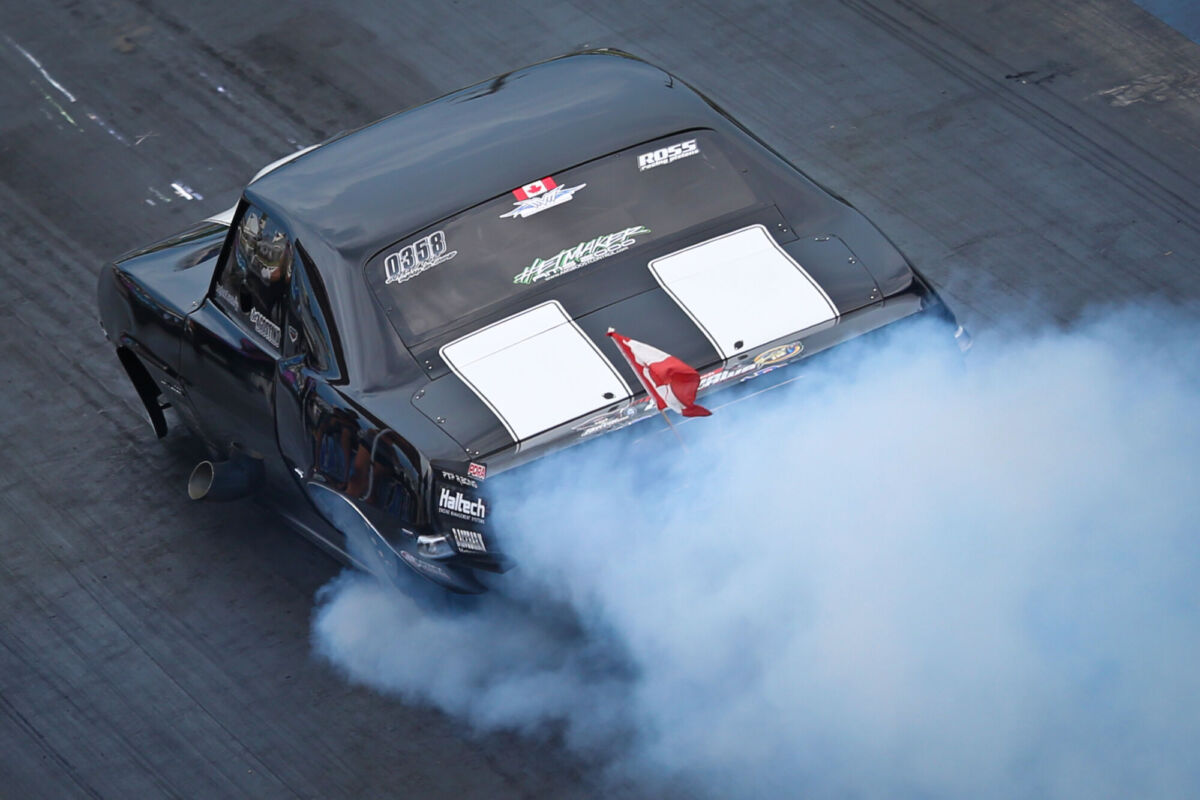 Agostino was in good spirits in his pits late Friday night as the GALOT track crew and fellow racers helped his team move the crashed car from the rollback into his trailer. An early survey of the damage had Agostino optimistic that he can be back on track as soon as January.
"The chassis looks pretty good," said Agostino, who noted he already has a spare custom-built front end back at the shop. "It looks like more cosmetic than anything other than knocking the front struts and everything off the car. But the motor doesn't look like it's hurt at all. The front bars look pretty good, and the hoop inside the car, even though they took the tag off it, I got a good look at it. Without measuring it, nothing looks kinked or moved."
Agostino went into the weekend fourth in points after reaching the semifinals at three of the first five races. He was just three rounds and one point behind points leader Bill Riddle.
"We thought we actually had a shot at it in the points race," said Agostino. "We had a chance to win the last two races. I had the car. We just needed to do our thing. But moving ahead, we'll take our time now, and we won't have to do anything until maybe January. We've got some time to get it apart, get it back on the jig, get it all sorted out, and come back out better than ever."
In closing, Agostino was grateful that he came away from the crash with little more than some bumps and bruises.
"The car really, really did its job," he said. "All the safety stuff that [John] Sears [tech director] and those guys check, and even Jennifer [Briggs], she was giving me a hard time, which is her job, which is making sure you got all your safety stuff. You've got everything up to date. You've got your fire suit. Your HANS is right. You've got pads. If I didn't have that stuff in there, I'll tell you right now, there's no way I'd be walking around talking to you. That was a hard enough hit that you're going to get in trouble, right? Shit happens. But if you can stay safe and still love the sport and move on to another day, that's all I can ask for."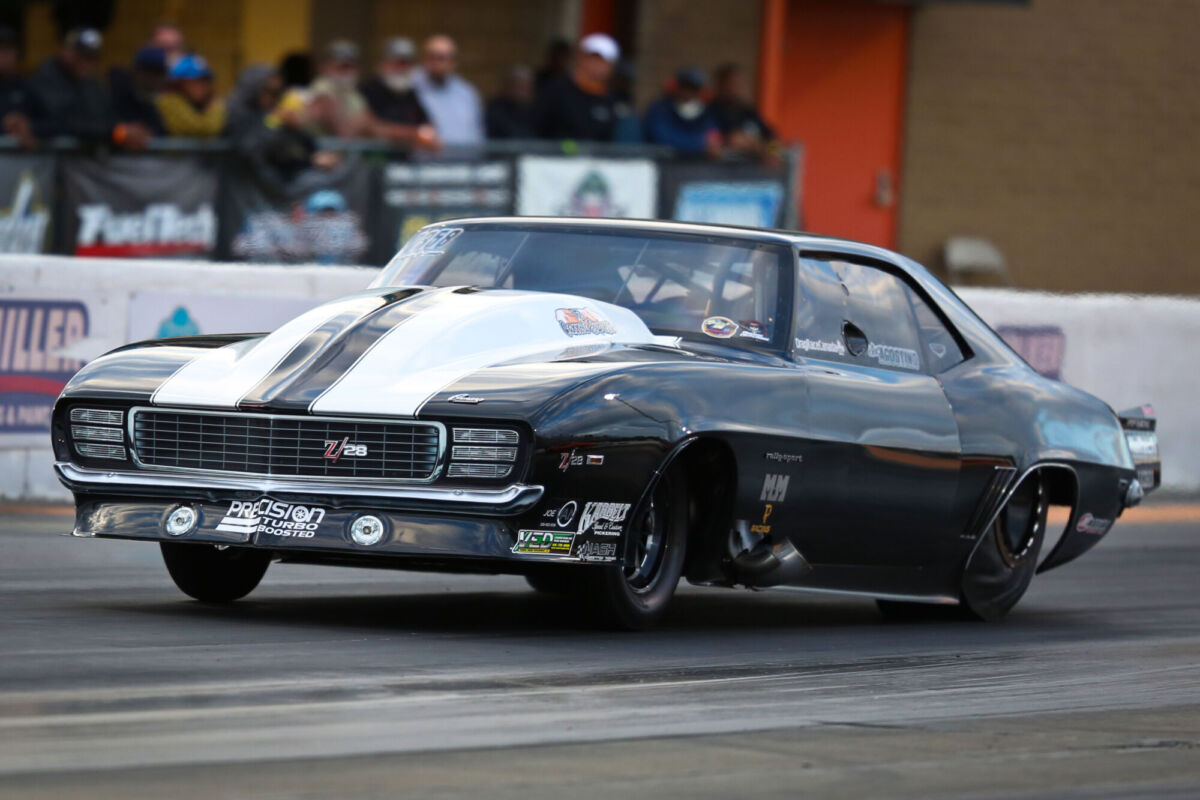 Agostino also praised the safety team's quick response, as well as the outpouring of support he's received from fellow racers and fans since the crash.
"They were on me," Agostino said of the PDRA safety team. "I just got out, and I was out quick, and they were already on me. Randy [Lee] was there, like holy shit, I thought, 'How fast is your bike?' But yeah, those guys did an amazing job.
"My crew, Ralph Maio and Mike Ski, all these guys, they're awesome, and everybody that helps us on the program," Agostino continued. "You've got M&M Transmission, Mark Micke, and everybody that's been helping me with this program and kind of getting it to the next level – Mark Menscer, Sebastian Domingo, Ross Pistons, Pande's Performance, and Nash Competition Engines. It's a goal of mine to compete at the top level and we're kind of there with the help of all these people. We'll be back."