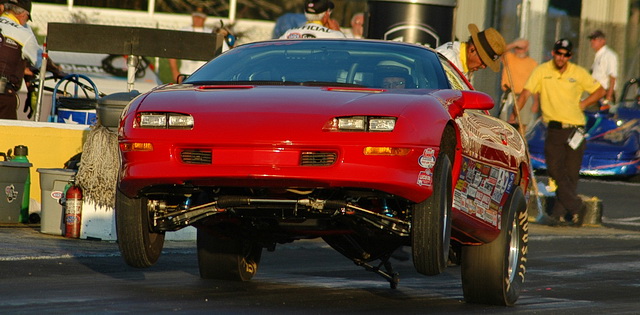 The NHRA Sportsman Racer Advisory Council (SRAC) advisors have been selected following online polling. The SRAC which is entering into its seventh year is designed to maintain the level of communications between participants and NHRA. The SRAC provides a means for discussing and evaluating rules and race policies and procedures pertaining to Sportsman racing at all NHRA events.
The advisory council consists of drivers, owners or crew chief representatives from each NHRA region or division in five eliminator sub-committee groupings including Top Alcohol Dragster and Funny Car, Competition, Super Stock / Stock, Super Comp / Super Gas / Super Street and Top Dragster / Top Sportsman.
"The SRAC representatives input on sportsman related items is an integral part of NHRA's decision making process," said SRAC Chairman Josh Peterson.  "The SRAC Representatives help NHRA with current challenges and help define the future of NHRA Sportsman racing."
Mike Rice will serve as Chairman and Matt Levonas will serve as Co-Chair of the Top Alcohol committee.  Jay Hullinger will serve as Chairman and Trey Capps as Co-Chair of the Super categories committee.  Rob Park will remain Chairman of the Competition Eliminator committee, Dave Mohn will remain Chairman of the Super Stock/Stock Eliminator committee and Rich Schaefer will remain the Chairman of the Top Dragster and Top Sportsman committee.
The first 2014 meetings and conference call for the SRAC will be announced in the coming weeks.
(Photo by Ian Tocher)
2014-2015 NHRA Sportsman Racer Advisory Council
2014-2015

SRAC

Top Alcohol Dragster/

Funny Car

East

Mike Kosky

East

Chuck Anderika

North Central

Marty Thacker

North Central

Andy Bohl

Central

Randy Meyer

Central

Kirk Williams

West

Joey Severance

West

Steve Gasparrelli

Chairman

Mike Rice

Co-Chair

Matt Levonas
2014-2015

SRAC

Competition Eliminator

Super Stock/

Stock Eliminator

Super Comp/

SuperGas/

Super Street

Top Dragster/

Top Sportsman

Division 1

Frank Aragona Jr

Kent Hanley

Jack Sepanek

Ken Moses

Division 2

Lee Sharp

Mike Crutchfield

Greg Brannon

Ronnie Davis

Division 3

Brian Browell

Brad Zaskowski

Scotty Richardson

Rich Forish

Division 4

Craig Bourgeois

Gary Emmons

Craig Anderson

Mark Jones

Division 5

Clint Sallee

Monty Jones

Steve Dominques

Tom Schmidt

Division 6

Aaron Strong

Jody Lang

Ken Harkema

Moe Trujillo

Division 7

Mike Depalma

Jimmy DeFrank

Steve Williams

Joe Roubicek

Chairman

Rob Park

Dave Mohn

Jay Hullinger

Rich Schaefer

Co-Chair

Trey Capps