Jeremy Ray is decidedly old-school. From the "Carolina Kingpin" nickname on the side of his orange '63 Corvette to his "own it, drive it, tune it" approach, Ray is a throwback to the Pro Mod drivers he grew up watching.
He lives close to Pro Mod legend Scotty Cannon, had his Corvette built by Tommy Mauney and wildly respects the approach of veteran standout drivers like Todd Tutterow and Rickie Smith. That old-school demeanor is also why Ray has his sights on competing at the DRAG ILLUSTRATED World Series of Pro Mod, which takes place Aug. 10-11 at Bandimere Speedway.
The South Carolina native has never raced at the Denver-area track, but taking on considerable challenges is what Ray considers one of the hallmarks of old-school Pro Mod racing. Racing on Thunder Mountain qualifies as a considerable challenge, so count Ray invested on trying to tackle it.
"I'm always up for a challenge," Ray said. "I do race because of a challenge and this will be one I've never been involved with before. I think this is where Pro Mods need to be, getting the main spotlight. It's always good to go somewhere where you're the main attraction. It's going to be a cool deal and I'm really looking forward to it."
Taking a cue from guys like Tutterow and Smith, Ray's approach is simple, but very effective as exemplified by his NHRA Pro Mod final round appearance last weekend in Norwalk.
His small, tight-knit team consists of only family members like his father, wife and children, and Ray makes all the calls on his car.
It makes for much more work, but Ray likes it that way. It's the style he enjoyed watching as a fan, and it's been a key cog of his success since he started Pro Mod racing in 2014.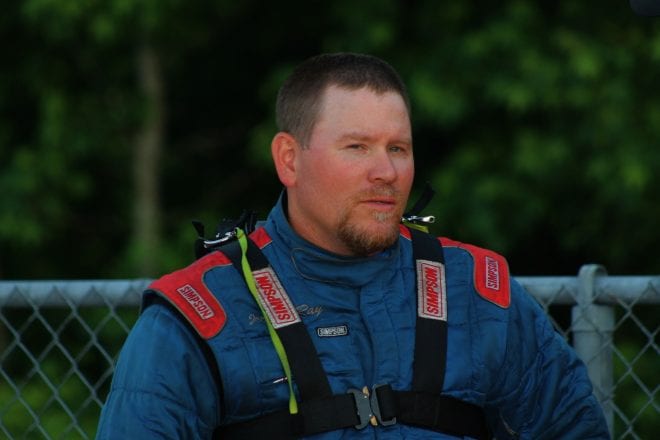 He made his PDRA Pro Boost debut that year and has been a top-10 finisher the past four seasons, winning a race in 2017 and the PDRA opener this year. Ray, who also won the Carolina Extreme Pro Mod championship last season, made his NHRA Pro Mod debut this year and has been a top performer, recording a No. 1 qualifier in Richmond and a runner-up finish in Norwalk. Ironically, that race was against Smith, meaning Ray is living out his dream on a high level.
"I watched all these guys and thought (racing Pro Mod) would be cool," Ray said. "And I always wanted a '63 Corvette. I told Rickie it was an honor to run beside him. I'm honored to run beside a lot of these guys. They are the real, true racers who made Pro Mod what it is.
"I'm a hands-on person. I like to be involved. The less hands touching parts, the better. But I just enjoy that part. I couldn't just show up and drive."
There will be plenty of work in Denver for the WSOPM, where Ray will go with an empty slate but also confidence he can compete for the huge $100,000 payout against the Pro Mod elite.
Ray has established himself as a top-flight competitor and tuner, and he'll go to Denver with an approach in mind. Testing the week of the race will be beneficial to see how his blower car responds, but the soft-spoken Ray isn't making any bold predictions about his chances at the WSOPM, either.
"I focus on my car," said Ray, who also thanked partners J&A Service, Cameron's Torque Converter Service, CFH/Chuck Ford and Tommy Mauney Race Cars.
"I don't get involved with all the talk, all the different discussions. I focus on my own program and work on it. I don't run my mouth. I try to let the scoreboard do the talking for me. I'm just not that type of person."
But one thing Ray does know is how much winning the WSOPM would mean. There's the obvious in the six-figure paycheck, but also the fact that it would say a great deal about his old-school approach.
It's a style that makes it more meaningful to him when he does succeed, and he welcomes any additional pressure it brings. After all, it's only the biggest challenges that Ray wants to try to solve in the first place.
"The only reason I decided to run NHRA is because I heard how hard it is and I like the challenge. That's what I like," Ray said. "I think about what Denver will be like and I know it's going to be a big challenge. I'm looking forward to trying something new and having a chance to win $100,000. I could race for a whole season off that."