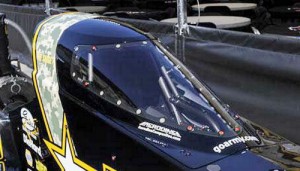 The NHRA Technical Department has granted conceptual approval of a prototype cockpit canopy submitted by Aerodine Composites Group (Aerodine), which was originally designed by Don Schumacher Racing (DSR).
The initial prototype component has been reviewed by the NHRA Technical Department and the NHRA Safety Safari presented by AAA.  In addition, NHRA contracted Purdue University Center for Systems Integrity (PCSI) to perform an aerodynamic competitive analysis assessment.   Based on the assessment from all three entities, several issues and modifications will need to be resolved prior to Aerodine Composites Group submitting the final production component package.
The final aerodynamic competitive analysis assessment utilizing CAD and CFD modeling was completed last week by PCSI.  A preliminary analysis revealed that the prototype canopy did create an aerodynamic advantage.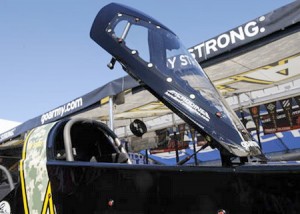 Working together, NHRA, DSR, Aerodine and PCSI were able to eliminate the aerodynamic advantage by designing a 0.75-inch wicker bill into the top trailing edge of the canopy.
In addition, among the issues noted during the prototype review was a need for fire hose access.  The NHRA Technical Department and NHRA Safety Safari were recently provided samples of four different types of newly designed kick-out panels for fire hose access.  The samples were tested at the Mopar Mile-High NHRA Nationals this past weekend and one was approved for inclusion in the component package. Additional items, including a reflective canopy fastener, fresh air system and fire bottle are undergoing final approval.
The NHRA Technical Department anticipates receiving the production intent canopy for final review within the next several weeks.  Until the final review is completed, and final approval granted, the canopy will not be allowed to run in competition.
Aerodine Composites Group will be the manufacturer and distributor of the cockpit canopy, which will be an optional component and available to all race teams.
(Photos courtesy NHRA/National Dragster; Click to enlarge)