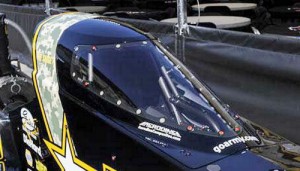 NHRA Technical Dept. officials announced today that a cockpit canopy for Top Fuel dragsters has been approved for use starting with this weekend's NHRA Lucas Oil Nationals in Brainerd, Minn.
The cockpit canopy will be manufactured and distributed by Aerodine Composites Group and will be available for use by all Top Fuel teams. The equipment is an optional component, not mandatory.
"We were able to see the finished product yesterday and give our final approval to the Aerodine representatives," said Glen Gray, vice president of technical operations, NHRA. "The product includes a fresh air system, fire bottle, and kick-out panels. The cockpit canopy will be available to any team that wants to use it starting this weekend in Brainerd."
"We are very, very excited to be able to take NHRA and Top Fuel Dragsters into a new era of safety," said team owner Don Schumacher, a longtime safety innovator since he began driving and owning Funny Cars in the mid-1960s.
"I'm proud of what our talented people at DSR were able to develop with Aerodine, and thankful that NHRA invested the time into studying it and then approved it once we were able to incorporate their requests."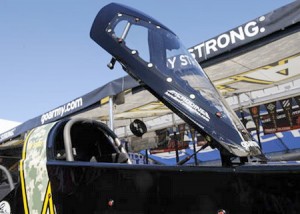 It will be the first time since preseason testing Jan. 15-21, 2012, at Palm Beach International Raceway in Jupiter, Fla., that the canopy will be used at a dragstrip
Schumacher, the seven-time Top Fuel world champion, made 13 runs with it at Florida and posted a best run of 3.761 seconds and 324.28 mph. Since then and without a canopy, Schumacher has run as quick as 3.746 seconds (Englishtown, N.J., 2012) and became the first Top Fuel driver to reach 330-mph (Charlotte, N.C., 2012) since NHRA shortened the racing distance by 320 feet to 1,000 feet in mid-2008.
"This never has been about performance. This is about safety," Tony Schumacher said. "I want every driver to have one. We aren't hiding anything. Again, this is just all about making it safer for all the guys in Top Fuel."
"When I sit in this car under the canopy I have a level of comfort in a racecar that I haven't had in a long time. Every driver should have that feeling. I've lost some good friends out here and don't want to lose any more."
Other than Florida testing in January, the only time the canopy was used was for a promotional burnout with DSR teammate Antron Brown on pit road of Charlotte Motor Speedway during pre-race festivities for the NASCAR Sprint Cup Coca-Cola 600 on May 27.
The canopy was approved after a few modifications were made at NHRA's request.
NHRA contracted Purdue University Center for Systems Integrity (PCSI) to perform an aerodynamic competitive analysis assessment with Computer-Aided Design and Computational Fluid Dynamics modeling. The analysis was completed a few weeks ago the preliminary findings indicated a possible aerodynamic advantage so a three-quarter-inch wicker bill (flat, vertical piece) was fitted into the top rear edge of the canopy.
Also added were kick-outs on lower side panels for fire hose access; reflective canopy fasteners and a fresh-air breathing system for the driver's helmet like what is used in Funny Cars.
Now that NHRA has provided technical specifications for the unit, it will be available to be purchased by anyone; it is not proprietary to DSR.
CANOPY BACKGROUND
The canopy concept began when U.S. Army crew chief Mike Green thought back to when he raced 200-mph drag boats. He contacted longtime friend James Brendel, who owns Hondo Boats and Brendel Safety Capsules in Riverside, Calif. Brendel pioneered the use of enclosed capsules for drag boat racing, and the innovation has been responsible for saving countless lives and possibly the sport.
Green finally had the resources and funding for his project after he joined DSR in 2008 and shared his vision with the team owner.
Don Schumacher and Green embarked on the project in earnest two years ago and it came to fruition a year later when Brendel's self-contained canopy was fitted into a Top Fuel chassis and tested in Florida.
The capsule worked well but was too heavy, Green said.
DSR began working to develop a second generation canopy with Brendel and Aerodine, which has designed and manufactured various parts for top NHRA and IndyCar teams over the past 20 years.
Aerodine built the canopy using a combination of Kevlar and carbon fiber, and that unit slips over of an existing chassis to nearly enclose the cockpit and tops it with an attached full canopy that lowers over the driver.
The module is reinforced for further side protection. The canopy can be quickly released inside by the driver or at the rear by crew or safety workers. The canopy also carries a fire suppression system and fresh-air breathing system similar to those used in Funny Cars.
The Lucas Oil NHRA Nationals will be held Aug. 16-19 at Brainerd (Minn.) International Raceway. It is the 16th of 23 events in the NHRA Full Throttle Drag Racing Series.