Fans can expect more power than ever when drag racing's spectacular four-wide thrill show returns to zMAX Dragway April 27-29. NGK Spark Plugs (U.S.A.), Inc. on Friday announced their title sponsorship of the NGK Spark Plugs NHRA Four-Wide Nationals.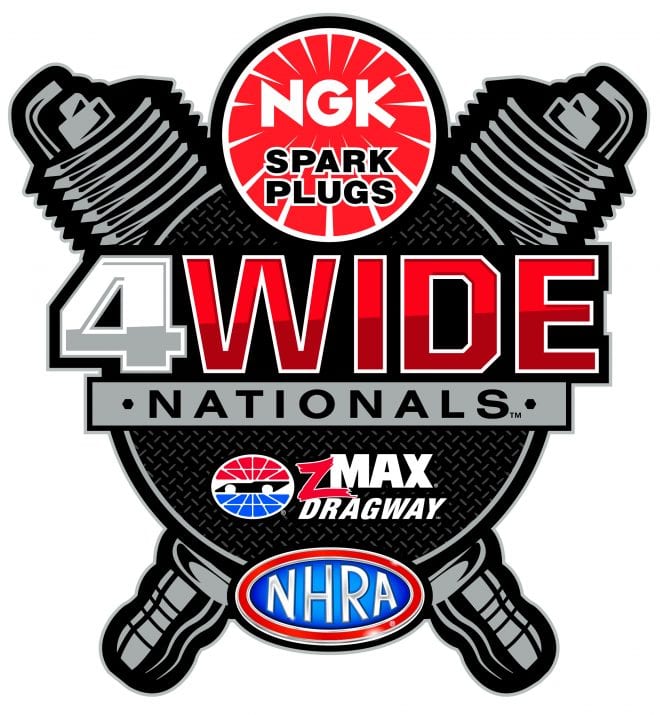 "NGK Spark Plugs is thrilled to sponsor the prestigious NGK Spark Plugs NHRA Four-Wide Nationals at zMAX Dragway," said Danielle Orlando, the general manager of marketing for NGK Spark Plugs. "We've partnered with Charlotte Motor Speedway for nearly a decade, and we relish the opportunity to kick our support into high gear by sponsoring one of drag racing's premier events at one of the world's most iconic racing and entertainment venues."
The multi-year agreement gives NGK Spark Plugs top billing for the NHRA Mello Yello Drag Racing Series' original four-wide fracas.
"Charlotte Motor Speedway is all about providing an unforgettable show for fans at all three of our venues," said Greg Walter, the executive vice president for Charlotte Motor Speedway. "The NHRA Four-Wide Nationals and NGK Spark Plugs are proven icons in American racing, so having NGK come on board as our title sponsor is a perfect fit. We're privileged to announce this partnership and are excited to witness the outcome of what is sure to be a tremendous race weekend no fan should miss."
On hand to help make the announcement along with NGK and zMAX representatives was NHRA Top Alcohol Dragster star Megan Meyer, who is two races into a two-year title sponsor partnership with NGK Spark Plugs. Currently qualified No. 7 in the NHRA Gatornationals Top Alcohol Dragster field, Meyer will return to zMAX Dragway for the Four-Wides, the site of her first NHRA national-event win in 2016.
"This my first national event of the year, so it's great to have everyone from NGK here to support us and cheer us on this weekend," Meyer said. "We're very optimistic about this year and I'm excited to see what happens at the NGK Spark Plugs NHRA Four-Wides."