Every racer has longtime goals that revolve around bringing home a coveted championship at the end of a hard-fought season. In the past, many classes would not have that opportunity due to not being run in a formed series or organization. In 2017, John Sears opened a new door in outlaw drag racing, offering a championship series for his X275 category, which spread like wildfire over the entire class, even in different parts of the country due to event zoning. In 2018, Sears has stretched his championship series into his other creation, Ultra Street.
For those who do not know, Ultra Street is another one of the popular 275 drag radial categories, but the class is limited to a step below the world-renowned Pro 275 tire from Mickey Thompson Performance. Most racers are running the ET Street R tire from M/T or the equivalent from Hoosier Racing Tires. The power adder combinations are very limited with turbocharger and supercharger sizes. Nitrous oxide is limited on a small block to one kit, while big blocks are being added to the nitrous oxide fold in 2018, but limited to a jet restriction. With the limitations on power adders, naturally aspirated cars can still have a place to race and run up front, as Alex Hays is the current Ultra Street elapsed-time world record holder with a 4.69 in his all-motor Ford Mustang.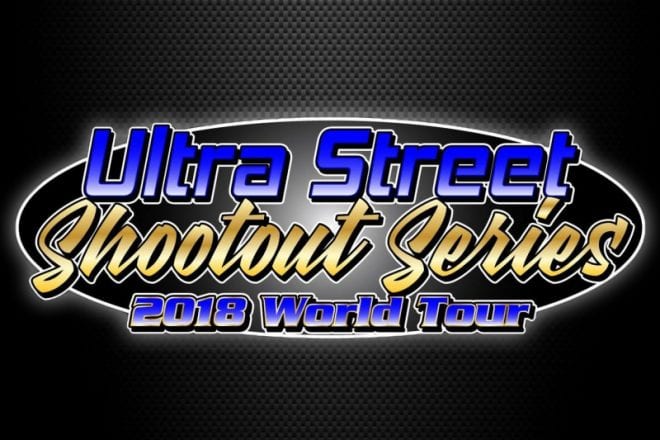 At the end of 2017, Sears and the Ultra Street crew had all power adder combinations within a half-tenth of a second, creating some of the best side-by-side racing in the drag radial world. Moving into the new year, plenty of the class's biggest and toughest competitors have their sights set on the inaugural championship series and their first chance at winning a title. There are nine select events across the country that have been highlighted to gain points for the class, but each contestant can only claim five events towards their year-end total. Several racers are not able to travel due to this being a working man's radial class, and the decision was made to take the top five events where more racers will have a chance at year-end supremacy.
Check out the full 2018 season schedule for the inaugural Ultra Street Shootout Series listed below. Stay tuned to DragIllustrated.com as we will keep you glued to the series as the exciting 2018 season kicks off and gets rolling.
2018 Ultra Street Shootout Series Season Schedule
US Street Nationals – Bradenton Motorsports Park – January 26-28th
Lights Out 9 – South Georgia Motorsports Park – February 15-18th
Takedown – Darlington Dragway – March 8-10th
Outlaw Street Car Reunion – Beech Bend Raceway Park – April 18-22nd
Prize Fight – Ohio Valley Dragway – June 14-16th
YellowBullet Nationals – Cecil County Dragway – August 31-September 2nd
Shakedown at the Summit – Summit Motorsports Park – September 14-16th
No Mercy 9 – South Georgia Motorsports Park – September 26-30th
World Street Nationals – Orlando Speed World Dragway – November 9-11th