On Thursday, October 15, 2015 at 8:55am EST, Keith Berry made a post on Facebook that rocked the radial tire world. He put his championship-winning, record-setting, envy-inducing 454ci Pro Line Racing motor up for sale. The reason why he decided to ditch the turbo combination, though, was even more jaw-dropping than the sale itself: Berry is leaving the LS world.
"All the billet goodies from crankshaft to block to intake to oil pan. Billet inner-cooler included. Headers included," said Berry's for sale post, which included practically everything forward of the firewall. Within minutes, a firestorm of comments was posted, and Berry struck a deal almost instantaneously with an undisclosed buyer. Considering how quickly the goods were snapped up, it sure sounds like Berry wasn't asking nearly enough for them. "It was a fair deal for both of us. I'm sworn to secrecy on who bought it or what it'll be doing, but it will be staying in the United States and it will be extremely interesting," he divulged. Berry did say, however, that his setup won't be heading for an eighth-mile radial setup, and so the speculation begins on where exactly it will wind up.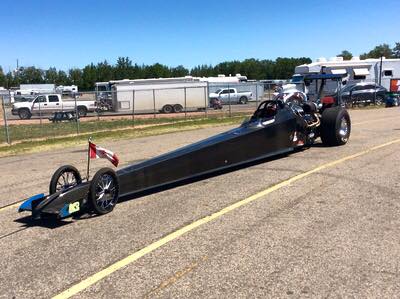 In place of his now long-gone LS, Berry will be running a 4.5" bore space motor. "We had made plans on going this route before, and I found one hell of a monster outside of the U.S. that's technically a small block. We're gonna run alkie and 98mm turbos," he explained of the Chevy power plant which is equipped with CFE SBX heads. Currently, Berry's new motor resides in a dragster and he'll be taking delivery of the entire car before yanking out the heart to transplant it into his radial tire Bell Chassisworks C5 Corvette.
Although he won't say where the dragster came from just yet, or who it belonged to, Berry did share that his new toy was set up for a quarter-mile application and has run a best elapsed time of 6.0-seonds on just over 30 psi of boost.
Berry confessed that he's toying with the idea of having his new dragster delivered to Las Vegas for the PSCA Street Car Super Nationals race in mid-November so that he can make a few passes in it before the tear down begins. "Because you're up front with the open top, they say it seems like you're going twice as fast, and that would be so much fun to experience," he said excitedly.
Berry's announcement comes on the heels of Pro Line Racing's announcement of their new EFI blower engine setup, but Berry confirmed he's not moving to blower power just yet. "It's tempting, and there's still a ten percent chance a blower may happen, but not now. The weight break advantage of the small block is what we're after. We found our niche, and that's the route we're going."
Pro Line Racing will, however, be overseeing Berry's new program. "They're going to tear down the motor, and 'Pro Line' it to give it the PLR touch," laughed Berry, who's also excited to get his hands on a set of new Billet Atomizer 1500 injectors.
Plans for Berry's "New WOOOO!" 2016 include testing in January the week prior to the U.S. Street Nationals race at Florida's Bradenton Motorsports Park, then officially beginning his season with that race. He'll stick with his tried-and-true circuit of NMCA Radial Wars competition as well as other radial tire races, including Donald "Duck" Long's Lights Out and No Mercy events at South Georgia Motorsports Park. "Since this is a new combo that nobody else is doing the way we're going to run it, we may even do some grudge racing for the first part of the year," he noted. "It's going to be stupid fast."