The first of 16 events for the NHRA Pro Stock Motorcycle class brings us to Gainesville Raceway this weekend. The 47th annual AMALIE Motor Oil NHRA Gatornationals will be opening race for Star Racing's Angelle Sampey and Cory Reed to show what they've learned over the off season with their Precision Service Equipment/Star Racing Buells.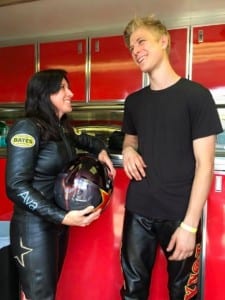 Angelle Sampey is no stranger to the Gatornationals. She has ridden her way to the finals four times in her career and hoisted the Wally a total of three times in 1999, 2003, and 2006. The 3x time NHRA Pro Stock Motorcycle World Champion is looking forward to hitting the track for the first time of the season.
"I'm very very excited," said Sampey. "I can't wait to get back on. I'm nervous but not a worried nervous. It's more of an excited and anxious nervous.
"I've been training hard and I've got a brand new motorcycle. I haven't had a brand new motorcycle in a long time and they build this bike to fit me and nobody else."
Rookie rider Cory Reed joins Sampey on the Star Racing team that has won six NHRA Pro Stock Motorcycle Championships. Albeit his first season on a Pro Stock Motorcycle, Reed took his first trip down the drag strip at the age of eight in a Jr. Dragster.
"When my mom met my stepdad Jim (Whiteley), he got us into Jr. Dragsters and we raced them from about age eight to fourteen," said Reed. "When I was a teenager, I started racing dirt bikes and got really deep into that and really fell in love with it. It took me away from drag racing for a little bit because I dedicated my life to it."
"I knew my family would love to see me get back into drag racing and I felt really comfortable on a bike. Coming back to drag racing means I can see my family a lot too and that's a plus."
Reed attended George Bryce's drag racing school and fell in love with being on a Pro Stock Motorcycle.
"This is less stressful than riding dirt bikes. I don't have to wake up every morning wondering if I'm going to break my leg or wind up in the hospital that day so it really makes it sweet going somewhere and being so comfortable and happy."
Although Reed is in his rookie season after making his debut in Las Vegas in October, Sampey is already confident in her teammate's capabilities.
"I don't see him as a rookie," said Sampey. "He's so talented that I don't look at him as a rookie rider. I'm so excited to have him as my teammate; I've been blessed to have the best teammates in the world and Cory falls right in that bracket."