On paper, Brett Nesbitt should have had the car to beat all season long, having bought the Rickie Jones Pro Mod '69 Camaro and installing Nesbitt power under the carbon fiber front clip. But, as we all know, we do not race on paper. We settle this at the track, man to man, car to car, powerplant to powerplant.
This seasons list of Big Dog winners read like a who's who of the class. April's winner was local runner Ronnie Gardner in the Jack Gaddy-owned Camaro. May saw new points champion Tim Lawrence winning. June was won with Nesbitt power, but in the trusty GTO Judge of driver and Nesbitt employee John Lassiter with partner Jeff Miller. July's PowerJam was won by Brian Schrader in his Top Sportsman '63 Corvette with Fulton power. Then it was time for Lawrence to seal the deal with his second win in the August edition. But the finale went to Nesbitt, who ran consistent 4.00s and drove to perfection.
The September event began with buzz over who would run in the 3-second range because of the air temperature and everyone's improving times as the season came of age. Qualifying went as follows: Lawrence at 4.013, Bubba Turner at 4.017, Brian Schrader at 4.020 and Jason Harris at 4.028. Any of these drivers could have been in the threes, but it was not to be on this night. The final four drivers were composed of Cam Clark at 4.035, Nesbitt at 4.051, John Lassiter at 4.301 and Scott Lang in eighth. To prove how tough the field was, Dan Ferguson's beautiful '63 Vette was unable to crack the top eight.
First-round winners were Lawrence over Lang, Harris over Clark, Turner over Lassiter, and Nesbitt getting the best of Schrader's Corvette. With Harris and Nesbitt winning their respective semifinal rounds, the stage was set for the Nesbitt RJ Camaro to compete against the Robert Hayes Camaro of Harris. When the smoke cleared, it was Nesbitt using a 4.035 to defeat a very close 4.039 of Harris. Nesbitt was quick to thank his employees, John and Jared, his father, and the following sponsors: Hoosier, APD, Matt Giangrande at CV Products, Carrillo Rods, T & D Rockers and, of course, Ron Senecal, Rick Moore, and all the staff at Piedmont Dragway.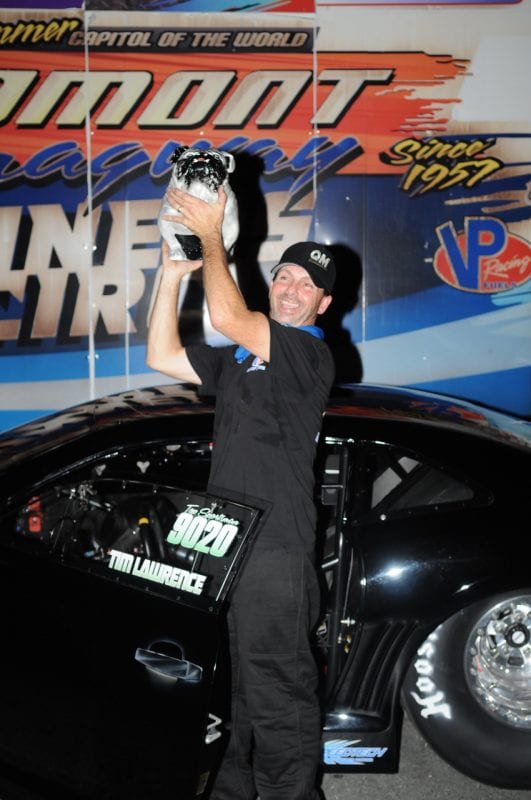 Tim Lawrence won the season-ending points with just a qualifying time with 149 points over Nesbitt's final 123 and Schraders 118. Lassiter was fourth with 111 points and Clark fifth with 107. Congratulations to the Lawrence team on the first Big Dog tite for Tim, his dad, wife Tracey, and chassis guru Dane Wood. Reliable power has come from an Albert Racing Engines 706 c.i. bullet with two systems all season long. Guess you see why we don't race on paper.
Notable quotes included a pre-final-round discussion between Brett Nesbitt and Jason Harris, who were discussing the possibility of splitting the money to which both answered, "Forget the money, I want the Dog!" That trophy is still one of the most coveted in all of drag racing.
Regarding the year, Nesbitt said, "I believe that there are several cars that have potential to run in the threes, myself included." Turns out, Nesbitt had gremlins in the transmission all summer long. The team car, belonging to John Lassiter and Janet and Jeff Miller, is up for sale.
Other season points winners included Travis Harvey in O'Reilly Outlaw Doorslammers, Ray Anderson in Deep Creek Motors 6.00, and Ken Myrick in 7.49 Rico's Real Street. The Piedmont season-ending banquet will be held in February 2018 at the Greensboro Coliseum following the 2018 Hot Rod & Drag Expo. Be sure to follow the track website for all the news from the "DoorSlammer Capital of the World", historic Piedmont Dragway, celebrating 60 continuous years of operation.
Another upcoming event of note is the Lucas Oil Outlaw Big Dog Throwdown on November 4th, which will be held with competitors having the option to "tweak" the power adders they use and give the management at Piedmont information as to any adjustments that may be made to the rules package for the 2018 season.
For more information, go to the website at: www.piedmontdragway.com or call Rick Moore, general manager.
Story and photos by Greg Burrow