Empire Dragway fans love Pro Modified racing, and the Northeast Outlaw Pro Mod Association (NEOPMA) will give them exactly what they're looking for this weekend at the Empire Northeast Outlaw Pro Mod Challenge, June 30-July 1. Around two dozen drivers are expected to put on a show for Empire's enthusiastic fans.
"We've only been racing at Empire for the last two years of our 31-year history, but it's quickly become one of our favorite tracks," said John Mazzorana, founder and president, NEOPMA. "Jerry Scaccia [track owner], Patrick Budd [track manager], and the Empire team have become great friends of the series. They roll out the red carpet for our racers, and the fans do the same. Standing ovations aren't uncommon when the cars come back up the return road. It's a special place, and we're ready to get back there for the first time this season."
NEOPMA will also return to Empire on August 18-19 for the Empire Northeast Outlaw Pro Mod Challenge V.
"We had our first race at Empire in 2021. It wasn't long after that race that Jerry asked us about doing two races in 2022," Mazzorana said. "Between the first-class treatment from the track and its fans and the great conditions, it was an easy decision for our group to hold two races per season at Empire."
This time around, drivers expected to compete at Empire include two-time and reigning NEOPMA champion Mike Decker Jr. and son Mike "Hollywood" Decker III, Kevin McCurdy and Tyler Hard of Hard Racing, Steve King, Fredy Scriba, Tommy Gray, Andy Jensen, Derek Ward, and Matt Deitsch, as well as local standouts like Melanie Salemi and Dave Texido.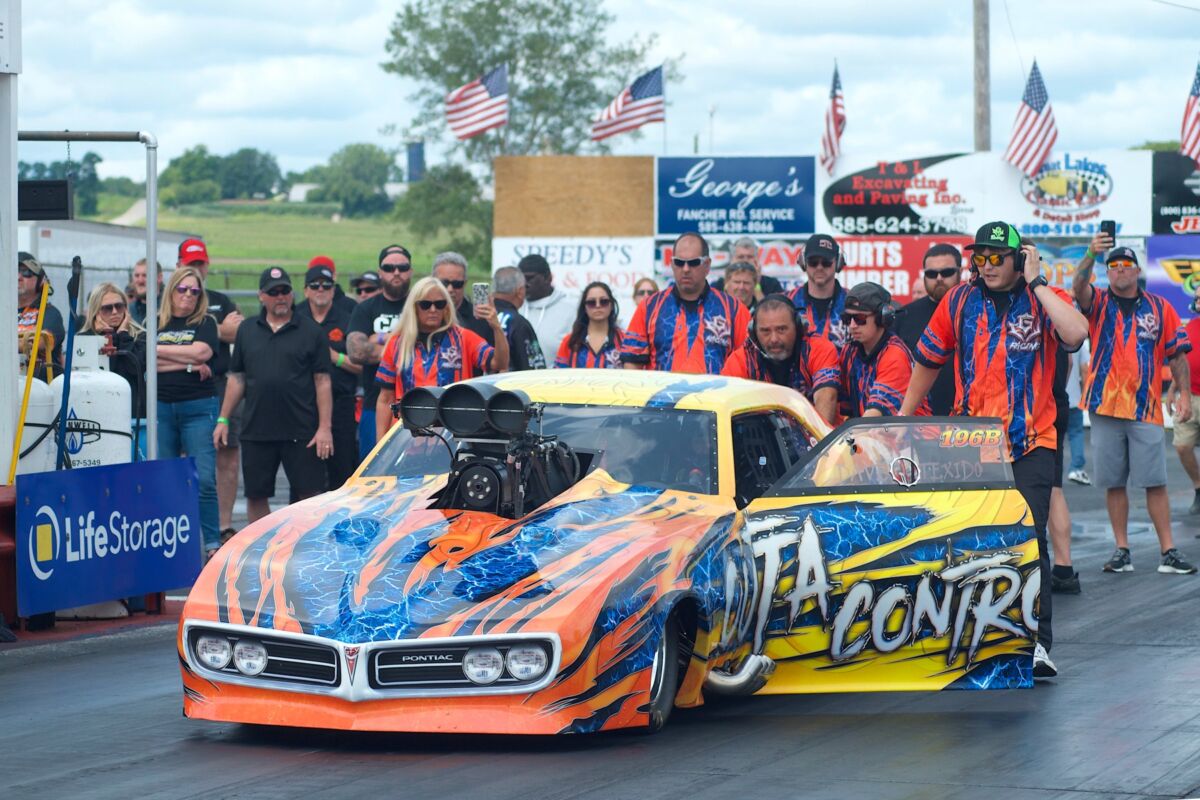 Drivers at Empire will be competing for an expanded payout thanks to contributions by Scaccia and member sponsor Kurt Steding. NEOPMA also receives support from product manufacturer sponsors VP Racing Fuels, ATI Performance, USA Auto Parts, Jerry Bickel Race Cars, and Canvas Plus. Along with Steding, member sponsors include Brian Hard, Fred Scriba, Gene Pilot, and Harry Pappas.
"We're proud to have support from some incredible sponsors," Mazzorana said. "The winner this weekend will walk away with $7,000 and the runner-up will get $2,000. Payouts go all the way back to first-round losers, plus we'll have a No. 1 qualifier bonus, as well as a consolation race assuming we get enough cars."
NEOPMA competition at the Empire Northeast Outlaw Pro Mod Challenge IV will begin Friday with qualifying sessions around 5 p.m. and 7 p.m. A final qualifying session is scheduled for 11 a.m. on Saturday, with elimination rounds to follow beginning at 2 p.m.
Tickets are available at the gate for $30 per day or $55 for a two-day pass.
For more info about NEOPMA and the Empire Northeast Outlaw Pro Mod Challenge IV, visit www.NEOutlawProMods.com or www.EmpireDragway.com.