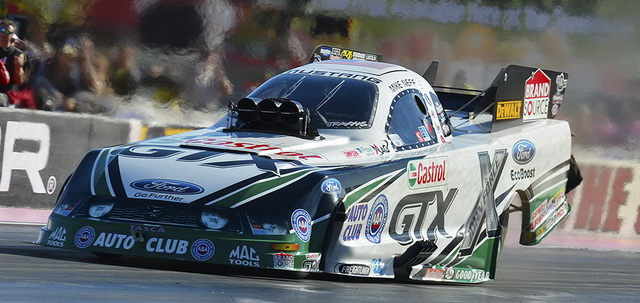 With an an opportunity to become the first in 38 years to win an NHRA Funny Car title in the dual role of driver/crew chief, John Force Racing's Mike Neff doesn't plan to go gently into the off-season.
"The ultimate motivator is being in contention at the end of the year and running strong and finishing on a good note," said 46-year-old Neff. "Even when you don't have a good season, finishing strong is important because you know you've got all winter long to gear up and start fresh the next year, but we won't start worrying about next year until Sunday night."
Stung two weeks ago by the failure of a $5 clutch part that sent him to the sidelines in the second round of the Big O Tires Nationals at Las Vegas, the two-time world championship-winning crew chief (with Gary Scelzi in 2005 and John Force in 2010) needs a miracle at this weekend's 48th annual Auto Club Finals at Auto Club Raceway in Pomona, California, to overcome what, basically, is a four-round deficit.
First, he realistically needs to decrease the margin by which he trails both Jack Beckman and Ron Capps to less than 80 points (the current margins are 88 and 84, respectively).  Then, he has to win the race.
Finally, he has to hope for the first-round elimination of both front runners. That last item is the obvious sticking point, though Neff is encouraged by the fact that when he and Force won the championship two years ago, they made up 79 points on the final day to slip past a devastated Matt Hagan.
"I'm not giving up," the former off-road truck mechanic declared.  "My car's been running awesome.  We'll just see what happens.  There's only three teams in the hunt and we're one of them, so that's not all bad."
Despite the long odds, Neff has every reason to feel good about this week's race. In addition to tuning Force to victories in both Pomona races in 2010, the former motocross rider won his first race as a Funny Car driver at the 2009 Finals and, while he was crew chief to Scelzi, the two of them won the 2007 Winternationals.
Furthermore, it was just last February that he and his Castrol GTX Ford dominated at the season-opener before losing to Force on a final-round holeshot.
"That's what's so exciting about NHRA drag racing," Neff said.  "You can't make it up in the next turn.  You get one shot at it.  You either get it right, you catch a break or it's over with–and you have to do that four times in one day.  We only did it right three times in February.  That's what makes it so challenging."
(Photos courtesy JFR; Click to enlarge)