Ned Dunphy has been preparing for Hot Rod Drag Week for three years and three months. What's taken Dunphy nearly 1,185 days to finally be able to enter the iconic event, is his Gen 5 Dodge Viper.
Dunphy specifically purchased this car to compete in Hot Rod Drag Week, Sick Week and also has plans to race at Radial vs. the World and the Haltech World Cup in the Outlaw vs. Extreme class. However, Dunphy dished on how the story really began.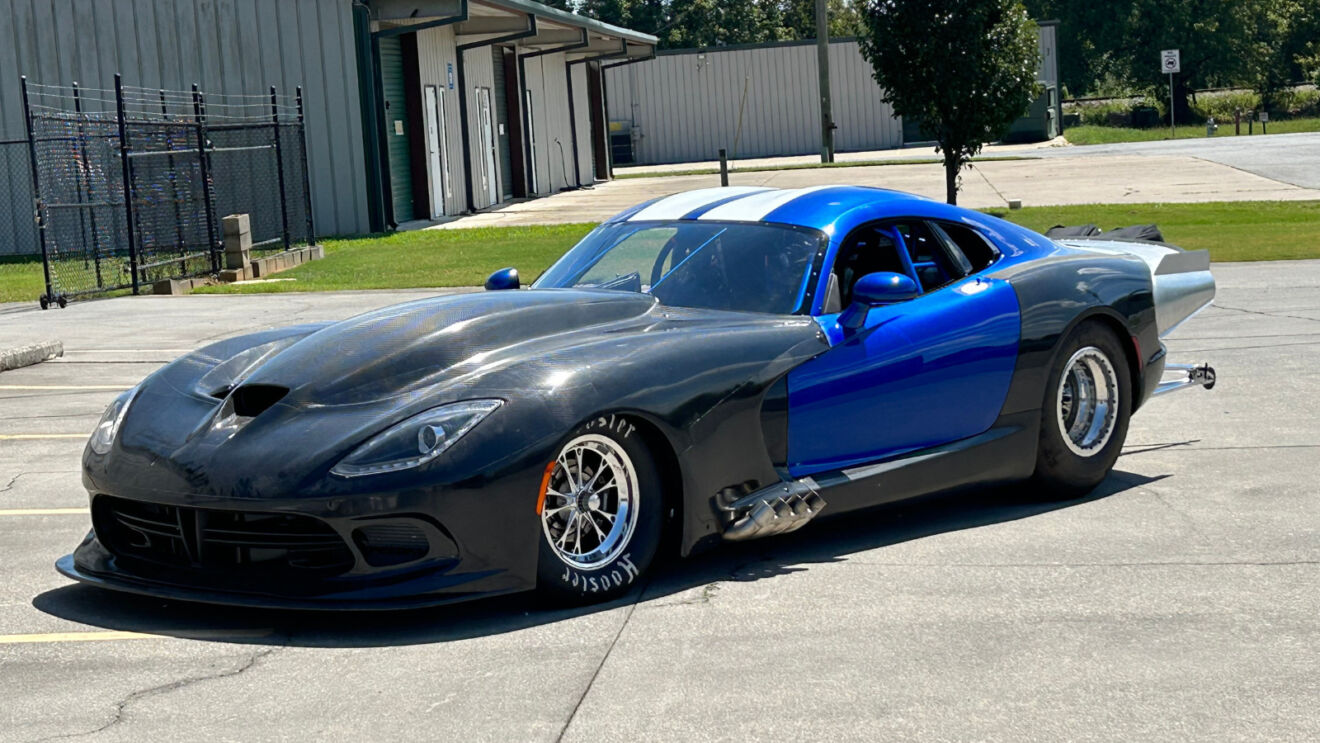 "It all started with another Viper – a 2014 orange TA," he said. "That car was number 46 out of 93 made. I took this car to Vengeance Racing in 2014-2015, and we turned it into a twin-turbo car meant for half-mile racing. After we started making progress on the half-mile, we actually took the world record at one of Blake Hutchinson's WannaGOFAST events."
Dunphy's success continued with the 2014 Viper. "We took it to the drag strip, and on our first outing, we reset the world record for the Gen 5 Dodge Viper in a manual transmission," he said. "We went through a couple of variations of it – so bigger turbos, different gear ratios, bigger tires in the back, and ultimately switched over to an automatic transmission."
Then Dunphy found himself repeating history and breaking the world record. "It was like like a micro pocket record in the sense that is the Gen 5 Dodge Viper," Dunphy said, explaining the record has since been reset.
As most racing careers progress of wanting to go "bigger and better," Dunphy found himself following in that storied path.
"We talked about putting a big block in it, but that would upset the Viper world," he said jokingly.
It was the Vengeance team that ended up doing some research and found what they needed at PRI.
"They bumped into Steve Morris," Dunphy explained, "and Steve Morris at the time had his SMX motor, which is the 481X with a water jacket around the heads. He started saying, like, yeah, I've taken this design, and I've made it intentionally for Drag Week."
After their research, they came to the conclusion that they needed to build a new chassis and recruited Ryan Rakestraw of RK Racecraft to help.
"We started with a 2013 Launch Edition Viper," said Dunphy. "The launch edition is important because every time Viper comes out with a new generation, like Gen 1, Gen 2, Gen 3, they have the color schema, and it's the blue Viper with the white stripe. This one is number 75 out of 150, and I literally bought the car off of another guy online.
"We gutted it, took out all the mechanical, all the electrical, sold all that stuff to put some money back in the till, and then we gave the car to Rakestraw as a rolling chassis, stock Viper. He then took it and, from there, turned it into a chassis car, built the hoods, built the trunk lid out of carbon fiber and made molds. We stretched the nose out a little bit – we widened the back a little bit to fit the big tires, and over time, it's evolved from what was a stock car into what we just finished a couple weeks ago," Dunphy continued.
The finished car is "100% a Viper" but might look a little cartoonish if it's parked to a stock Viper, being a little fatter, taller and wider with blue panels. However, Dunphy reassured that the car will be painted after his racing season is completed as he doesn't want to miss some of the upcoming fall races.
Now that those three years and three months have passed, Dunphy was able to enter Hot Rod Drag Week. He is wait-listed at the moment but is planning on showing up when registrations start on Sunday, with his fingers crossed, to get on the coveted competitor list.
"If we miss this one, we'll go do another one," he stated."This one just happens to be in the southeast quadrant near my house. We start off in Darlington, then we go to Rockingham, Bristol, Aiken, South Carolina, and then back to Darlington, covering around 1,000 miles."
When asked if he's nervous for his first Drag Week, Dunphy answered with a chuckle, "I'm not sleeping right now because I'm so logistically in my head, what am I forgetting? I have lists on lists on lists on lists. I've got up in the middle of the night and done something just to check it off the mental list.
"Never having done it before, I think I've overpacked," he continued. "I'm going to have a million pounds of stuff in my trailer. I probably need only half a million pounds."
Moreover, his passenger along for the ride is someone that he calls "vital" to his pursuit.
"Jay Clegg – the foreman, chief fabricator, aftermarket tuner at Vengeance Racing, and he's a good friend of mine – is joining me," he said, also emphasizing that Clegg has played a crucial role in making sure Dunphy will be safe when he's piloting the car. "Jay's the kind of guy I describe as the jack of all trades."
From stock V10 Viper to V8 with 3,500+ HP, Dunphy's wait is "almost" over as he prepares to compete for the "Fastest Street Car in America" title.