Two-time NHRA Division 2 Champion Jeff Adkinson is certainly no stranger to success on the quarter-mile. The longtime Stock and Super Stock competitor has amassed event victories and championships on the national, divisional, and local level for more than two decades. And his 2015 season is off to a fantastic start – Adkinson already has three final round appearances in the opening months of the season. While he's intrigued by that early success, Adkinson himself is quick to point out that all three final rounds ended in defeat; and regardless of how many competitors would love to find themselves in his shoes, for the Damascus=based farmer second place simply is not acceptable.
"We've had a great start, I can't argue with that," said the jovial Adkinson. "But at some point, you just get tired of being the bridesmaid. We've got equipment that's capable of winning. I feel like I'm capable of winning as a driver. And our results prove that we're right there. But we haven't won yet. I think we'll get there soon, but until we do I'm not ready to say that we're having a great season."
Adkinson began his 2015 season with a rare IHRA appearance, as he and his team ventured south to Immokalee, FL to participate in the season-opening IHRA Pro-Am and get some testing under their belts prior to the NHRA season opener just a week later. In Immokalee, Adkinson drove to the final round of Stock Eliminator behind the wheel of his familiar C/SA '69 Camaro. There, he fouled with a red-light start, handing the victory to fellow Southeast Division standout Merrill Schrimscher.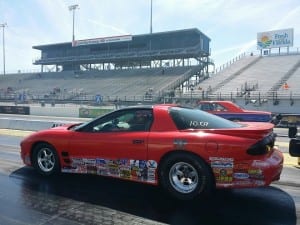 Weeks later, Adkinson once again drove to the title round at the NHRA Lucas Oil Series event in Gainesville, FL, this time behind the wheel of his Super Stock entry, a SS/IA Pontiac Firebird. Matched up alongside perennial national top ten finisher Jimmy Hidalgo, Jr., Adkinson suffered mechanical issues which resulted in both a poor reaction time and off-pace E.T. Hidalgo easily took advantage and claimed the victory.
In mid-March, Adkinson and his team entered their first NHRA Mello Yello series event of the season; the prestigious Amalie Oil NHRA Gator Nationals. There, for the third time in the short season, Adkinson drove to the final round, wheeling his Camaro to the Stock eliminator title bout alongside 3-time NHRA Stock Eliminator world champion Kevin Helms. Adkinson put forth an admirable effort: he left the starting line with a strong .025 reaction time, and crossed the finish line first by a scant .019 seconds. It was no match for Helms, however, as the 3-time champ posted a nearly unbeatable .018 reaction and perfect 8.923 on his 8.92 dial-in, forcing Adkinson to break out with a 10.427 on his 10.45 target.
"Yeah, our final round losses have just been a mixture of misfortune," Adkinson laughed. "At Immokalee I messed up, that was driver error. At the Gainesville points meet, we had battery issues that kept the injectors from firing properly – so we had mechanical failure. Then at the Gators, I felt like we made a pretty strong run; I just got my butt kicked. The good news is that we're getting that final round opportunity. Now we just need to capitalize on it."
Jeff isn't the only member of the Adkinson family to take the wheel this season. His daughter Kaitlyn, a student at Troy State University, wheels a third Adkinson family machine in Stock eliminator. At her first event of the 2015 season, she drove her I/SA '91 Camaro to a blistering -1.080 qualifying pass to take the Stock Eliminator pole at the event, the first top qualifying position of her young career! At that same event, she advanced to the final 13 cars in competition on the strength of a close heads-up victory over James Williamson (the pair left the starting line together: .011 to .013, and Adkinson outran Williamson by a slim margin: 11.33 to 11.35). Even in her losing effort alongside eventual event winner Jimmy Hidalgo, Jr., Kaitlyn put forth a solid run: .012 reaction time and a breakout 11.43 (11.46 dial). In that particular matchup, it was no match for Hidalgo, however, who posted a stellar .005 reaction time and perfect, dial-in matching 11.12 elapsed time.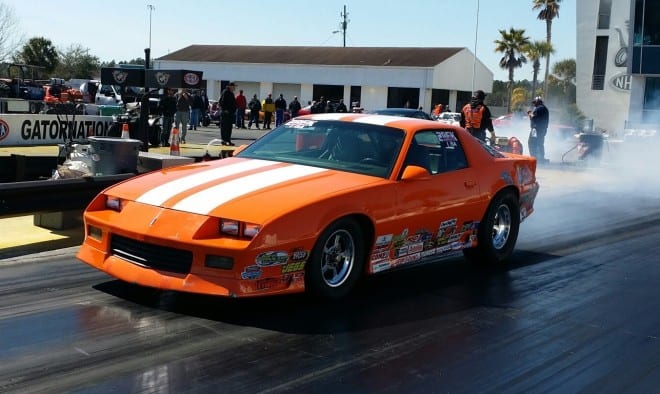 "Kaitlyn is doing great," Jeff explained. "She wants to win so badly, and she's real hard on herself. Plus she's in school and has priorities that are more important than racing, so she isn't able to get out here as much as she'd like. That slows down her learning curve a little bit, because she just doesn't get much seat time. It frustrates her that she can't come out and just win everything, but I try to tell her that it's a process. She gets better at each and every event. I think she'll have some overdue success this season."
Jeff Adkinson wished to recognize his wife Amy and their daughter Kaitlyn, along with teammate, engine builder, and longtime friend Jeff Taylor, and crew chief Willie Evans for their role in his continued success. In addition to Jeff Taylor Performance, the Adkinson team relies on support from Comp Cams, Mickey Thompson Tires, JEGS, and ThisIsBracketRacing.com.
After sitting out last weekend's NHRA Cajun Sports Nationals due to an awful weather forecast, the Adkinson team will attend the NHRA 4-Wide Nationals in Charlotte, NC this weekend. There, Jeff hopes to shake the runner-up monkey from his back and drive to his first event victory of the young 2015 season.