When you enter the grounds of Carolina Dragway for the Street Car Braggin' Rights event, the attention to detail and commitment to the racing community are impossible to overlook. The event is the brainchild of Nate Prater and the Braggin' Rights crew, and despite only being in its second year, it has already attracted significant interest and partnerships.
"From our presenting sponsor Vengeance Racing, to all of the SCBR staff, Carolina Dragway staff, media, sponsors, racers, crew, and spectators – everyone plays an integral role in making this event successful," said Prater. "Our simple motto is 'to do cool shit', and we don't plan on letting up any time soon."
A variety of classes, including the Drag Illustrated Small Tire Shootout and the Women & Wheels class led by Sophie Fox, offers an array of opportunities for drivers to show off their skills and compete in a thrilling environment.
One of the most exciting moments of the event was when Colby Davis broke the Dodge Charger World record multiple times in one day. Davis set a new record of 7.61 seconds in the first round, and then shattered his own record in the finals, reaching 7.53 seconds at 181 mph. This accomplishment set the stage for an electrifying Heavy Weights final.
"The finals featured the world's fastest Dodge Charger versus the world's fastest Cadillac CTS-V. George Benson also made it to the finals, which was really cool," Prater reflected.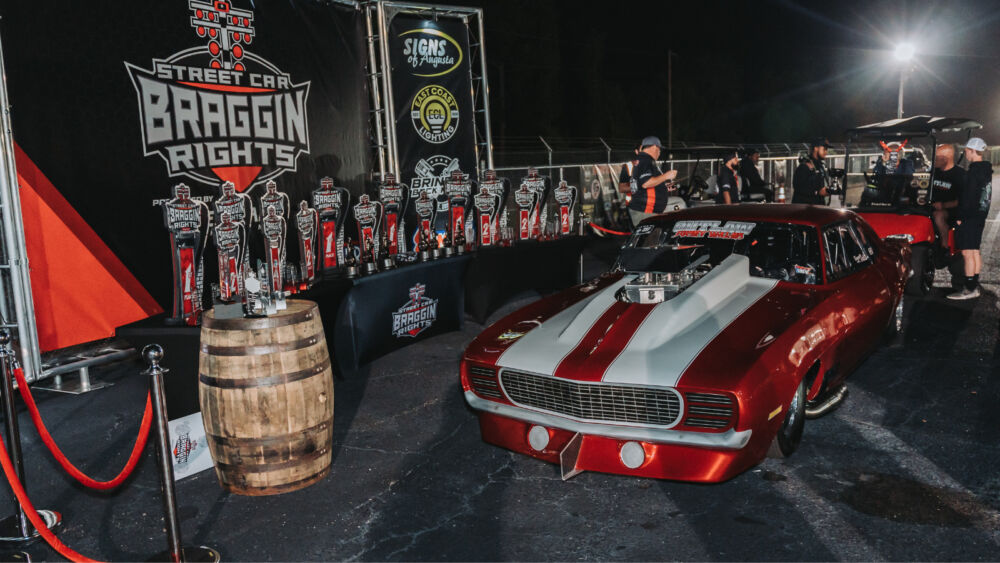 Despite a rain disruption on Friday, the team was able to rework the schedule for Saturday and complete the entire event without eliminating any scheduled qualifying sessions.
"Thursday's Small tire shootout Presented by Drag Illustrated brought 14 of some of the baddest cars and drivers around, and we absolutely packed the place out," Prater shared, expressing his pride in the event's success.
Prater's vision for Braggin' Rights is clear. It's about more than just racing; it's about community, camaraderie, and celebrating the love of the sport.
"We put this event into place last year to bring a higher caliber of race events to the community," Prater explained. "We're incredibly grateful to everyone who has been involved and contributed to the success of Braggin' Rights. Here's to many more years of doing cool shit together."