Paul Burruss and Dylan Griffey readily admit they're a couple of "goofy guys" who don't take themselves too seriously. After all, that might get in the way of having tons of fun, which is their chief goal in racing, as well as in life in general.
"People have watched us follow each other around and race together for years, and they've made the observation that we act like Mutt and Jeff," laughs Burruss.
By example, the original Mutt and Jeff syndicated comic strip portrayed a couple of characters who made people laugh, primarily by picking on each other, and that description seemed to be the perfect fit for Burruss and "Griff", as he's affectionately known.
"We are brothers – not biological – but brothers none the less," they both agree.
The two are lifelong natives of Carlisle, Pennsylvania, and hung out at the Burruss farm growing up, along with many other young people in the neighborhood. They eventually discovered racing of many varieties and have competed in a wide range of vehicles, including dirt track cars, snowmobiles, motorcycles, mud boggers, as well as drag racing machines. They both stepped away from racing at certain points in their lives, but were later lured back to straight-line motorsports.
When Burruss made a return to drag racing, he began attending events such as the Spring Fling, Fall Fling and other celebrated bracket gatherings. "I was having so much fun, I told Griff that he really needed to come experience these awesome events and see how much fun they were," Burruss recalls. Staying true to their Mutt and Jeff resemblance, wherever one would go, the other would follow – and something hilarious would happen, for that you could be sure.
With each big bracket event they would attend together, they begin to realize more and more that they wanted to launch a race of their own, so Mutt and Jeff Promotions was born! They started off small at first, deciding upon a Super Pro Electronics-only class event, which they held at their local South Mountain Dragway in Pennsylvania four years ago. It was challenging from the get-go since the original race date was rained out and it actually snowed during the rescheduled event, though they stayed and saw it through to the event's conclusion.
"We wanted more cars and faster cars for the second annual event, so we struck a deal with Elmer Wachter at Mason Dixon Dragway in Boonsboro, Maryland. South Mountain is a small track, and it can only do what it can do," Griffey explains.
As expected, the event grew larger with the change of venues to a larger facility. The once-yearly event remained exclusively Pro Electronics for the first three gatherings, although they decided to include a Footbrake class for the most recent running, held in June. Car counts soared with the addition of a second class, and it was also the first ever two-day meet for the annual Mutt and Jeff race.
"We decided that if we were going to grow this deal we were going to have to step up our game, so we rented the track for two days and increased the payout from $1,500 to $4,000 and guaranteed a $10,000 payday for Saturday," Burruss explains.
Lots of round money was awarded, as well as many prizes and gift certificates from sponsors. Since Mutt and Jeff Promotions specializes in fun, special recognition is given to all sorts of circumstances.
"There's perks for everyone, including trophies for things like the 'worst losing package' and 'best losing red light,'" Griffey says.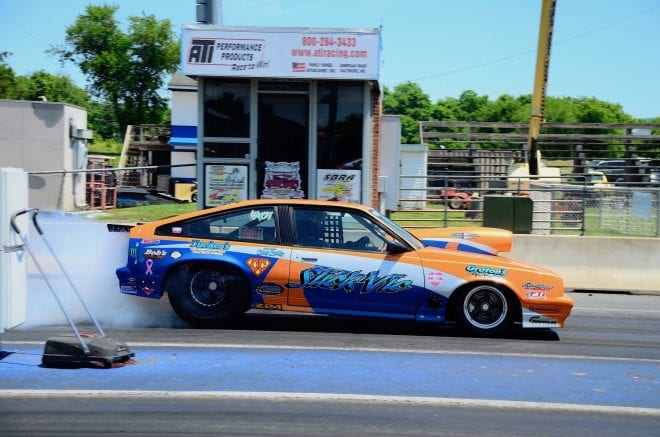 Both promoters agree that attending PRI recently was crucial and they credit that effort with making new friends and growing their event. Longtime friend Mike Weney of S&W Race Cars was among the first to gladly assist them in sponsoring the event, and the list began growing more robust with each and every year.
"Riggeal's Performance Fiberglass came on board, as well as Meziere Enterprises, Mike's Fab Shop, Drag Race Results and so many more," Burruss adds.
Although the Mutt and Jeff race has far exceeded their expectations, they agree that it's not something that just happens overnight.
"We would love to grow this into a three-day event right here at Mason Dixon. We've got such a great staff and we must also thank our friends Tina Mohle, Jenn Decker, Kelly Russell and Morgan Monroe."
The Mutt and Jeff race has turned out to be exactly as they planned: a light-hearted gathering of friends with a great family atmosphere. It began with a dream, they say, and it's a dream that is continuing to come true for these lifelong friends who simply wanted to make drag racing as fun as they possibly could.
This Dialed In feature originally appeared in DI #135, the State of Drag Issue, in August of 2018.