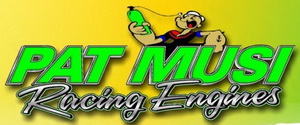 Since relocating his home and business from Carteret, NJ to Mooresville, NC, Pat Musi has been able to spend more time at the track and in the dyno room. If the recent performances of racers using his engines and components are any indication, that extra time is paying big dividends.
Longtime Virginia campaigner Tommy Franklin scored a huge win at the Extreme Outlaw Pro Mod race at Virginia Motorsports Park on May 19 in his unmistakable green '69 Camaro, which is motivated by a Musi 903 EFI engine. That same weekend on the opposite side of the country, Joe Lepone Jr. took the Pro Street crown at the NMCA West Coast Shootout at Auto Club Raceway in Pomona, CA, driving Derrol Hubbard's Musi 903 EFI-powered Plymouth Duster.
The biggest win of the season for a Musi customer was still to come, however. At the NHRA Thunder Valley Nationals in Bristol, TN, doorslammer legend Rickie Smith took home the Wally in Pro Mod. Smith's IDG-backed 2013 Camaro also runs the Musi 903 EFI engine.
Several other Musi customers are picking up impressive timeslips in 2013, including Pro Nitrous hitters Bob and Jason Harris, John Hall, and John Camp.
"In addition to the move to Mooresville, we spent a lot of time on the dyno over the winter figuring out this EFI system with Edelbrock," Musi said. "I've been really happy with the way our customers are running in the first half of this year, and I'm looking forward to the rest of this season and even further into the future."
The future of Pat Musi Racing Engines rests in the hands of Musi's daughter and ADRL Top Sportsman points leader Lizzy Musi. Since the family's move south, she has taken on an increased role in the day-to-day operations of the business, not to mention being one of the most recognizable new names and faces in drag racing.
"This is going to be Lizzy's deal before too long," Pat Musi admitted. "I'm not getting any younger, so I'm teaching her more each day about how to operate a business and handle the racing side of it at the same time. She's got a good head on her shoulders and is learning very quickly."
The younger Musi enters the ADRL Summer Drags IX at US 131 Motorsports Park having
qualified in the top three at every race this season, including a number-one qualifier award at the U.S. Drags VI in Richmond, VA. Musi-powered entries Chuck Mohn, Aaron Glaser, and Chip Forman occupied the next three qualifying spots below Lizzy at Virginia Motorsports Park.
"I know we still have a lot of races left to go this season, but it's a first to see my name at the top of the points standings," Lizzy Musi said. "Hopefully we can qualify at the top again this weekend and just go rounds and pick up points."
The other Musi customer leading his ADRL division in the points standings is Puerto Rico's Raymond Matos. His '70 Barracuda has been a consistent low-3.90s performer all season, and that consistency has carried him to the Pro Mod points lead despite not yet having an event win in 2013.
"We have a bunch of cars going to Martin, and I feel we have a great shot at putting at least one of them in the winner's circle," said Pat Musi.