Records were broken and championships were decided as the Professional Drag Racers Association (PDRA) crowned the Drag Wars event champions at GALOT Motorsports Park Saturday night. Lizzy Musi set the elapsed-time and speed national records on her way to the Switzer Dynamics Pro Nitrous presented by MoTeC win, while Cary Goforth secured the Extreme Pro Stock world championship along with his victory.
Also victorious in the professional classes were North Carolinians Terry Leggett in Pro Extreme and Brad McCoy in Drag 965 Pro Extreme Motorcycle. Dillon Voss earned his second consecutive event win in East Coast Auto Transport Extreme Outlaw 632.
In the PDRA's sportsman categories, Aaron Glaser drove his '68 Camaro to the win in MagnaFuel Top Sportsman Elite, while Kris Gilbert won in MagnaFuel Top Sportsman Quick 32. Dennis Rinehardt claimed the Lucas Oil Top Dragster victory. In Campers Inn RV Pro Junior Dragster, Zach Pennington ran 7.92 on a 7.90 dial-in to defeat Amber Franklin, who secured the Pro Junior Dragster world championship earlier in the day. Arellyn Garner-Jones used a .003-second reaction time and perfect 7.92 to earn the MegaCorp Top Junior Dragster win over Wallace Wilson.
PRO NITROUS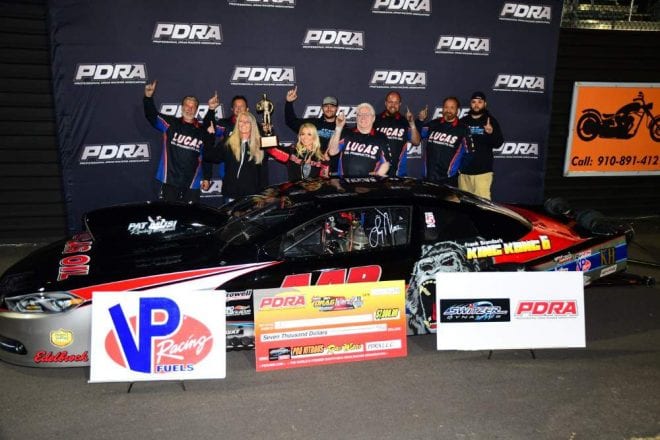 The Pro Nitrous final round was bound to be one of the quickest and fastest side-by-side runs in class history, as the semifinals saw Tommy Franklin reset the elapsed-time record with his 3.658 and Lizzy Musi demolish the speed record with a 206.54. While Franklin encountered trouble in the final and ran a 3.741 at 195.99, Musi bettered the et record with a 3.656 at 206.42 in the Frank Brandao-owned AAP/Lucas Oil '15 Dodge Dart.
"Running that 206 in the semis, everyone just flipped," Musi said. "We never thought it would go faster than 205. We were hoping for a 206 maybe in Virginia with the cool weather, so it was very exciting to run 206 twice tonight. Running against Tommy, we knew we were going to throw everything we had at it because Tommy would be doing the same thing. We knew we just had to do our deal. He was probably on the same run – the early numbers were close."
Musi qualified No. 2 and used a perfect .000 reaction time to defeat Danny Perry in the opening round, then posted a strong 3.679 at 204.48 to knock down points leader Jay Cox. She defeated Pro Stock racer Richie Stevens Jr in the semifinals. Franklin in his Pat Musi-powered "Jungle Rat" '69 Camaro led the field in qualifying before beating Buddy Perkinson, Jim Halsey and Randy Weatherford on his way to the final round.
PRO EXTREME
Pineville, North Carolina-based logger Terry Leggett (far lane) added a race win to his illustrious GALOT Motorsports Park history. Leggett, who was the low qualifier at the GALOT spring race, drove his screw-blown Leggett Logging & Trucking '71 Mustang to a 3.548-second pass at 217.53 mph in the final round. His opponent, Mattias Wulcan, left before the tree activated.
"For some reason, we just really run good here," Leggett said. "We just love the place. It's a heckuva facility, the people are great, and we have a really strong following here. This is my home race, so we have lots of friends and family here. All of that just plays into making it a great weekend."
Racing out of the second spot, Leggett posted a 3.555 at 218.80 over Jose Gonzales in the first round, then a 3.570 at 217.95 over points leader and spring race winner Mike Recchia. Wulcan was the No. 1 qualifier and drove his "Black Bird" '69 Camaro to round wins of 3.572 at 213.03 over fellow Swede Stefan Holmberg and 3.56 at 211.33 over Australian Pro Mod star John Zappia before facing Leggett in the final.
PRO BOOST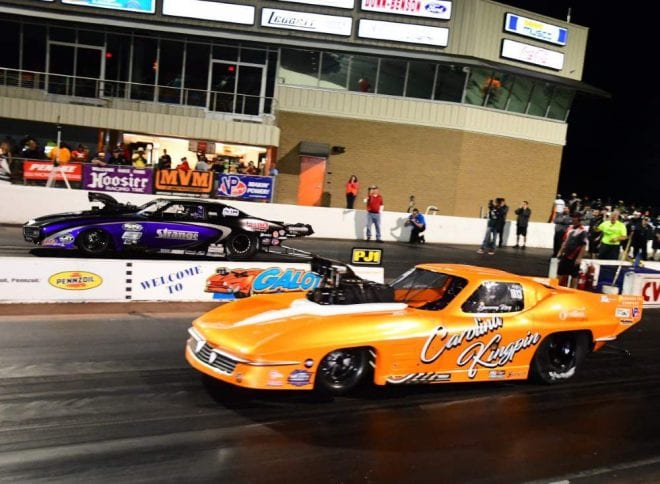 Jeremy Ray (near lane) has raced with the PDRA since the series' inception in 2014, and it took the best performance of his series career to earn his first PDRA Pro Boost event win. He ran his first 3.6-second pass, a 3.699, to qualify No. 4. After using a 3.762 to get around Jr. Ward in the first round, all of Ray's eliminations runs were in the 3.6-second range.
"In the last five races we've run, this car has been very consistent," said Ray, who reached the finals at those five races in a combination of PDRA and Carolina Xtreme Pro Mod competition. "The air was good tonight. I was able to go .68, .69, .68. We went in the sixties four times this weekend. I picked up the speed a bit, too. Just kept digging. I've been running PDRA since the beginning. This is my third car, and it's one darn good car."
Meeting Ray in the final round was Darlington winner Melanie Salemi, who qualified sixth and defeated James Linton Jr. and Pro Boost rookies Ty Tutterow and Brandon Snider to earn her spot in the final. Salemi left the starting line first in her "Purple Reign" '68 Firebird, but Ray chased her down in his "Carolina Kingpin" '63 Corvette, running 3.683 at 202.27 over Salemi's 3.905 at 192.63.
EXTREME PRO STOCK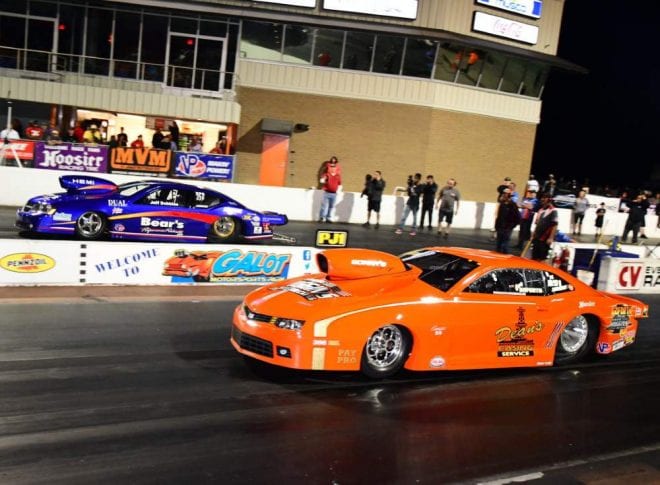 Past PDRA Extreme Pro Stock world champion Cary Goforth (near lane) secured his second series title when he beat Jeff Dobbins in the final round. Both drivers ran identical 4.055s in the semifinals, but the final round would be decided on the starting line, as Dobbins left the line .007 too soon. Goforth was ready for a race, though, as he recorded low et of eliminations, a 4.051 at 177.95.
"It felt good to get the win because you know if you win the race, you'll probably seal the deal," Goforth said. "I'm happy. I'm tickled to death. I don't jump up and down and go wild, but I'm awfully proud of this one. This is our eighth championship and second with the PDRA. We just took care of our business and let it all play out."
Goforth qualified third in his Dean's Casing Service/Dewayne Higgins Trucking '14 Camaro. He took out spring race winner Chris Powers and No. 2 qualifier J.R. Carr before the final round. Racing out of the fourth spot, Dobbins used .014 reaction times and quick passes to beat defending world champion John Pluchino and low qualifier John Montecalvo earlier in the day.
PRO EXTREME MOTORCYCLE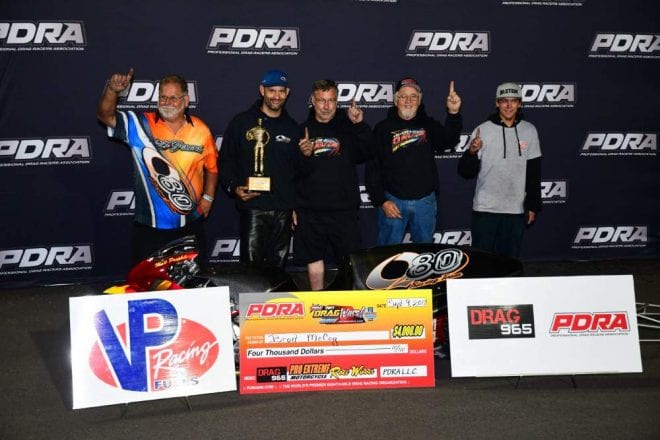 For the first time this season, someone other than defending world champion Eric McKinney or points leader Travis Davis won in Pro Extreme Motorcycle. Coincidentally, Brad McCoy had to race McKinney and Davis on his way to the PDRA Drag Wars winner's circle. McCoy rode his Q80 Racing Hayabusa to low et of the event, 3.998 at 176.49, to beat McKinney's 4.04 at 178.50 in the final round.
"We struggled all day," McCoy said. "We had to change motors going into the semifinals, so we had to start all over with the tune-ups and try to figure out where we needed to be. We were way underpowered for the semifinal round, so we just took a chance for the finals and hoped for the best, and it fell in our favor."
McCoy's win had serious implications on the championship situation, as Davis is trying to hold off McKinney from winning his fourth consecutive PDRA world championship.
"I had to race Travis first round. He really needed that round win. He's a great racer. He even came over and helped me put the motor in our bike after we raced first round. You can't get better sportsmanship than that. I felt I did him a favor – that final round (over McKinney) was payback for him helping me," McCoy laughed.
McKinney, the No. 6 qualifier, rode his McKinney Motorsports entry to round wins over Chris Garner-Jones and teammate Ashley Owens before meeting McCoy in the final.
EXTREME OUTLAW 632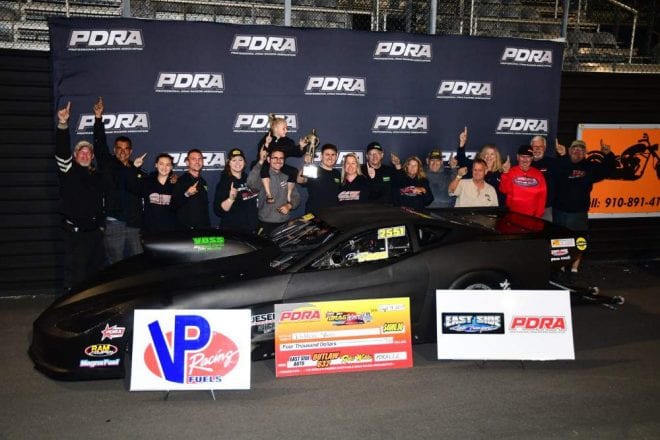 Darlington event winner Dillon Voss showed no signs of "new-car blues" as he brought out a new '17 Camaro for Extreme Outlaw 632's third of four races with the PDRA. Built by Suncoast Race Cars and powered by a Voss Racing Engines 632-cubic-inch bullet, the car carried Voss to a personal-best 4.282 at 166.93 in the final round to defeat Michael Naumann. It was just the fifth pass on the car.
"I was nervous going into this weekend," Voss said. "We were supposed to be here Thursday. We missed testing getting the car ready. We missed first round of qualifying getting the car ready. Showed up for Q2, first hit off the trailer, first time driving it, and it goes a 4.40, good for No. 2 qualifier. That eased the nerves a lot, then we just put our racing tune-up in it once we knew it would go straight. We set our personal best by half a tenth in the final, so we're very happy."
Voss defeated Mike Oldham and No. 1 qualifier Ken Quartuccio prior to the final. Naumann's previous opponents were Lakeland, Florida's Jordan and Jeff Ensslin.
TOP SPORTSMAN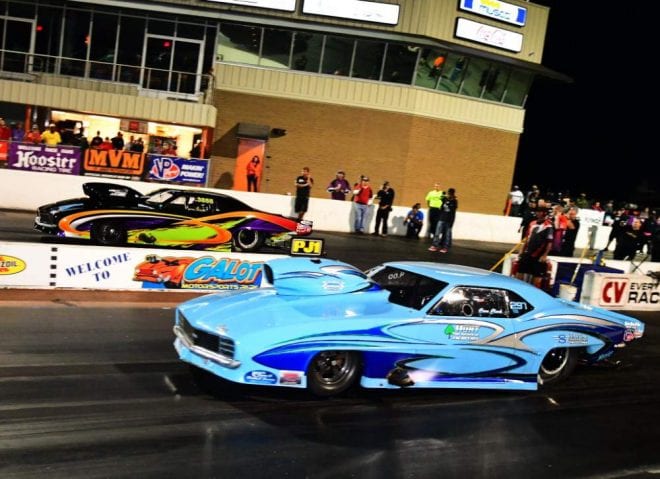 Armed with a new Albert-powered Glaser Collision Centers '68 Camaro, Aaron Glaser (far lane) marched through a stacked Top Sportsman Elite field to meet Reidsville, North Carolina's Cam Clark in the final round. Glaser had the quicker reaction time and posted a 3.932 on a 3.91 dial-in to Clark's 4.036 on a 4.00 dial-in. Glaser defeated Top Sportsman standouts Tim Lawrence, Glenn Butcher and Dewayne Silance on the way to the final, while Clark defeated low qualifier Billy Albert, Scott Duggins and John Benoit.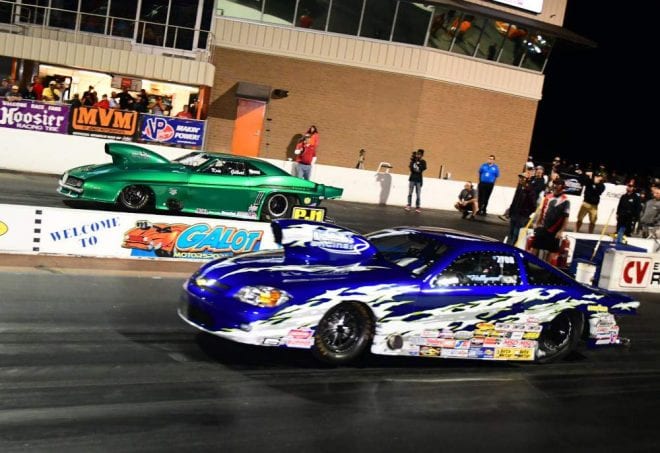 With a total of 44 Top Sportsman cars on the property at GALOT Motorsports Park, a Quick 32 ladder was added to accommodate the cars who didn't qualify for Top Sportsman Elite. The Top Sportsman Quick 32 win went to Kris Gilbert (far lane) over Donny Urban.
TOP DRAGSTER
North Carolinians battled it out in the Top Dragster final round, as Salisbury's Dennis Rinehardt piloted his '07 Racetech dragster to a 4.475 on a 4.47 dial-in in the winning effort over Hendersonville's Matt Cooke. Cooke, who clinched the Top Dragster world championship, ran a 3.93 on a 3.90 dial-in with his ProCharger-equipped Horton dragster. Rinehardt marched past Camrie Caruso, Bill Fordyce and 2016 world champion Justin Kirk before the final. Cooke's previous opponents were Josh Duggins, Steve Furr and Russ Whitlock.
The 2017 PDRA Tour will conclude at the 3rd annual Brian Olson Memorial PDRA World Finals, Oct. 19-21, at Virginia Motorsports Park in Petersburg, Virginia.