Pro Nitrous star Lizzy Musi recorded the fastest pass in class history Friday night at the Professional Drag Racers Association (PDRA) Fall Nationals at Darlington Dragway. Musi drove the Edelbrock/Lucas Oil "King Kong 7" '16 Dodge Dart to a 3.677-second pass at 207.28 mph to qualify No. 1 in Switzer Dynamics Pro Nitrous presented by MoTeC.
Drag 965 Pro Extreme Motorcycle low qualifier Terry Schweigert obliterated both ends of the PXM record with his 3.914-second blast at 184.58 aboard a new turbocharged motorcycle.
After three qualifying sessions, the low qualifiers in the other professional classes are Tommy D'Aprile in Moroso Pro Boost, John DeFlorian in Liberty's Gears Extreme Pro Stock, and Johnny Pluchino in East Side Auto Transport Pro Outlaw 632.
The PDRA's sportsman racers received two Friday qualifying sessions, with a third and final session scheduled for Saturday morning. Leading the fields into Q3 are Billy Albert in MagnaFuel Elite Top Sportsman, Dennis Gabouriault in Top Sportsman 32, Jeremy Creasman in Lucas Oil Elite Top Dragster, and Brian McHattie in Top Dragster 32. In Coolshirt Pro Jr. Dragster, Jarrod Kissinger holds the top spot with his 7.9004 pass, while Will Creasman's .004 reaction time tops the chart in Gilbert Motorsports Top Jr. Dragster.
PRO NITROUS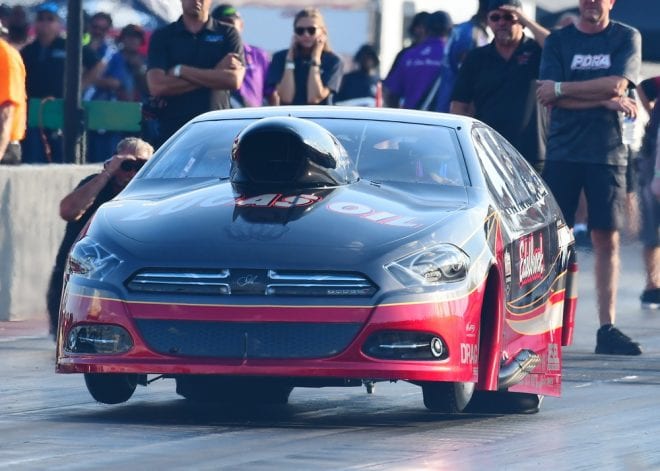 Lizzy Musi earned her first No. 1 spot of the year in a big way, shooting to the top of an ultra-quick top-half of the Pro Nitrous field with a 3.677 at 207.28. It wasn't only her best pass in the new Frank Brandao-owned "King Kong 7" Dodge Dart, it was also the fastest pass in Pro Nitrous history, beating out Musi's own record of 206.54 set at GALOT Motorsports Park last fall. The new car, debuted at the Firecracker Nationals in July, is now showing signs of brilliance like its predecessor that carried Musi to back-to-back victories to close the 2017 season.
"We made a decision to stick with the new car and not flip-flop back and forth," said Pat Musi, Lizzy's father, crew chief and engine builder. "I've learned a lot – I've been racing a lot – and you learn a lot. Lizzy's driving has come around the last couple years, and she's really proving herself. I think we have everything coming together, we just have to stay on this path. I know it sounds crazy, but we have to pick up a little."
Musi earned a first-round bye run, then will face the winner of the No. 8 vs. No. 9 matchup featuring defending world champion Tommy Franklin and John Hall. Danny Sauro recorded a career-best 3.686 at 203.71 in his Musi-powered Tischer Acura Nissan '69 Camaro to qualify a career-best No. 2 behind Jay Cox and his 3.693 at 202.98 in the Buck-powered "Pumpkin" '69 Camaro.
PRO BOOST
Points leader Tommy D'Aprile will chase his third Pro Boost victory of the season from the No. 1 spot. Driving the Al Billes-owned-and-tuned supercharged '69 Camaro, D'Aprile fired off a 3.688 at 200.89 in the night session to earn his fifth low qualifier award of the season.
"So far, so good – the game plan is working," D'Aprile said. "We've been going up and down the racetrack pretty consistently. We skipped the second session since it was so hot, then we just went for it in the night session. Man, it was just a monster run. A 3.68 in these conditions is really promising for what we want to do with this car in the future."
D'Aprile will take on Jr. Ward in the opening round of eliminations Saturday afternoon. Melanie Salemi and the "Purple Reign" '68 Firebird took the No. 2 spot with a 3.73 at 200.09. Marc Caruso is No. 3 with a 3.744 at 196.85 in his Lee White-tuned Caruso Family Racing '69 Camaro.
EXTREME PRO STOCK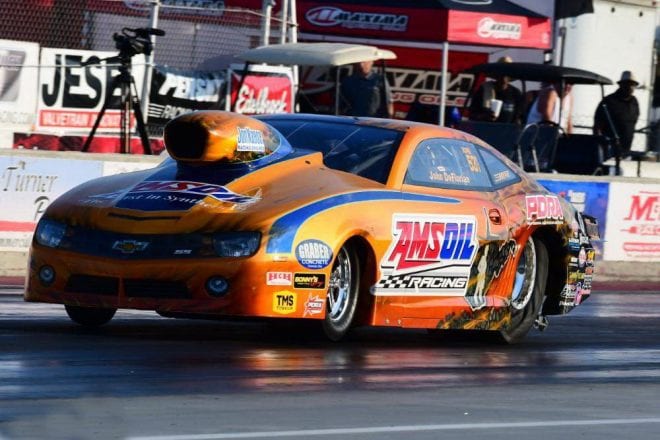 Now a three-time No. 1 qualifier this season, John DeFlorian wheeled his Amsoil '14 Camaro to a 4.074 at 178.29 to lead the 15-car Extreme Pro Stock field into Saturday eliminations. He set the mark during the opening qualifying session. DeFlorian, the shop foreman for Jerry Haas Race Cars, was seen assisting points leader John Pluchino with his damaged car after impacting the right-side retaining wall in the third session.
Pluchino, who is chasing another world championship to go along with his 2016 title, was uninjured when his '16 Mustang hit the wall in the right lane. Pluchino's son and crew chief, Johnny, said the damage was enough to take them out of competition this weekend and possibly the World Finals in two weeks.
DeFlorian will start eliminations with a bye run. Maryland winner Steven Boone is the No. 2 qualifier in his Boone Motorsports Chevrolet with a 4.0852 at 176.19. Jeff Dobbins, the most recent winner on tour, qualified third in his Bears Performance/Curacao Dodge Avenger with a 4.0853 at 178.01.
PRO EXTREME MOTORCYCLE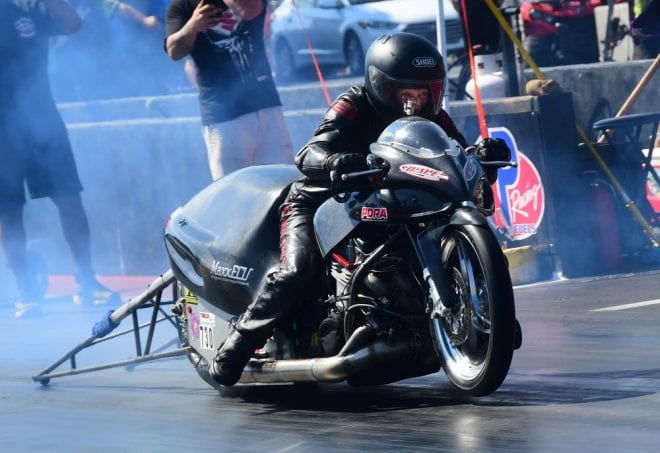 Canadian dairy farmer Terry Schweigert topped the final qualifying order in Pro Extreme Motorcycle for the third time this season, though for the first time, he did it aboard a turbocharged entry. Riding a new motorcycle owned by Kevin Clark and tuned by Andy Sawyer, Dan Wagner and Steve Nichols, Schweigert rocketed to a 3.914 at 184.58 to set up two potential new records.
"That's exactly what we were looking for on that run," said Schweigert, whose Q1 pass of 3.968 at 181.60 was also quicker and faster than the existing record. "I was expecting it to run fast because the bike does what (the tuners) say it will do every time, and they said it should run a 3.91 or .92. I knew it was going to take off. It just pulled the whole way through, and I was really planted in the seat."
Schweigert will take on fellow PXM veteran T.T. Jones in the first round Saturday afternoon. Brunson Grothus on his indocil Art-backed Suzuki qualified No. 2 with a 3.998 at 177.51, followed by Spencer Allen with a career-best 4.047 at 175.23 to earn his best final qualifying position.
PRO OUTLAW 632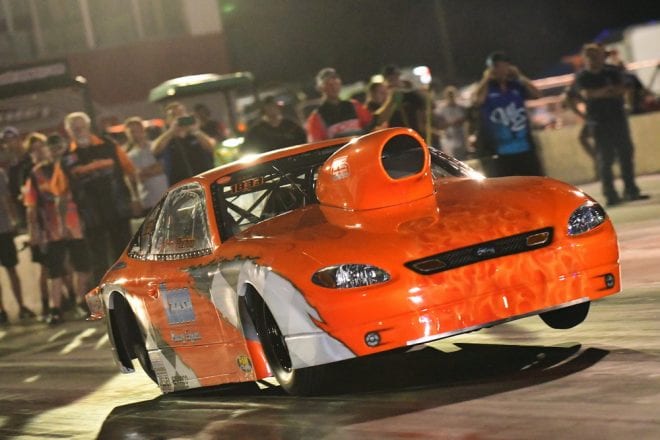 Points leader Johnny Pluchino secured his third consecutive No. 1 spot in Pro Outlaw 632 with a consistent 4.232 at 168.29 in Dominic Addeo's naturally aspirated '06 Ford Escort during the final session. The pass was four thousandths of a second quicker than his pace-setting run in the opening session.
"This car is running really well," Pluchino said. "We kinda duplicated our success in qualifying from the GALOT race. We came out of the trailer today and ran a .23, which was an amazing run in the heat. We skipped Q2, came back for Q3 and put another .23 on the board. It wasn't the best run. There were a couple things I should've done differently, but it was still low for the round. I think we have a really good car going into race day and we're excited for this championship chase. We're where we need to be."
Pluchino will start race day matched up with No. 14 qualifier Mike Oldham. Defending world champion Dillon Voss is the No. 2 qualifier in his Voss Racing Engines '17 Corvette with a 4.254 at 168.41. Jeremy Huffman qualified third with a 4.262 at 164.90.
TOP SPORTSMAN
Engine builder Billy Albert went quicker than his own PDRA Top Sportsman record, posting a 3.764 at 199.56 in Stan Nance's Structural Mechanical '17 Camaro. John Benoit's run of 3.81 at 200.62 challenges the speed record currently held by NHRA Pro Stock Motorcycle star Matt Smith. Jordan Wood sits No. 3 in his Virginia-based Mustang with a 3.92 at 190.76.
TOP DRAGSTER
Jeremy Creasman charged to the provisional No. 1 spot in Elite Top Dragster with his 3.724 at 193.05 in his ProCharger-boosted dragster giving him a sizable lead over Kyle Harris in his supercharged altered with a 3.809 at 192.23. Lindsey Barker rounds out the top 3 with her 3.841 at 187.81.
The PDRA Fall Nationals at Darlington Dragway will continue Saturday morning with sportsman final qualifying at 9:30 a.m. Professional eliminations begin at 2 p.m.