Despite arriving at Gateway Motorsports Park last Thursday with the points lead in hand for the Frankenstein Engine Dynamics Mid-West Pro Mod Series (MWPMS), Ron Muenks had yet to visit victory lane this year. Muenks and his "Purple Gorilla" teammates remedied that May 26, however, by beating Jim Sackuvich for the Pro Mod title during the Premier Street Car Association's (PSCA) 3rd annual Heads Up Hootenanny. Also going to the MWPMS winners' circle at the track near St. Louis were Daniel Pharris with his second victory of the year in Radial vs. the World and Jimmy Plimpton with his first in X275 drag radial action.
"Unfortunately, last-minute business demands prevented me from attending the Mid-West Pro Mod Series race in St. Louis," MWPMS owner, promoter and competitor Keith Haney said. "But I did follow it all weekend via our live online stream and I couldn't be more proud of the job David Cook and the rest of my team did in running the race and taking care of our racers, fans and sponsors. Truthfully, I had no worries at all about it going well; I just hated having to miss a race for the first time in literally years."
Muenks, who owns Ron's Racing Collectibles in Springfield, MO, said crew chief Jeff Pierce had his nitrous-boosted '68 Camaro "tuned up perfect all weekend with no tire shake, no aborted runs at all." Just one round of qualifying was completed on Friday, though, before inclement weather rolled in to douse the night session, which typically produces the quickest and fastest times. "That hurt us," Muenks admitted after placing eighth in the 16-car field with a 3.78-seconds pass at 199.29 mph. "I'm glad we were able to just stay in the top half and hold on to lane choice, but I really think we could've ended up a few places higher if we'd got that night session in."
After 22 Pro Mod entries made qualifying attempts on the Gateway eighth mile, Jason Hamstra held the top spot with a 3.72 at 205.35 in his supercharged '69 Camaro. Justin Jones, Jonas Aleshire, Aaron Wells and Jeff Sitton filled out the top five, with a 3.88 at 190.54 earning Tony Williams the final position by just two-thousandths of a second over Jon Stouffer.
The opening round of eliminations represented Muenks' closest race of the day as he and Jerry Hunt, the winner last month in Bowling Green, KY, left with identical .029 reaction times, but a 3.77 at 199.70 delivered a slim .016 margin of victory to set up a meeting with Hamstra in round two. Muenks was ready with a .018 holeshot, and then ran his best pass of the weekend at 3.75 and 200.41 while Hamstra slowed with electrical gremlins to a 3.78 at 181.18 mph.
For the semis, Muenks took on Wells in what turned out to be a confusing pairing. After Muenks performed his burnout and went in to pre-stage his Dave's Claremore RV Camaro, Wells and his Oklahoma-based crew continued to struggle with transmission trouble in their blown 2017 Mustang. In the end, both drivers left way too early from the start, but Muenks was awarded the win and a pass to the final.
Meanwhile, Sackuvich, who crashed just two weeks earlier during testing at the MWPMS event in Tulsa, arrived at the Hootenanny with a new nitrous-breathing '69 Camaro in tow and qualified it 10th with a 3.78 at 199.97-mph pass. Sackuvich then edged out number-seven qualifier Randy Merick, got past Jones, who scraped the wall with his '69 Camaro, and advanced to the final after Aleshire crossed the center line with his '06 Corvette.
Knowing he'd enjoyed a significant performance advantage over Sackuvich all day, Muenks said he took it easy on the tree, which allowed Sackuvich to leave with a sizable .053 holeshot. His lead didn't last long, however, as Sackuvich encountered traction problems in the left lane that nearly sent him across the center line, too, while Muenks cruised to victory in 3.76 seconds at 198.50 mph.
"I've got to hand it to Jim and his crew; they worked their tails off all weekend," Muenks said. "But I also have to thank Dave and Jeff Pierce for giving me such an awesome car. It left straight as a string in the final and I could see those big gorilla flames in my peripheral vision. When I see those flames and feel the front end come up, then set down and come up again on the gear change, well, then I know it's really on a pass."
DeWayne Mills followed up his Radial vs. the World (RvW) win at Topeka with a 3.78 at 212.73 qualifying run at St. Louis to set top speed for the meet and take number-one status over 10 entries into eliminations. Mark Micke started second, Marty Stinnett was third, eventual winner Pharris was fourth and Tim Slavens completed the top half of the field.
Driving a twin-turbocharged 2014 Corvette for Andrew Alepa, Pharris opened with a dominating win over Jeff Miller, then did likewise over Stinnett before taking on Mills in the semis. Pharris left first with a .034 light to Mills' .064 and needed nearly every bit of it as Mills posted a 3.76 pass at 212.56 in his twin-turbo '68 Camaro, but the 3.78 at 210.31 in Pharris' lane translated to a .007 advantage at the stripe.
Not to be outdone, Micke and his twin-turbocharged '78 Malibu took down Jason Hoard and Slavens in the preliminaries, then set low elapsed time for the class with a 3.73 at 210.34 mph in a semi-finals solo pass.
With a spectacular lightning storm once more threatening on Saturday night, Pharris and Micke faced off in the RvW final, with Pharris again getting away first with a .023 holeshot. Despite slowing to a 4.09 at 181.57 mph, it was just for bragging rights this time, however, as Micke fell off even more to 4.28 at just 158.41 mph.
Brian Brooks qualified his LSX-powered '93 Mustang on top of the X275 class for the Hootenanny with a 4.42 pass at 163.33 mph, followed by Kaylee Mills in her '68 Camaro, John Davidson in a 1980 Malibu and Plimpton in just his second MWPMS appearance this year with his '79 "Fearmont."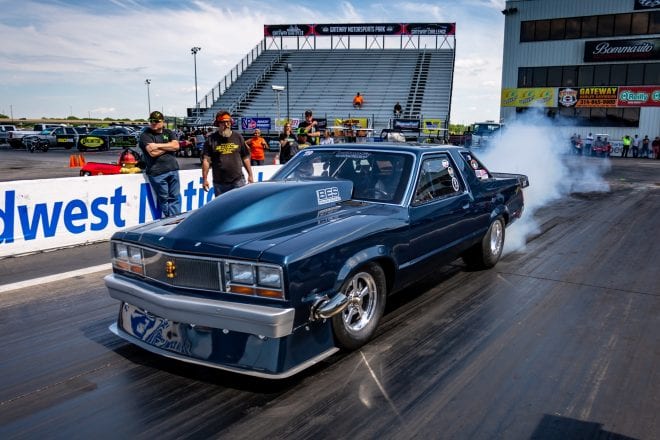 After qualifying with a 4.92, Plimpton went a little quicker with each passing round of eliminations as he took out Tony Phillips and Tim Gehrs before making a competition bye run in the semis to reach Mills, the daughter of RvW star DeWayne Mills, in her second-straight MWPMS final round. Once there, Plimpton left with a huge holeshot that allowed his 4.48 at 158.33 to easily beat a quicker 4.47 at 158.09 by Mills and take the win home to Franksville, WI.
The Frankenstein Engine Dynamics Mid-West Pro Mod Series returns to the track June 29-30, at Heartland Motorsports Park in Topeka, KS.