The Movers & Shakers featured in DI #182, the World Series of Pro Mod issue, are incredibly special. They highlight the electric atmosphere that was in the air at Bradenton, Florida, in early March of this year and the promising future that the WSOPM holds. Plus, a Movers & Shakers feature like never before has been included in this installment.
"This is what we always dreamed of for Pro Mod: racing on this kind of stage for this kind of money. It's just unbelievable to see it actually happen." – Charles Carpenter, the "Godfather of Pro Mod"
[Editor's Note: Photographs by Luke Nieuwhof, Chris Sears, and David Hilner]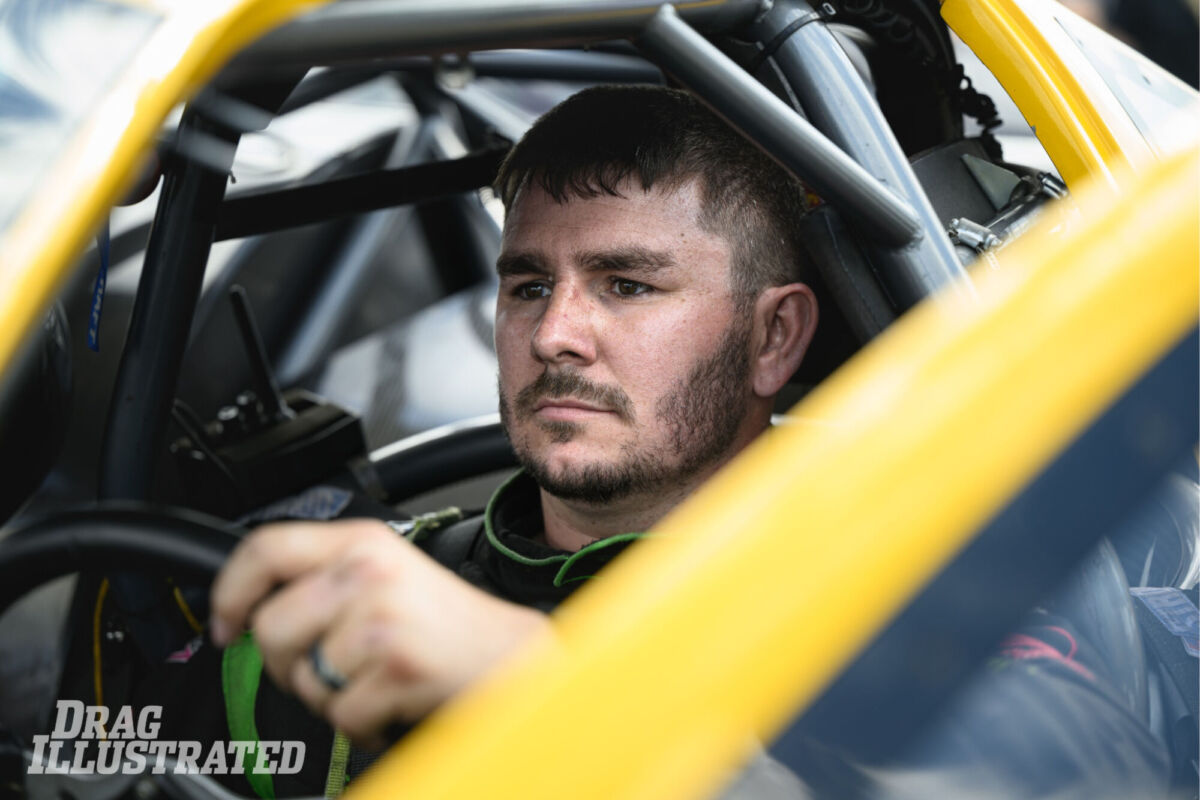 IN THE ZONE: Florida's own Dillon Voss gets focused as he prepares to make a Mountain Motor Pro Stock qualifying pass in the family's Voss-powered "Bad Banana" Cavalier. Voss reached the semifinals, falling to Elijah Morton.
MISSILE LAUNCHER: Multi-time Pro Extreme world champion Jason Scruggs takes a moment to collect his thoughts before getting suited up to make the first qualifying pass in his screw-blown "Mississippi Missile" Camaro.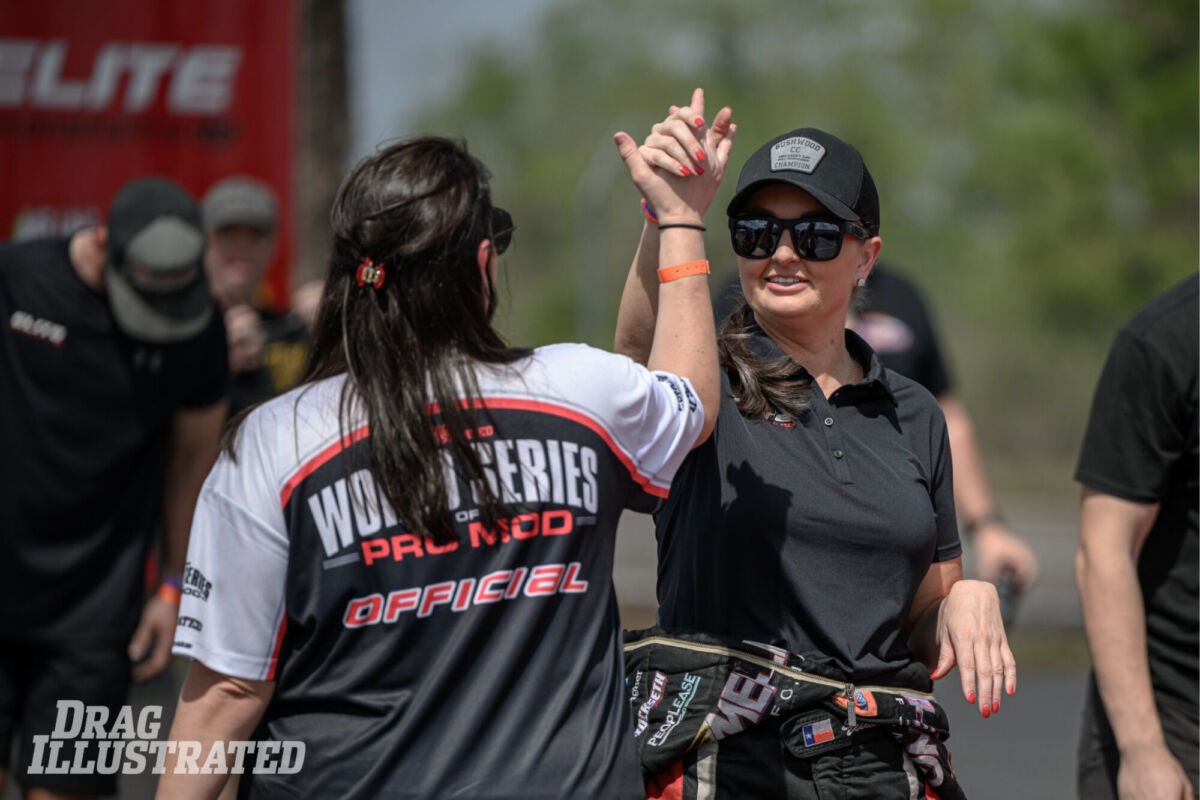 HIGH-FIVE FOR THE FIVE-TIME CHAMP: Alisha Buck gives a pre-race high-five to five-time NHRA Pro Stock world champion Erica Enders, who made her Mountain Motor Pro Stock debut at the WSOPM driving an Elite Motorsports Camaro previously owned by JR Carr.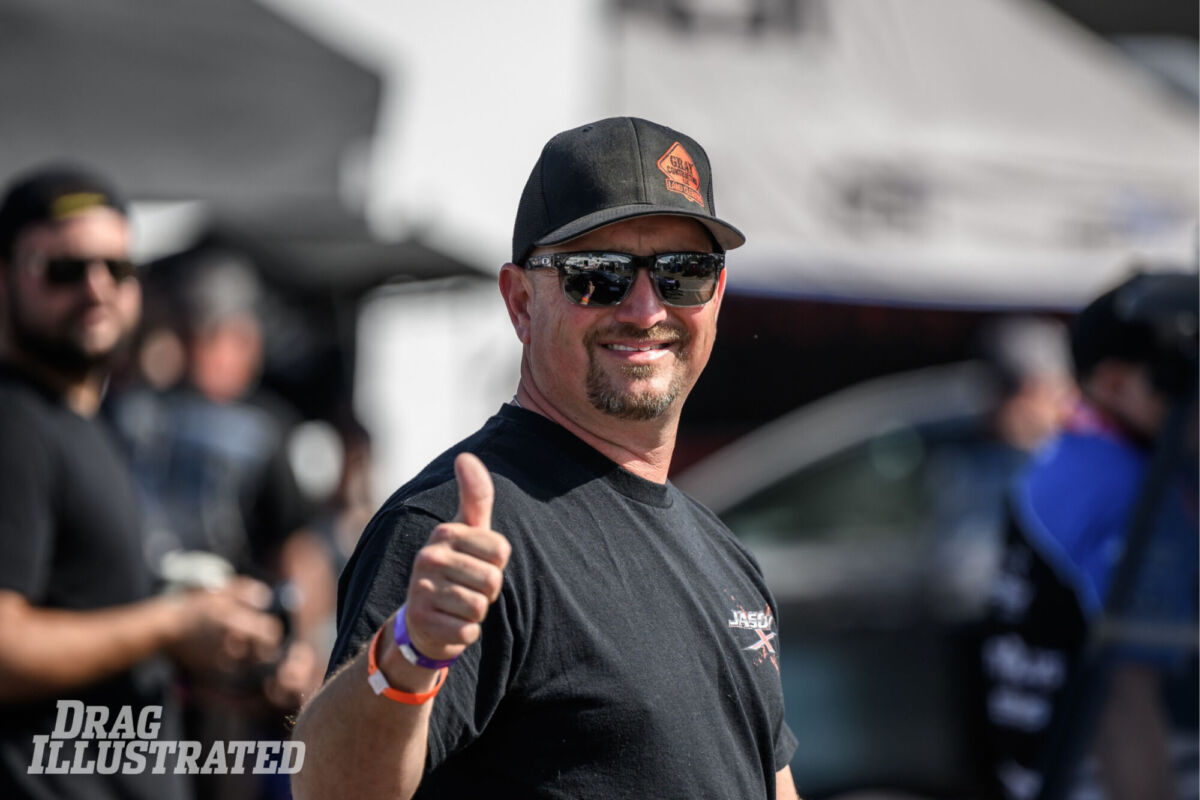 ALL GOOD FOR GRAY: Grudge racer turned NHRA Pro Mod standout J.R. Gray is all smiles in the staging lanes before strapping in to the Janis family's Gray Contracting Camaro. He made it into the 32-car Pro Mod field and grabbed a first-round win.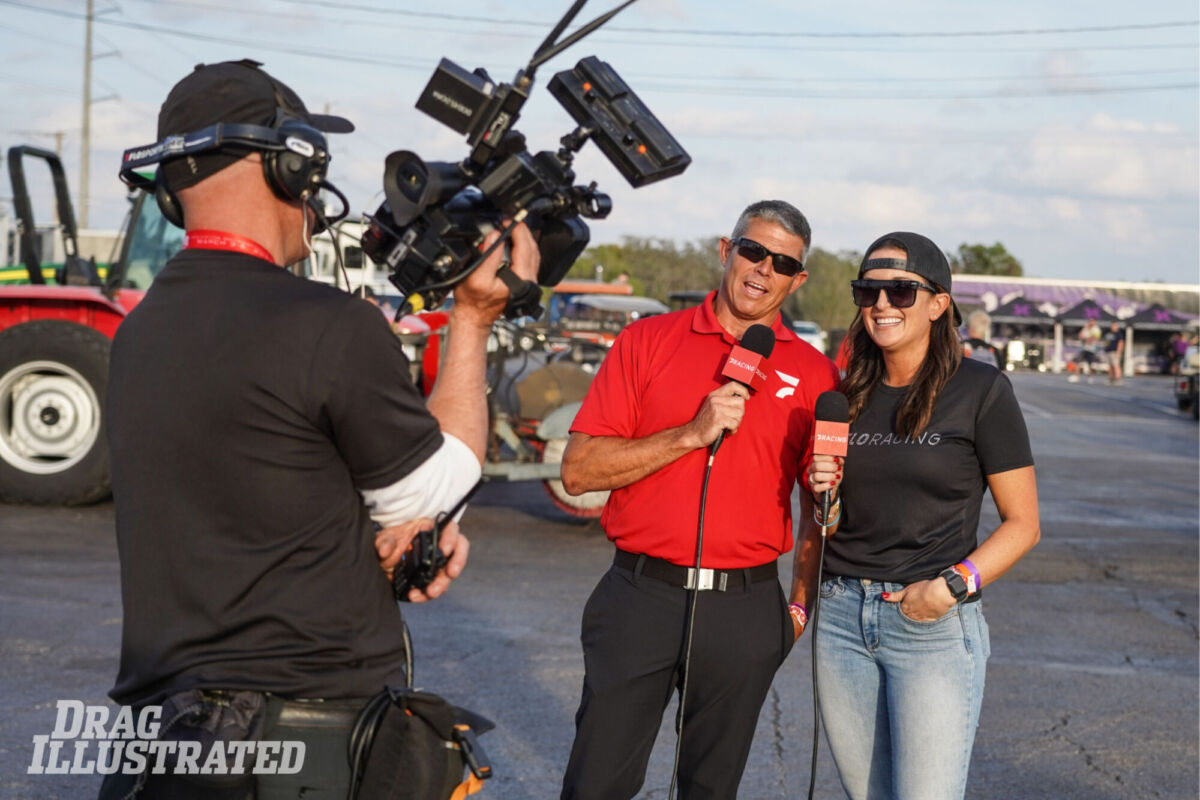 GOING WITH THE FLO: FloRacing's Don O'Neal and Courtney Enders check in from the staging lanes, giving viewers an update as Friday's wind storm calms down, allowing for a slightly delayed start to WSOPM qualifying.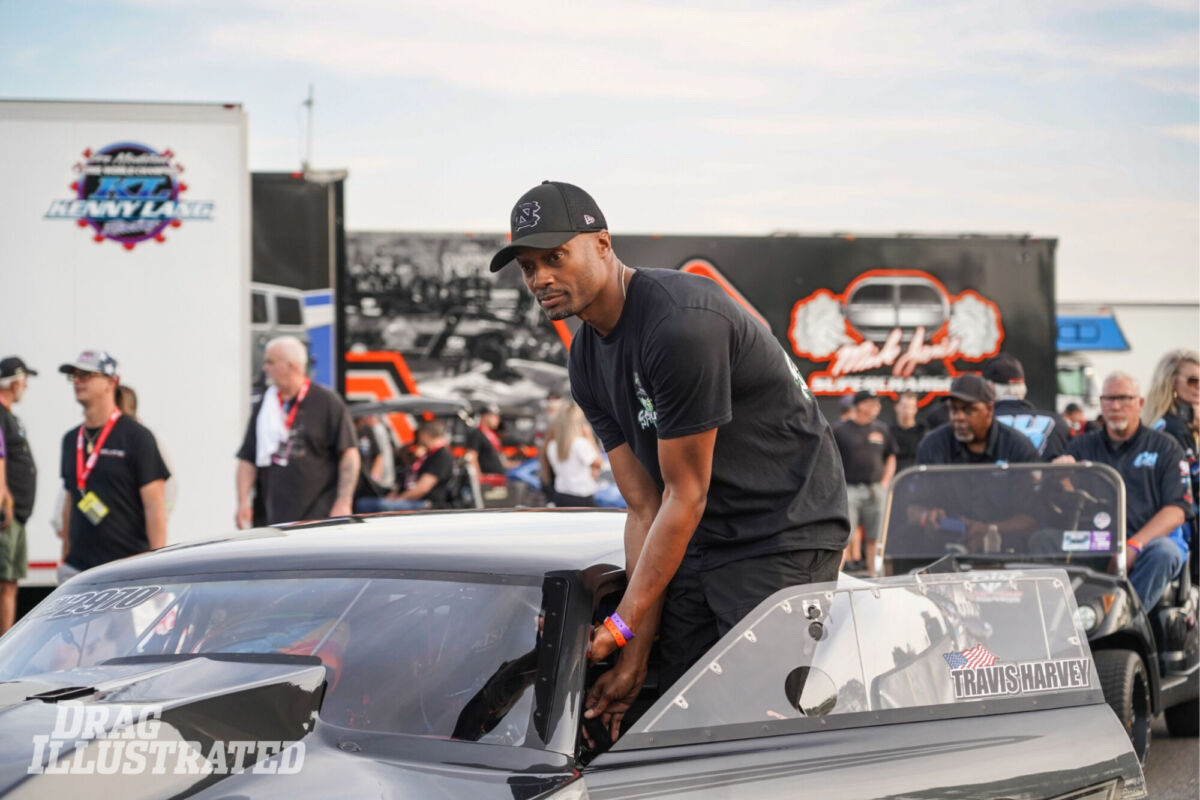 THE CAROLINA KID: Travis "The Carolina Kid" Harvey wheels the ProCharged GALOT Motorsports '69 Camaro to the staging lanes ahead of the first Pro Mod qualifying session at the WSOPM. Harvey and partners Vaughn Myles and Eric Holland teamed up with GALOT for the 2023 season, including a run at the PDRA Pro Boost championship.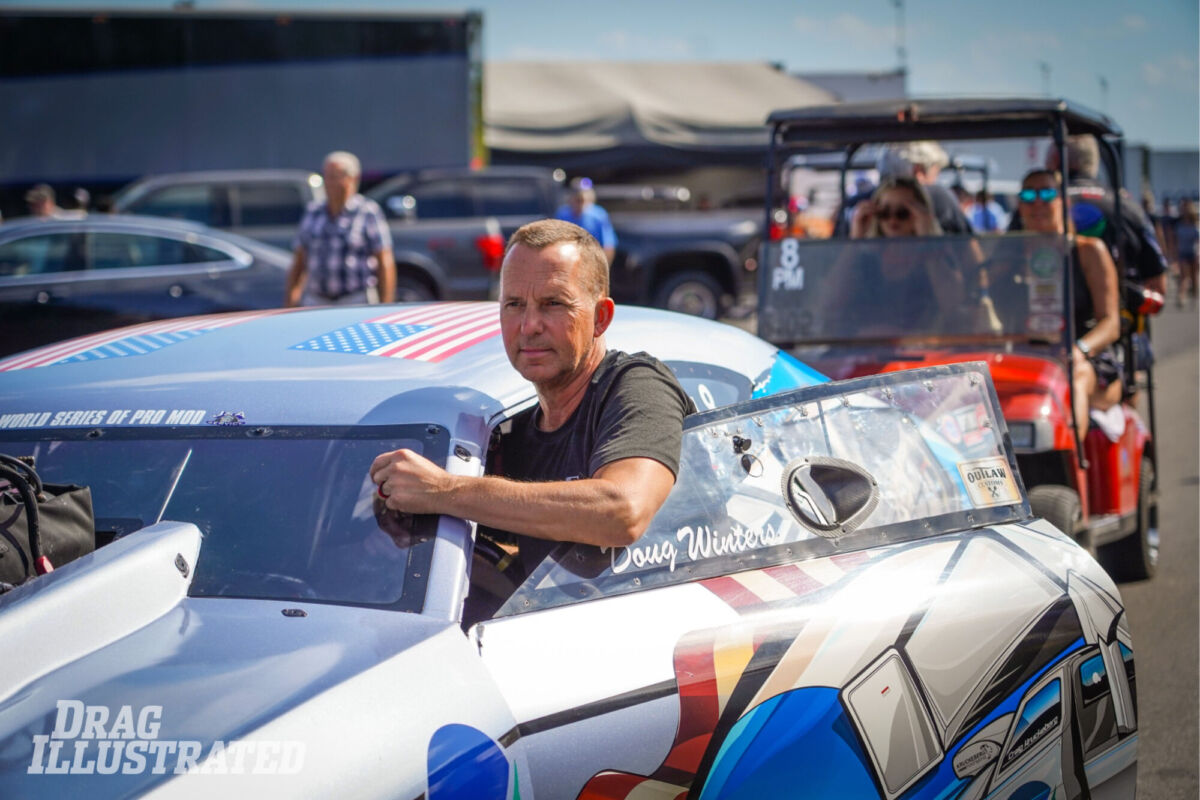 BACK FOR MORE: Pro Mod veteran Doug Winters rolls to the staging lanes in his supercharged Stinar '69 Chevelle for the third qualifying session at the WSOPM. As the runner-up at the 2019 WSOPM, Winters was looking for another late-round finish.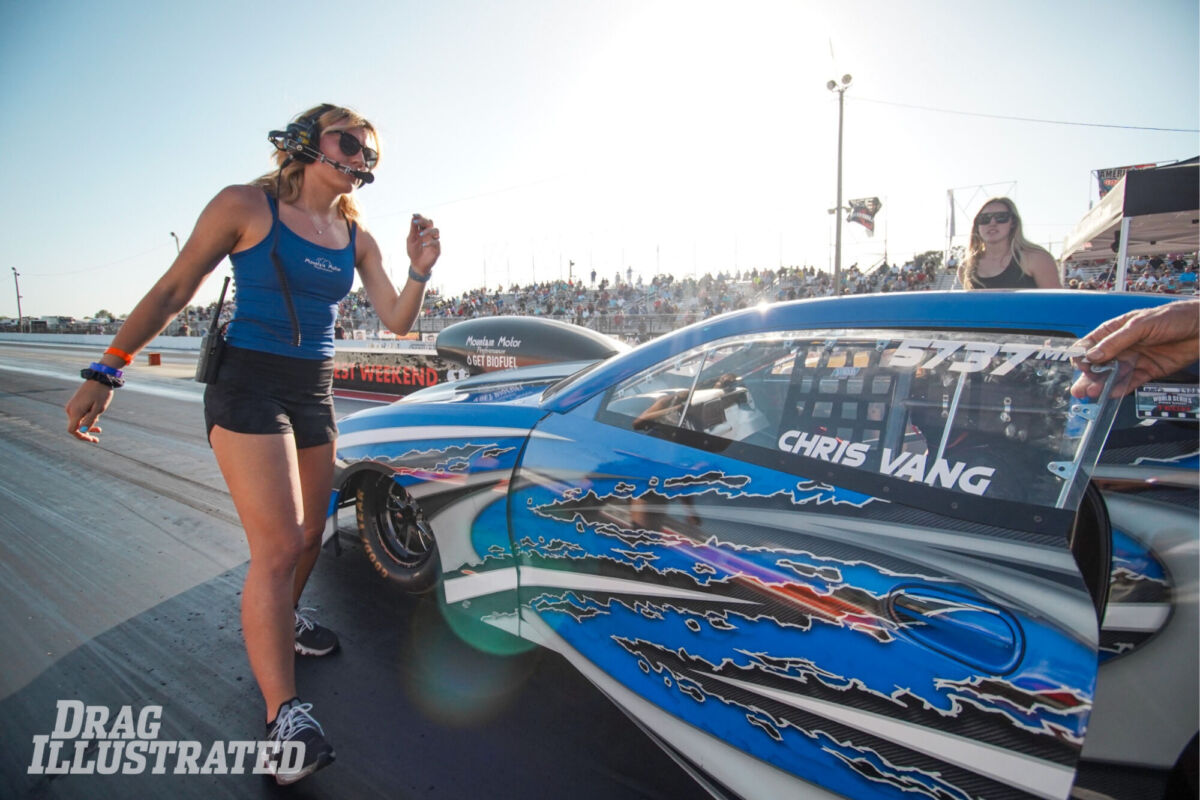 NEW KID ON THE BLOCK: With his wife, Daria, on the driver's side door and his sister, Sarah, on the passenger side, Chris Vang rolls in to stage the Kramer family's new Mountain Motor Pro Stock Camaro. While Vang is a decorated sportsman racer and Pro Stock crew member with his NHRA Pro Stock license, he made his MMPS competition debut at the WSOPM.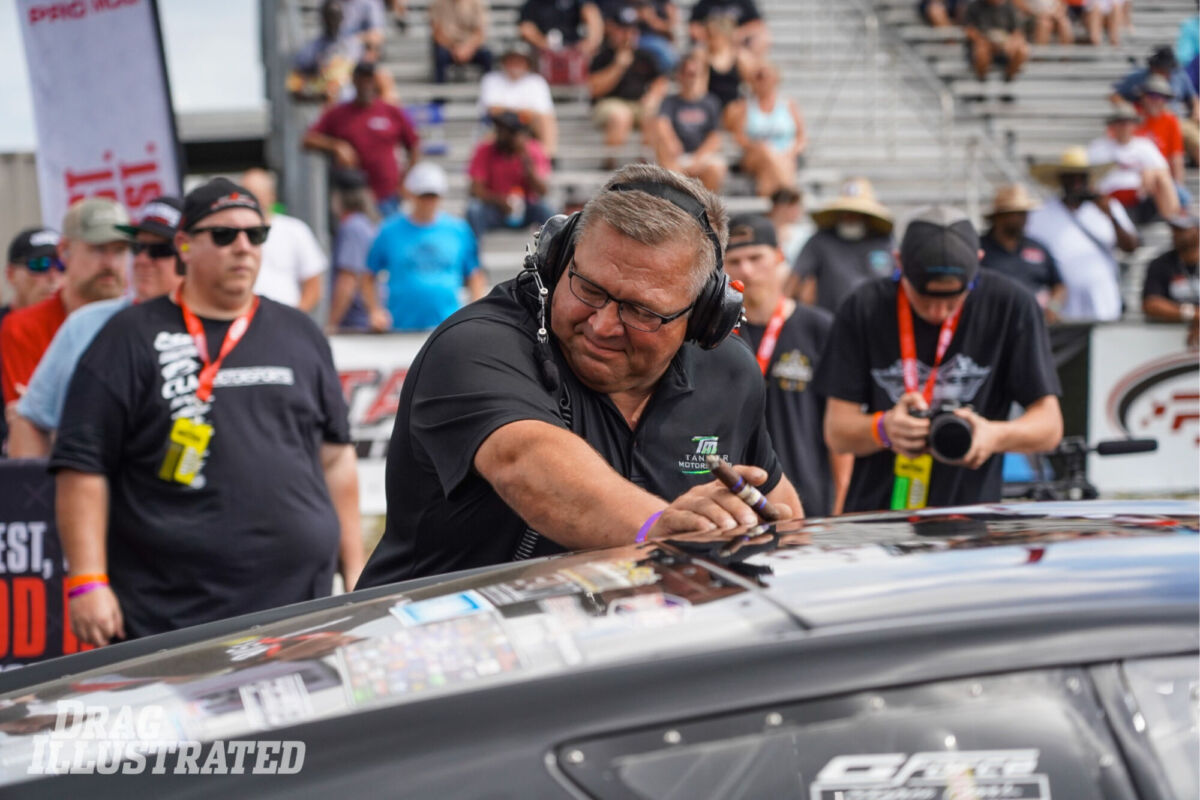 RACE DAY READY: With his trademark cigar in hand, Andy Tanner looks back at tuner Jeff Pierce to give his son, Preston Tanner, the signal to pre-stage the family's screw-blown, Strange Engineering-backed "Sweetheart" '15 Corvette for the first round of Pro Mod eliminations.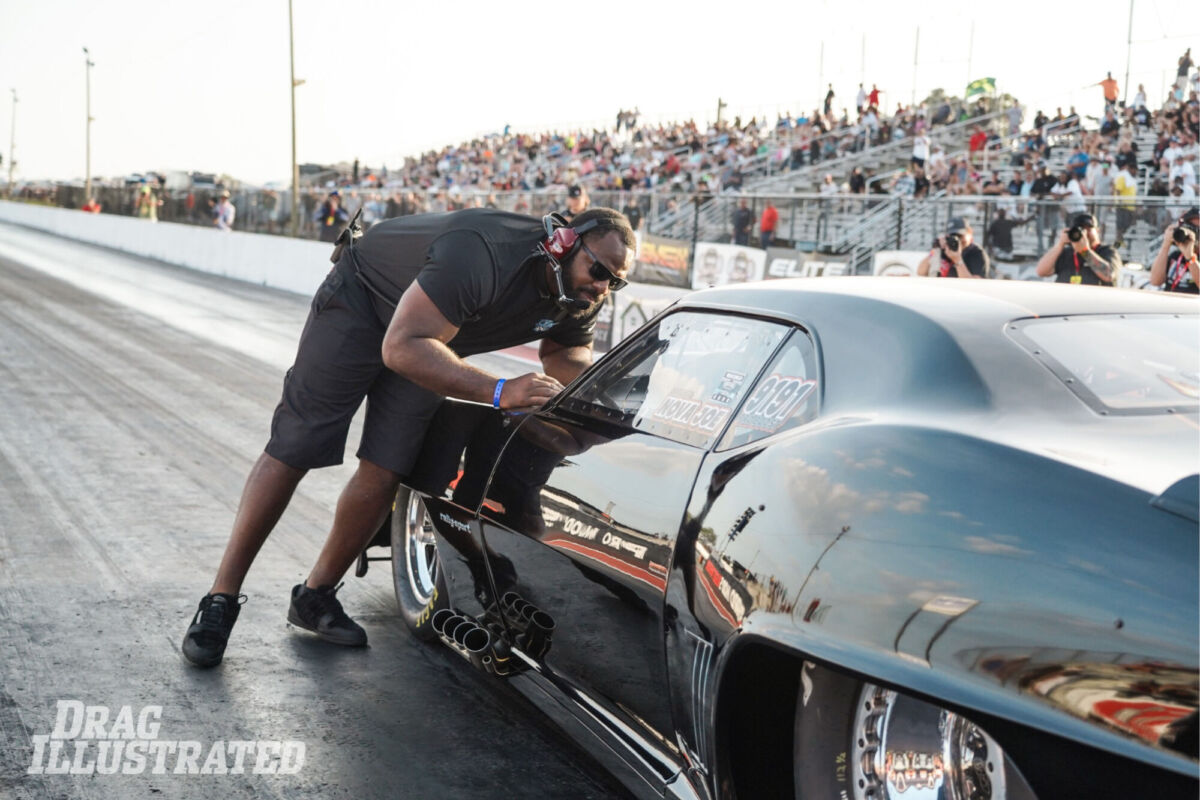 STAGE UP: Fresh off his second Super Bowl appearance with the Philadelphia Eagles, Fletcher Cox gives his ProCharged Cox Racing '69 Camaro a fist bump on the hood before driver "Nova Joe" Albrecht rolls toward the pre-stage beam.
FAN FAVORITE: Mark "Tydo" Werdehausen, driver of the twin-turbocharged "Wolverine II" '69 Camaro, makes these young fans' day, giving them T-shirts, hero cards, and other souvenirs. Werdehausen qualified No. 18 and scored a meaningful round-one win.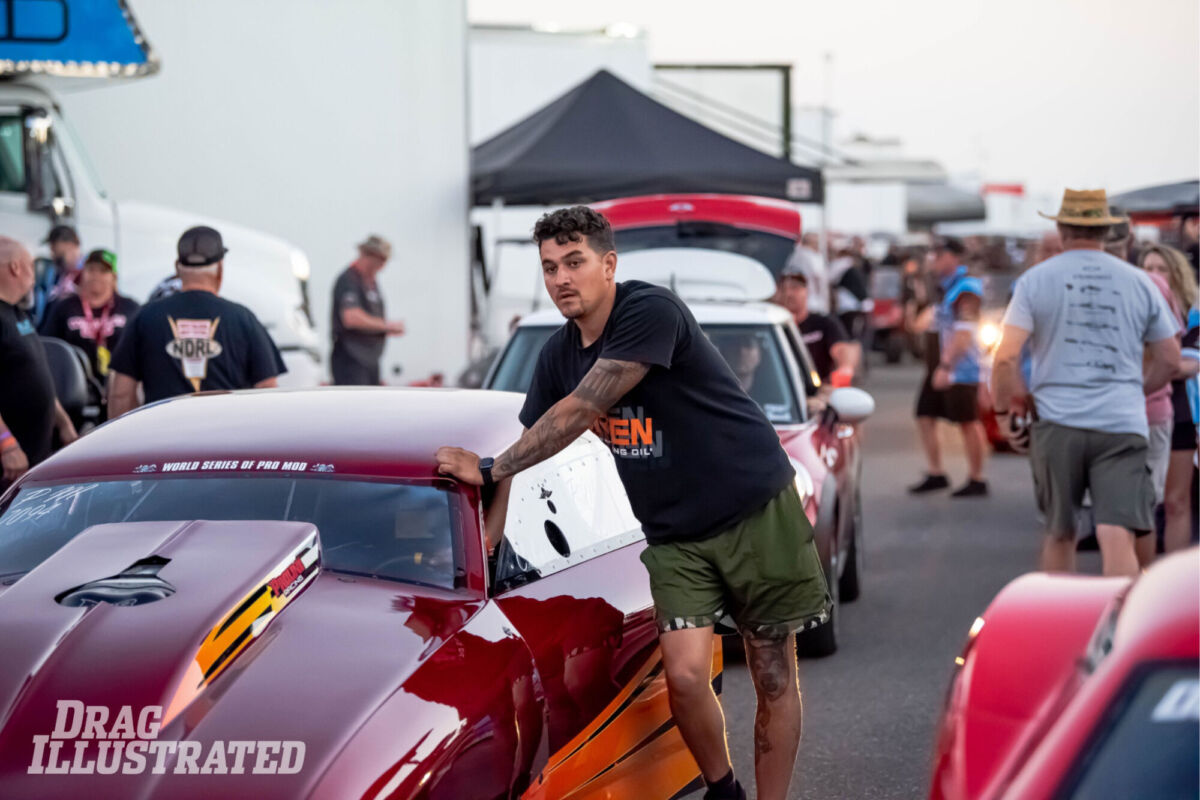 TEAM CALI REPRESENTS: Brandon James, the 2020 Mega Cash Days champion, helps fellow Team Cali driver Mike Bowman navigate the jam-packed Bradenton staging lanes. James made the trip out to Florida with Bowman to help the 2017 WSOPM champion chase one more $100,000 victory.
KING TUT TALKS: Todd "King Tut" Tutterow breaks down his second-round win over Mark "Tydo" Werdehausen with WFO Radio's Joe Castello, who was the top-end reporter for the CBS Sports coverage of the WSOPM.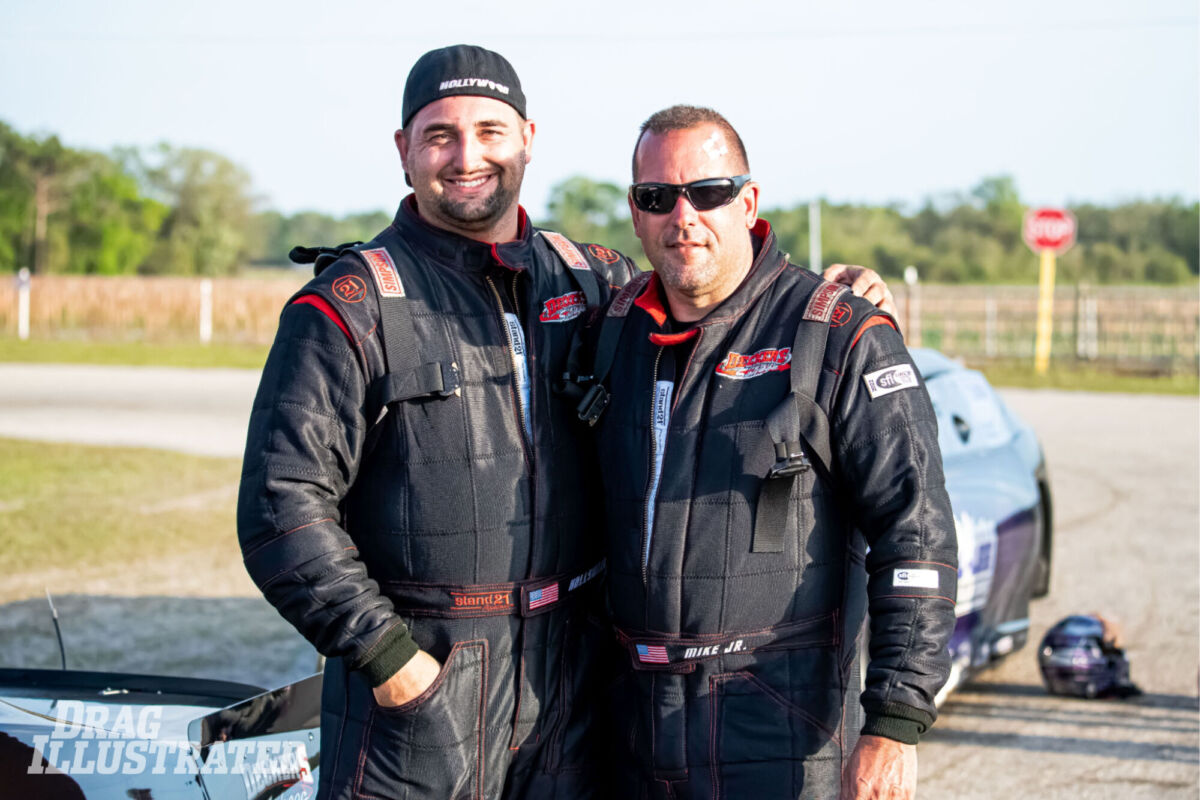 DECKER DUO: Pro Mod drivers Mike "Hollywood" Decker III and his father, two-time and reigning NEOPMA champion Mike Decker Jr., pose for a photo at the top end after the first round of the WSOPM Chicago-Style Second-Chance Shootout.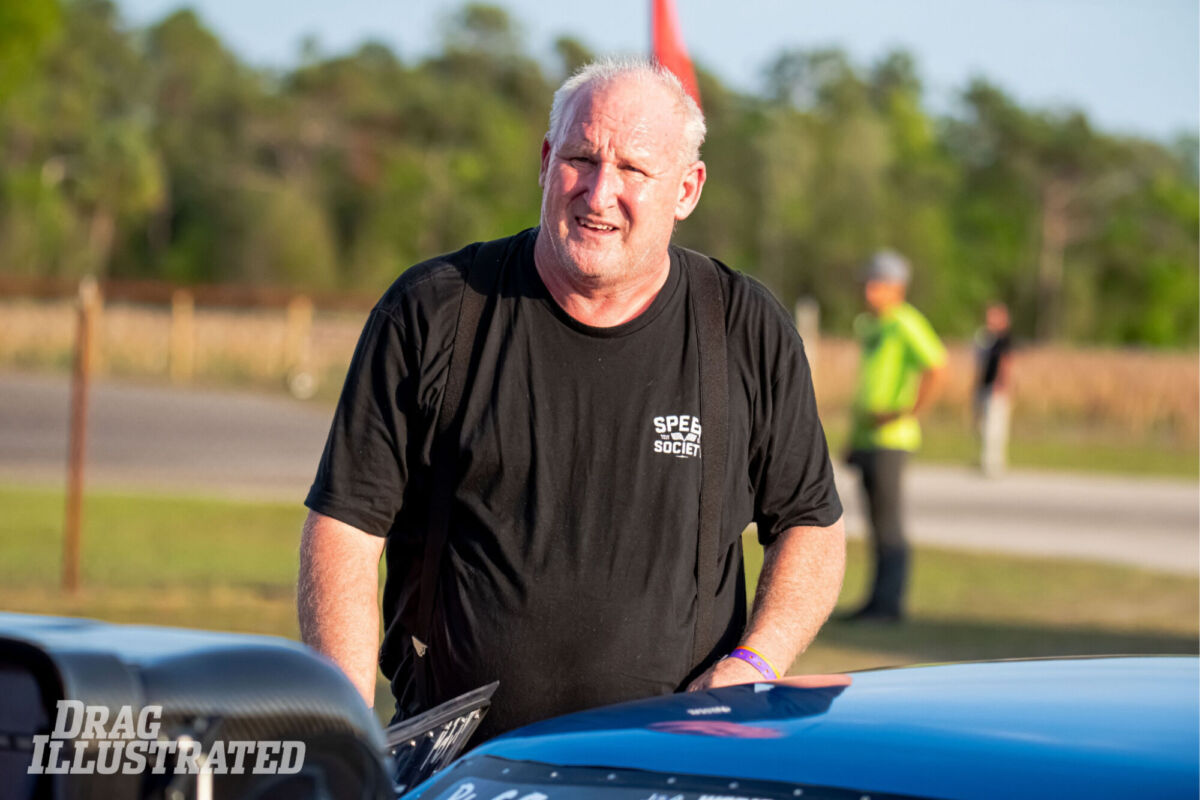 THE MADMAN: Outlaw Pro Modified veteran Frankie "The Madman" Taylor cools off after making a pass in his new screw-blown IHRA Motorsports '69 Camaro in the first round of the $10,000-to-win Chicago-Style Second-Chance Shootout.
Just a couple weeks after the World Series of Pro Mod, DI Editor-in-Chief Nate Van Wagnen married his longtime girlfriend, Allyson Johnson, in a wedding ceremony officiated by DI's own Van Abernethy. DI Founder and Editorial Director Wes Buck and his wife, Alisha, were in attendance, along with several other drag racers.
[Editor's Note: Photographs by Dennis Aliaksandrou, Charleston Photo Art]
THE BRIDE & GROOM: Nate and Allyson met through DI and drag racing in general, and quickly bonded over their passion for the sport.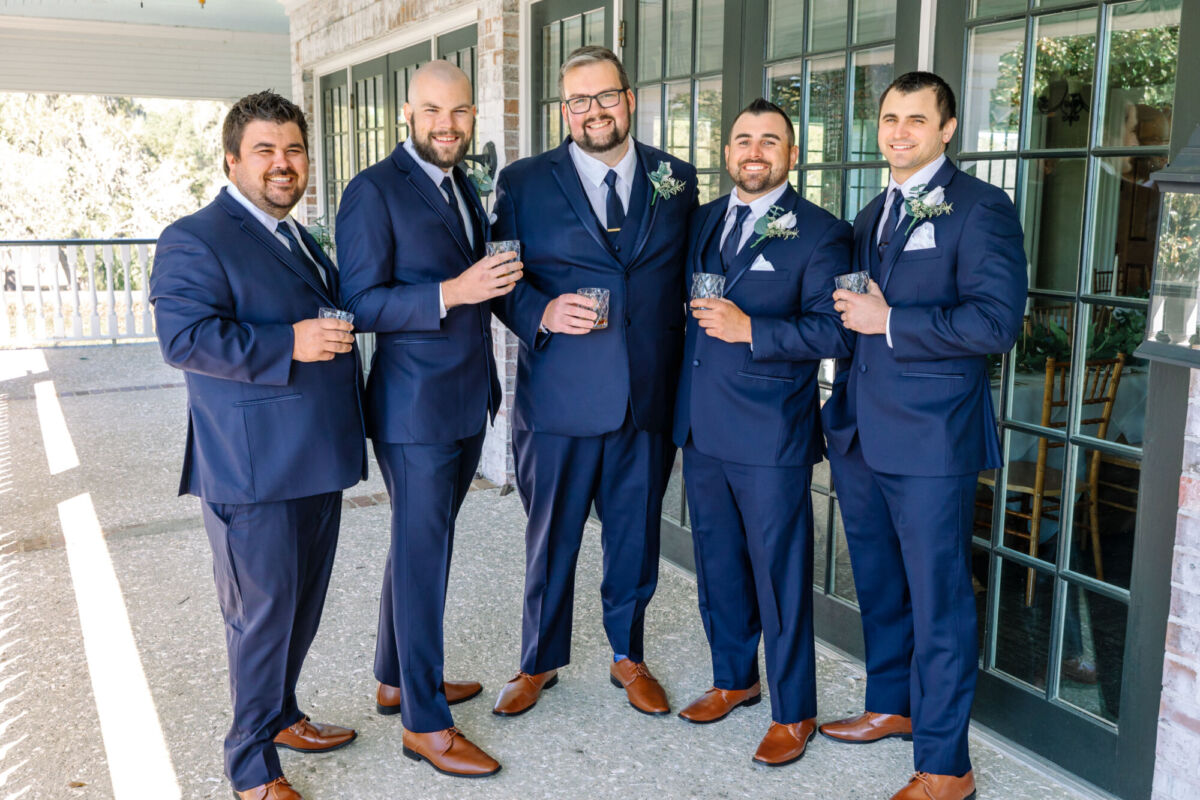 THE GROOMSMEN: Before the ceremony, Nate (center) shared a toast with (from left to right) groomsman Doug Foley Jr., best man and brother Spencer Van Wagnen, and groomsmen Matt and Zach Sackman. Foley is an accomplished big-money bracket racer, and the Sackman brothers are NHRA national event winners in their family's blown Top Dragster.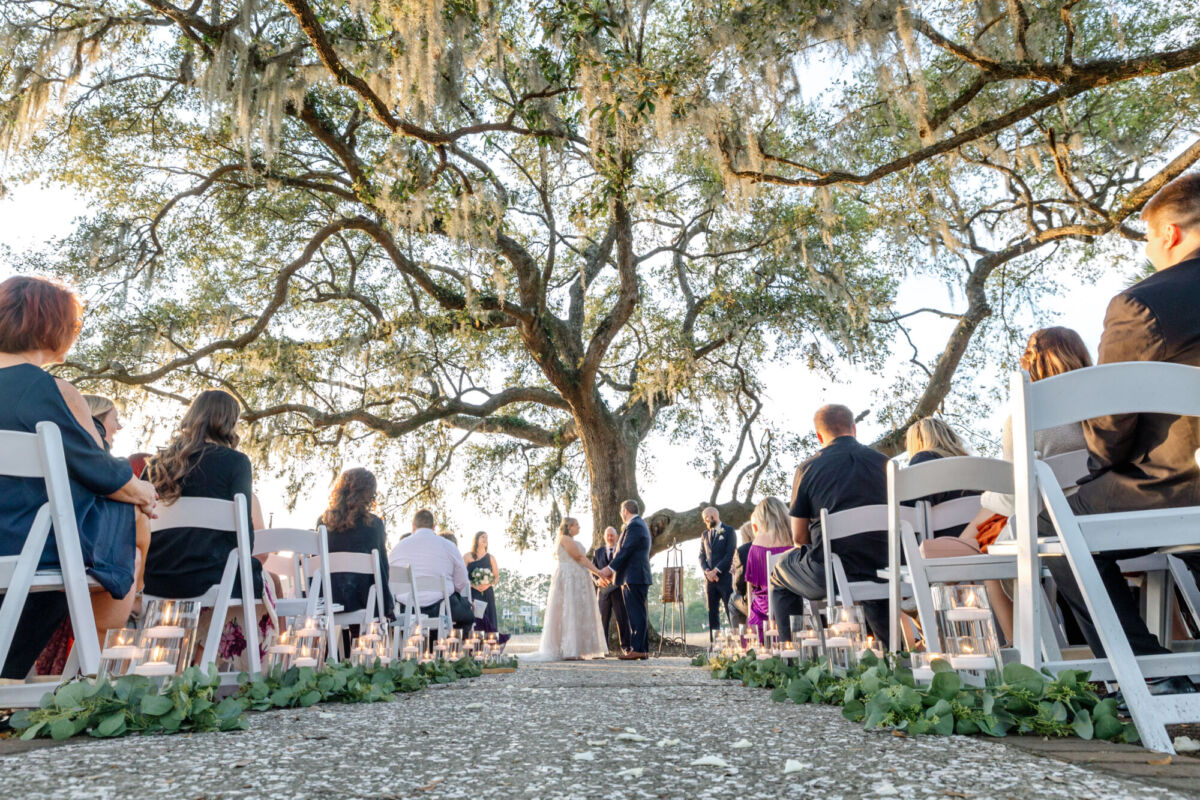 THE CEREMONY: Under the canopy of one of Charleston's famous Spanish moss-covered oak trees, longtime DI columnist Van Abernethy performed the ceremony – his first as an ordained minister.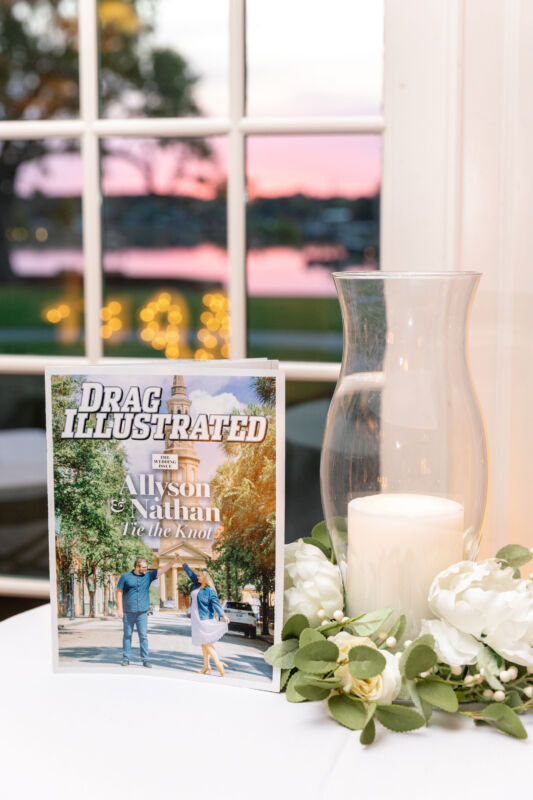 DI WEDDING EDITION: Wedding guests went home with copies of a DI "Wedding Issue" program designed by DI COO and Design & Production Director Mike Carpenter and printed by Publication Printers.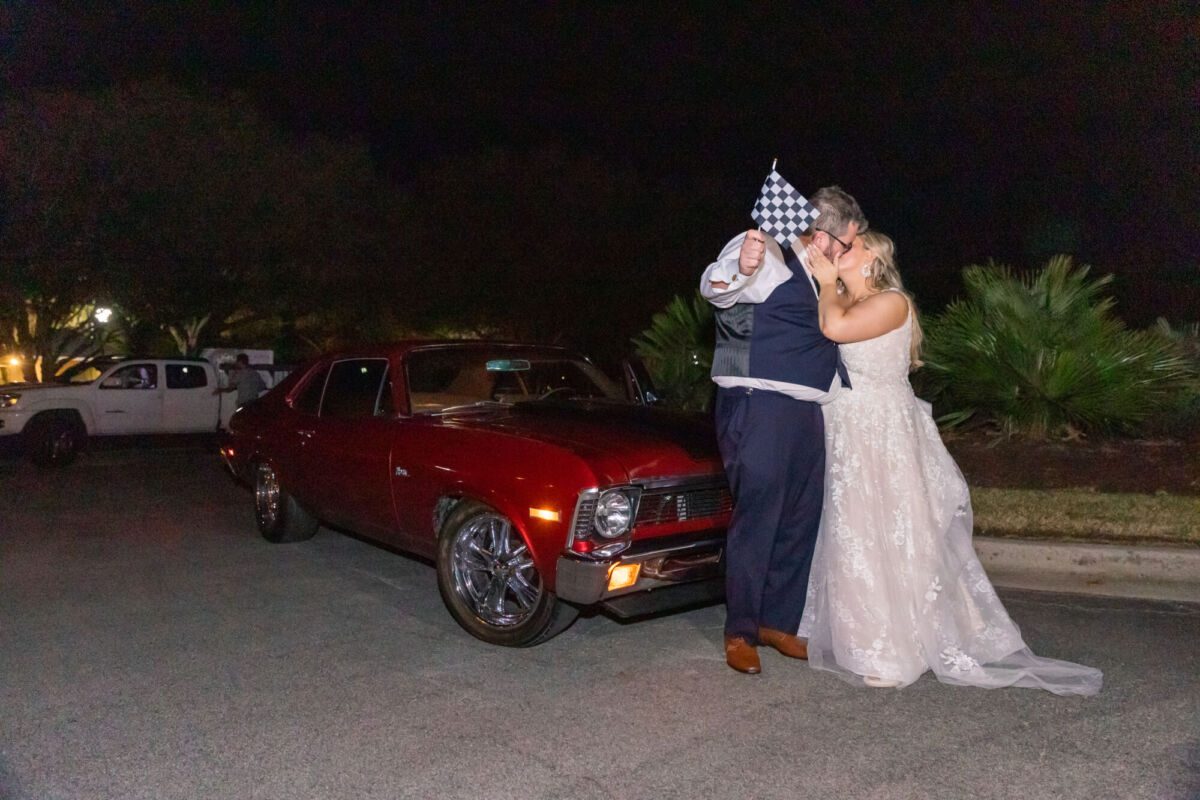 GETAWAY CAR: The bride and groom were whisked away in a show-stopping '69 Nova owned by Chet Couch and driven by Michael Hyatt and his wife, Mary.