Mel Roth's late-season Street Car Super Nationals event at Las Vegas has long been the site of repeated World Records. However, with the addition of a second race at Madison (IL) in August, the intrepid SoCal promoter has now built a dynasty which produces the best quarter-mile passenger car performances anywhere on the planet.
With Australian Paul Mouhayet's incredible 273.39 mph blast in his new Tim McAmis-built twin-turbocharged 2014 Mustang during the Vegas SCSN and Mike Maggio's return to the top spot for speeds by supercharged entries, (263.82 mph), on the same weekend, Roth's SCSN programs are now responsible for the three quickest and two fastest supercharged quarter-mile drivers, (including the only two ever to crack 260 mph).
In the turbocharged world, Roth's races have produced seven of the DI Top Eight quickest drivers and six of the DI Top Eight fastest turbo racers. Moreover, the six fastest doorslammer drivers in history and the six quickest quarter-mile warriors have all earned their positions in Drag Illustrated's exclusive chronicle of the sport's best while competing at Mel Roth spectaculars.
Although SCSN Public Relations Manager Brandon Mudd offered exclusive access to all the numbers from the SCSN, only Mouhayet's career-best 214.79 mph half-track clocking on his historic 273 mph effort earned a ranking in the DI Top 8 eighth-mile speed roster giving credence to the 281 mph potential of the Steve Petty/ProLine Racing Engines team cars which now own the majority of the DI Top 8 Turbo List spots.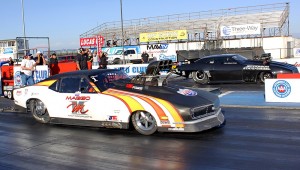 Mike Maggio, meanwhile used the five-day burndown at Las Vegas race to post a stunning series of runs which began with a 5.75/257 and culminated in a career-best 5.645 and a later 263.82 mph supercharged quarter-mile speed to reclaim his World Record recently lost to Frankie Taylor, who clocked 263.77 mph at Roth's St. Louis meet. The Californian made a total of eight runs during the race of which the final three were separated by nine thousandths of a second and two of which were over 261 mph.
The loss of the passenger door at the finish line may have slowed the 5.645 effort and repairs kept Maggio from making the next qualifying session. His BAE-powered '68 Camaro suffered a pressure leak in its air-actuated shifter during the qualifying period which turned out to have the best atmospheric conditions. Maggio also missed a qualifying session when he was forced to fly home to attend a funeral! A redlight in the semi-finals against a tire-shaking Eric Dillard in Jose Gonzales' fabled Q80 "El General", (which earlier posted career-best 5.57/269.51 numbers), ended Maggio's marathon.