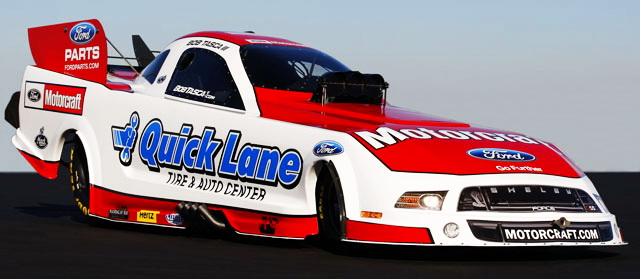 For the first time in 20 years, Motorcraft will unite its NHRA Drag Racing and NASCAR Sprint Cup programs with a uniform paint scheme in 2013.
Both the Ford Shelby Mustang Funny Car driven and owned by Bob Tasca III and the No. 21 Ford Fusion owned by Wood Brothers Racing will compete in the striking red and white Motorcraft Legacy paint scheme that is a modern twist on and tribute to the one the Wood family conceived and campaigned beginning in 1965 and brought back in 2011. Next year's design also incorporates Ford brands Quick Lane and FordParts.com, as it has in the past.
Motorcraft has been first to support Ford's motorsports efforts since 1985, when Ford Customer Service Division (FCSD) and its storied brand launched a multiplatform marketing effort that included NHRA, NASCAR, and IMSA.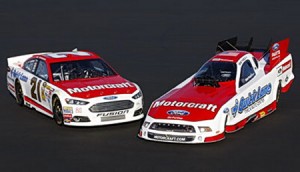 Since then, FCSD and its associated brands have raced to the winner's circle for generations with storied team owners and big names behind the wheel, from NHRA's Kenny Bernstein and Bob Glidden to NASCAR champions Trevor Bayne, Bill Elliott, Dale Jarrett, and Geoff Bodine, as well as John Jones, Scott Pruett, Lyn St. James, Bruce Jenner, and Wally Dallenbach Jr.
"Ford Customer Service Division and its Motorcraft brand's involvement was instrumental in reviving Ford's motorsports program in the mid-1980s," said Mary Lou Quesnell, marketing director, FCSD. "Motorcraft was the first to step up with support and in that way really acknowledge that racing Fords on the track sells Fords and Motorcraft parts in showrooms and stores. We're proud to carry on the tradition."
The last time that NHRA and NASCAR entries matched was in 1993, with Glidden's Pro Stock entry and Bud Moore Racing's No. 15 NASCAR Cup Ford driven by Bodine. Motorcraft began its storied partnership with the much-loved Wood Brothers Racing team in 2001.
"Our family's relationship with Ford stretches back to the early days, and racing a Ford with Ford brands on our car is something special to us," said Eddie Wood, who with brother Len took over operations from their father, Glen, and uncle Leonard, both NASCAR Hall of Famers. "When you look at the list of people who have raced with Motorcraft on the sides of their cars, there are so many stories behind those names. We're happy to be on the list."
Tasca, who spent more time at the Rhode Island Ford dealership that his late grandfather Bob Tasca Sr. founded than he did at home, remembers the rows of parts there and asking his father, Bob Tasca Jr., why some boxes were red and some were blue.
"I literally grew up with the Motorcraft brand," Tasca III said. "To grow up and race a Ford in the NHRA like my grandfather did with Ford brands on the car is a dream to me. I'm excited every week to talk about the business I'm so passionate about and that is so much a part of me."