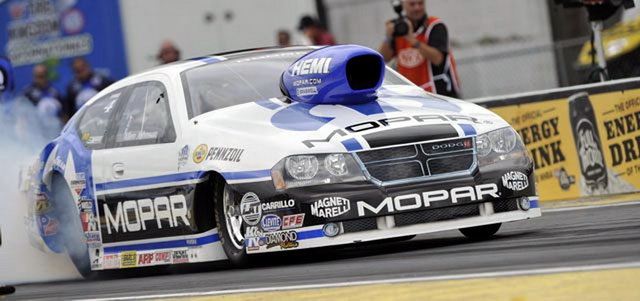 Pro Stock great Bob Glidden won seven times at Bandimere Speedway during his legendary career, the most at that track for any driver in NHRA Full Throttle Drag Racing Series history. If Allen Johnson continues on his current pace of performance at Thunder Mountain, the Tennessee driver might just squeeze past Glidden's mark in the near future.
In the last five seasons Johnson has dominated at the scenic high-altitude dragstrip. He's won three times in five consecutive final rounds during his impressive run in his Team Mopar Dodge Avenger.
Johnson wants to keep the final round streak alive and add another victory at the Mopar Mile-High NHRA Nationals, July 20-22. Spencer Massey (Top Fuel), John Force (Funny Car), Mike Edwards (Pro Stock) and Karen Stoffer (Pro Stock Motorcycle) are the defending winners of the NHRA Full Throttle Drag Racing Series event that will be televised on ESPN2HD.
While many Pro Stock teams spend countless hours trying to figure out the correct setup for the one track on the circuit which presents a totally different combination due to the demanding conditions and elevation, Johnson and his Mopar team feel right at home. He credits his comfort level to the amount of preparation that he and his team have put into the race.
"We've tested at Denver a lot," Johnson said. "We've developed a combination over the years that seems to really work at Thunder Mountain. I guess the motto is, 'Practice makes perfect.' We're very confident heading into the Mopar Mile-High NHRA Nationals. We gained a little more with our combination while testing at Bandimere Speedway recently. We are very confident that we can come in and sweep the race."
In the past few seasons Johnson has got off to a great start during the Western Swing with strong runs at Denver. He usually picks up some positions in the points standings during the grueling three-races in three-weeks test. This season, at third in the points order, he doesn't have too far to go to reach the top spot in the category.
"The Western Swing is always very critical to our season," Johnson said. "That's a pivotal time of the year, right before the Countdown playoffs begin. It's where you get your mojo."
Johnson has been getting his mojo all season by running consistently strong at each event. He's qualified No. 1 a category-best six times and has raced to two victories in three final rounds. He trails series leader Greg Anderson and defending world champ Jason Line in the points standings.
"I think we can reel (points leader) Greg (Anderson) in," Johnson said. "We are real close right now. If we can keep on the path we've been on, going to the semifinals each race and also advancing to some final rounds, and get a couple of wins, I feel like it will be really close at the end of the year."
Johnson nearly made his win total a perfect three for three for the season by coming very close to winning at Bristol. Edwards beat him at Bristol Dragway's finish line with a margin of victory of .0000, the closest final round in NHRA history. Johnson expects a similar photo-finish for the Pro Stock world championship this season and he feels like he has his best chance yet to close the deal.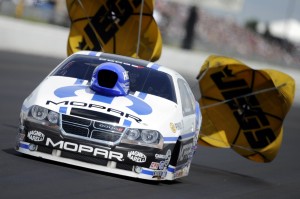 "This is as good a season as we've ever seen," Johnson said. "Last year, we had a really good shot, and just weren't consistent enough. We have a really good shot again this year. We have a few things that we need to work on. You know it's going to come down to the end of the year, and you know it's going to be real fun."
But first things first. Johnson wants to make sure he takes care of the task at hand in Denver and moves one win closer to Glidden's track record for wins.
"It would be huge to win again at Mopar's big race," Johnson said. "Anytime that you can claim what we've claimed here, five straight final-round appearances, that's awesome. It's Mopar's 75th Anniversary this year, and I would love to give the folks back in Auburn Hills, Mich., a Denver Wally trophy as an anniversary present."
(Photos courtesy NHRA/National Dragster; Click to enlarge)