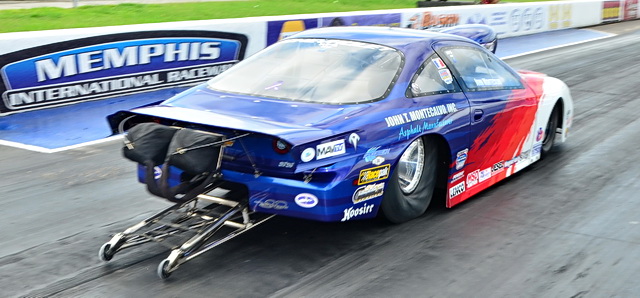 The coveted "number one" comes with its perks, but for many it's not always the position most desired. As a two-time world champion, John Montecalvo knows a thing or two about sitting in the number one spot, but he's currently relishing his number two position and planning his next move.
"As the old tagline goes, 'we're number two so we try harder,'" Monte elaborated. "We're in a great position [less than 100 points out of first] for a championship run. When you're in that top spot, everyone is gunning for you. With two races left in the points and the bullseye on [points leader] Elijah Morton, we're continuing the slow and steady approach we've taken all year to hopefully take our third championship title.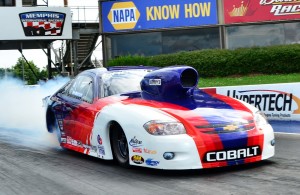 "With the top five guys separated by about 300 points, it's really anyone's game and our team has to be our best. This team is doing a great job and I feel like we're peaking at the right time. Everything seems to be falling into place so we're going to keep our focus and do what we know we can do."
At the most recent ADRL event in Memphis, TN, Monte and team utilized their consistent approach to qualify number two with a 4.099 and get past John Bartunek in round one with an .018 light and 4.11 elapsed time.
Unfortunately, Montecalvo was forced to lift early in round two, giving Trevor Eman the win. Still, the team maintained good position in the points and is solidly qualified for the Battle for the Belts Shootout to be contested Sep. 6-8, during Dragstock X at Rockingham Dragway in North Carolina.
"I have to say that the Memphis Drags was one of the best races we've ever had," Montecalvo said. "The fans were great and other than the weather, the event went off flawlessly. We had one of the highest car counts, if not the highest, in the history of the ADRL.
"I'm sure that Rockingham will be off the charts. Dragstock is always the premier event on the ADRL tour and now with the Battle for the Belts contested there, it will truly be the highlight of the year.
"I want to thank the ADRL for their generosity in funding the Battle for the Belts. It's a privilege to be a part of this race. The top eight in points are the best in the country and we're proud to race beside them for a prestigious title. It's going to be a tough event, but we're looking forward to it," he added.
"With the Battle on Friday and Dragstock run on Saturday and Sunday, this could be a big weekend for us. One thing is for sure, we're going to give it our all and let our competition know that we're in this fight until the end."
(Photos by Ian Tocher; Click to enlarge)