There are big time weekends in motorsports where national events add specialty races to the mix, but this weekend's NHRA Thunder Valley Nationals, June 9-11, will raise the stakes for 2022 New England Nationals runner-up and 2022 Thunder Valley Nationals winner Justin Ashley and his Phillips Connect Toyota Top Fuel team. Mother Nature forced the postponement of the New England Nationals to Bristol Dragway putting Ashley and the rest of the Top Fuel field that qualified for the Epping National event in a position to turn on eight win lights over three days and win three events.
"I don't know if the NHRA could pack more excitement into one weekend," said Ashley, a seven-time Top Fuel national event winner. "Teams could realistically leave Bristol with two national event wins and a Mission #2Fast2Tasty Challenge victory in only 3 days. This is a great opportunity for the Thunder Valley fans to enjoy a high level of racing from our Phillips Connect Toyota team and others."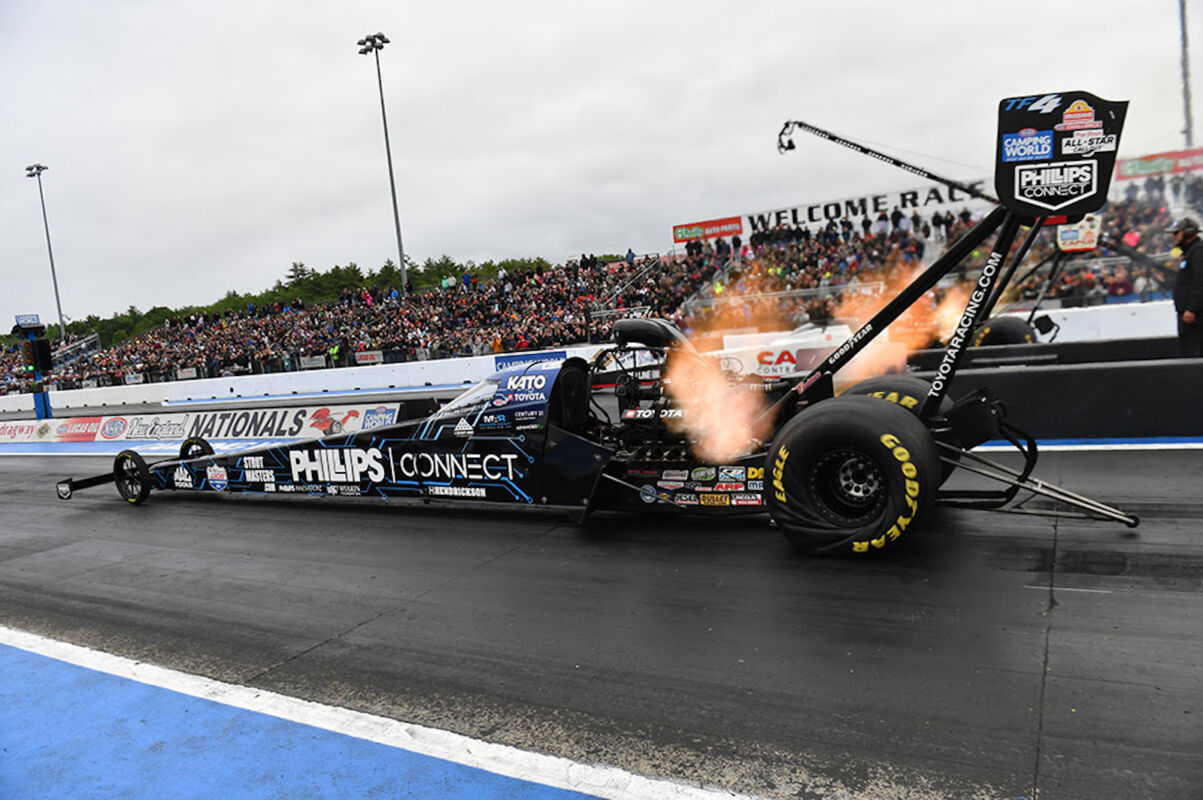 This will be Ashley's third Thunder Valley Nationals, and the young driver has made the famed drag strip nestled between the Tennessee mountains one of his favorite stops on tour. Last Wednesday, Ashley was at the track as part of the event's pre-race media celebrity race, and the defending champion was eager to get back into race mode. During the media event, Ashley was able to talk about his on track success as well as his many sponsors, including Toyota, Mac Tools, Lucas Oil, KATO Fastening Systems, and of course, Phillips Connect. In 2021 he qualified No. 5 and defeated Shawn Langdon and Billy Torrence before losing to Steve Torrence in semifinals. Last year on Father's Day Ashley qualified No. 14 and won the race after upsetting No. 3 qualifier Josh Hart and then defeating Doug Foley, Steve Torrence and Shawn Langdon.
"Last year the strength and resiliency of our Phillips Connect team was on full display, said Ashley. "We faced challenges throughout the race but overcame them by turning on four raceday win lights. The stakes were high a year ago because the race took place on Father's Day. But the stakes may be even higher this year because of all the meaningful races that are going to take place throughout the weekend."
Before Ashley can get another Thunder Valley Nationals title, he will have to wrap up the New England Nationals. He will race Canadian Dan Mercier in the second qualifying session, which will also be the first round of New England Nationals. Ashley has a 1-0 head-to-head record against Mercier. If Ashley is successful in picking up the win light, he will face either Josh Hart or Brittany Force on Saturday morning's qualifying run, which would be the second round of the Epping national event. Continued success would propel Ashley into his third Mission #2fast2Tasty Challenge race. In his previous two appearances, Ashley has taken the win earning $10,000 and three championship points in each of the specialty races.
"I love everything about the Mission #2Fast2Tasty Challenge," said Ashley. "It's great to race for points while providing more entertainment for the fanbase. Winning a third Mission #2Fast2Tasty Challenge would give us nine championship points which equates to almost one whole position in the standings. The competition is extremely tough, and we have a long way to go before that's even a consideration. But, nonetheless, this weekend could pay huge dividends later in the year. I hate we didn't get to finish the race in Epping and cannot thank the New Hampshire fans enough for their support. But I do look forward to finishing the race this weekend in Bristol."
A successful weekend could also afford Ashley and the Phillips Connect Toyota team the chance to close the gap and possibly extend a point lead in a very close Top Fuel top five. Unofficially entering this weekend, Ashley is in fifth place in points with 438 Camping World Top Fuel points, including qualifying points and round one points from Epping. He is four points behind Leah Pruett and five points behind Austin Prock. Force is in second place, just 14 points ahead of Ashley. Points leader Torrence is less than two rounds away from the 2020 NHRA Rookie of the Year.
Ashley and the Phillips Connect Toyota Top Fuel dragster will make two passes on Friday at 5:00 p.m. and 8:00 p.m. with two more qualifying runs on Saturday at 2:00 p.m. and 5:30 p.m. The final eliminations for the Thunder Valley Nationals will begin on Sunday June 11 at noon ET with the race being broadcast nationally on FS1 from 7:00-10:00 p.m. ET.