Over 400 racers showed up today and were greeted with outstanding Chamber of Commerce weather on the first day of the K&N Spring Fling Vegas event. Today called for a free Test & Tune session for all competitors sponsored by Yukon Gear & Axle.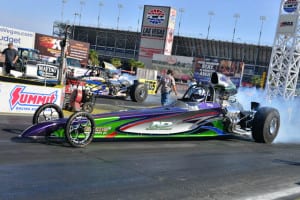 ddThe day also called for the Maytag Silver State Refrigeration $50K To Win Shootout. And when you're in Vegas, there's no reason not to gamble. Open to only 32 racers, each ponied up $2,000 to compete for a $50,000 payday. With four cars left, the two semifinal round losers were set to receive $1,000 with the runner-up earning $5,000.
The semifinals represented four different states with Vinny DiMino traveling the furthest from Maspeth, NY. The other combatants were Greg Hicks from Las Vegas, Cecil Hankins from Roswell, NM and Duston Wurtz representing Nampa, ID.
At the round of four, Hankins and Hicks battled it out with a double break-out win going to Hankins. In the other half, DiMino and Wurtz both had double-zero reaction times with DiMino running dead on his dial-in and a five-thousandths package for the win.
The two remaining racers represented opposite sides of the country. With both racers dialed close to one another, DiMino received a .003 head start and never looked back, running a 4.722 on a 4.72 dial-in while Hankins ran a 4.709 on a 4.69 dial. And so "What Happens In Vegas," isn't going to stay here today as DiMino will be taking his $50K back to New York.
Stay tuned to Bangshift.com for the live Internet video feed of the event. And visitwww.BracketRaces.com for further info and results from the last two years.