Every spring, Shadyside Dragway kicks off its racing season with one of the premier small=tire races in the Carolinas. Stamper/Buff Productions' "Overthrowing the Throne" has become a staple in the South, opening the North Carolina drag radial season with Outlaw 275 and True Street 275 bringing thunder to the small community outside Shelby, NC in its third installment. Fans packed into the stands ready to see what these cars could do on the famous surface prepped by Zach and Seth Buff, better known as "The Traction Buffs".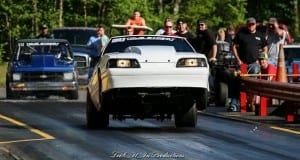 Outlaw 275 featured some of the "who's who" on the small drag radial with Barry Mitchell, Ziff Hudson, David Pearson, Tim Kincaid, and Larry Roach, who brought the first screw-blown combination into 275 drag radial action. Mitchell set the standard in qualifying, taking the number one spot with a 4.20 and carried it throughout the day like a bracket car. The semifinals saw Barry Mitchell taking out Larry Roach and Ziff Hudson defeating Tim Kincaid, who would set the 275 speed record with 190.35mph in his defeat. In the finals, Mitchell would not only take the win but become the quickest nitrous-powered 275 drag radial car with a 4.13 at 185mph.
True Street 275, a class similar to Ultimate/Ultra Street class, was the co-headliner of OTT3 as 24 cars entered the competitive field. The semifinals came down to Matt Lawrence taking the win in his LS turbo Camaro over David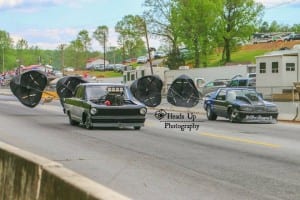 Schwartz's turbo mod motor Mustang and Zak Grubb resetting the class record in his nitrous Mustang with a 4.88 win over Mark Roger's turbo mod motor Mustang. In the finals, Lawrence knew he had to take the tree on Grubb but went red. Grubb took the W and lit the boards with another impressive 4.88.
Other notable winners included Eric "Bigun" Yost in Extreme Street, CB Gilbert in LS Renegades, and Todd Robinson in Pro Comp. Radial action returns to Shadyside Dragway, June 3rd-4th, as "Outlaw Radial Shootout 3" brings the 315 racers into town with the Carolina Drag Radial class, True Street 275, Extreme Street, and more.
Story by Corey Stamper
Photos by Melissa Edwards, Justin Stanley and Wesley Taylor