As a veteran of Mountain Motor Pro Stock, John Montecalvo has just about seen and done it all. He's come close to retiring in recent years, but the announcement of the inaugural $hameless Racing Mountain Motor Pro Stock Invitational presented by Seminole Paving during the World Series of Pro Mod reignited a spark in the Long Islander.
[Editor's Note: This story originally appeared in DI #182, the WSOPM Issue, in May/June of 2023.]
"I have to say, we were more determined than ever," Montecalvo said of his outlook going into the MMPSI. "I was focused on that race for three months. Once I got the invite, I thought about nothing but winning that race. That was my prime concern: winning that race."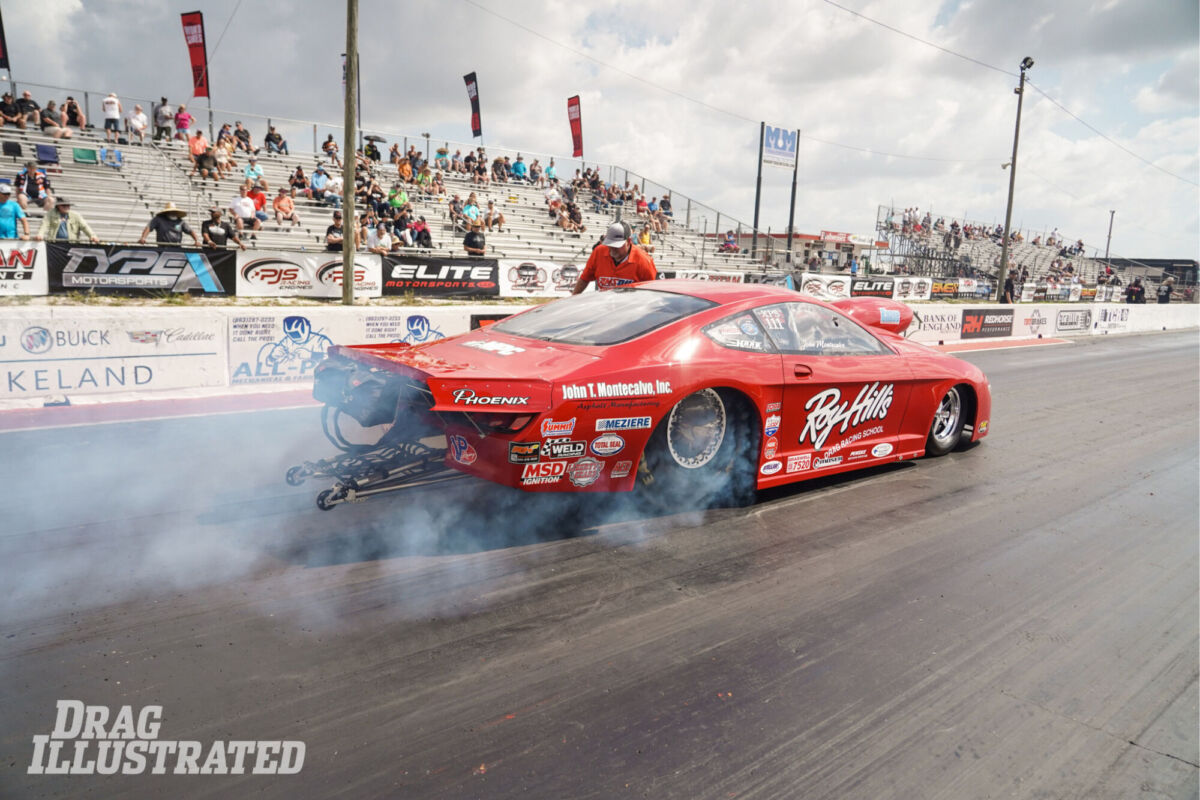 Montecalvo knew it would take more than willing it into existence to win, so he and his team went to work over the winter on the Kaase-powered Roy Hill's Drag Racing School Mustang that he bought from Hill last season. He had sold his own Camaro in early March, then had Hill's Mustang in his garage by March 19. He raced the car a handful of times without much real success, so he knew things would need to change to have a chance at the MMPSI.
"I never even expected to buy this car last year – to get involved with Roy and do this whole deal – but it came along," said Montecalvo, who's won championships in IHRA, ADRL, and PDRA. "We really never got a chance to go through the car and make it my car – my shifter and whatever else that I normally use. That was the focus over the winter, just going through all the odds and ends.
"If I had to never win a race again, my focus was to win that race," Montecalvo added. "In the past couple years there's been a drought over here at JM Racing. We haven't raced that much to begin with, and getting a different car and all that stuff set us back a little bit, but we were going full force for that race."
Montecalvo, whose most recent world championship came in PDRA's Extreme Pro Stock division in 2019, started qualifying with a 4.151 before improving to a 4.138 and a 4.111 that ultimately put him No. 9 in the 16-car qualified field after four sessions. But like Pro Mod and all the other heads-up classes at WSOPM, Mountain Motor Pro Stock also did a random chip draw to determine pairings, and Montecalvo ended up drawing his former crew chief, Tommy Lee, in the opening round.
Montecalvo was one of several drivers who had to pedal their way to a win in the opening round of eliminations. He beat Lee with a 5.091 at 145.61 before improving to a 4.124 at 173.38 in his second-round win over Richard Cowger's 4.139. In the semifinals, Montecalvo left on two-time and reigning PDRA Extreme Pro Stock world champion Johnny Pluchino and followed through with a 4.107 at 176.37 to beat Pluchino's 4.147 and earn lane choice for the final round by just two thousandths of a second.
"Taking out Johnny was a big deal," Montecalvo said. "I had an .018 light on that one, so I felt pretty good going into the final round."
Another veteran of the class, Elijah Morton, had also raced his way to the final round by beating Scott Benham, Derrick Reese, and Dillon Voss. The race was almost over before it started, though, as Morton struggled to get his car started for the final.
"He had to actually push-start the car, which I'm not sure is even legal or not, but Elijah's our buddy and we wanted to race," Montecalvo said. "Actually, if it was anybody, we would've said, 'Go ahead, push your car, do whatever you've gotta do. Let's race.' This is the final round here at the World Series at Pro Mod. The fans deserve to see two cars up there racing one another."
With Morton's car started, the two wily veterans rolled into the pre-stage beams for one final battle with $25,000 on the line.
"Elijah and I like to play games, and I knew up on the starting line to be ready for anything," Montecalvo said. "Actually, I think I played more of a game than he did. Elijah kind of went in and staged the car, but we've got into situations where neither one of us want to put the first bulb on. We've got into situations where nobody wants to start the car first."
Morton was first to pre-stage and first to stage, then Montecalvo was first off the line with an .082 reaction time to Morton's .093. Morton had to pedal to a 4.85 at 164.07, while Montecalvo made his best run of eliminations – a 4.092 at 175.43 – to secure the victory.
"Of course, Elijah, he's fast," Montecalvo said of his opponent. "I think he qualified No. 1 six times last year. He's got a good combination over there. They're doing a really good job with that car and they have good power."
When Montecalvo made it back through the staging lanes and into the winner's circle, he was met with a raucous celebration that drove home the fact that he just made Mountain Motor Pro Stock history.
"I have won shootouts before. I've won the Sunoco Shootout, which was a pretty big deal at Norwalk, but I think this one here is top of the ladder," Montecalvo said. "I think Wes [Buck] said he had like 91 media badges that he gave out. I know in the winner's circle I was blind from all the cameras going off. There was definitely people there. A lot of people from back home that follow us flew in for the race. I just can't say enough for the promotion that [Drag Illustrated] did, and that's what made the race so important to win."
The celebration continued in the days following the race, as Montecalvo got congratulatory calls and messages from friends and industry icons like Pat Musi and Tommy Mauney.
"Just to get those calls from people that I really respect in the industry, that was really humbling for me, to be recognized by all my peers," Montecalvo said. "Elijah and I, we hugged up on the top end. If he would've won, I would've been happy for him too."
On top of his own success, Montecalvo pointed out that it was a feel-good weekend for the Mountain Motor Pro Stock class as a whole. He credited Tommy and Judy Franklin of PDRA, as well as the Mountain Motor Pro Stock Association and its deal with NHRA, for giving the class places to race. He also thanked Real Pro Stock's Scott Soucy, who was instrumental in adding the class to the WSOPM along with sponsors $hameless Racing and Seminole Paving.
"We have a really close-knit group over here in Pro Stock," Montecalvo said. "Even the new guys coming in, we adopted them already, Jordan [Ensslin] and everybody. It's a family. Extreme Pro Stock, Mountain Motor Pro Stock, is a family more than anything else. My trailer is always open to whoever needs parts or help. You have the Drinkwaters coming in, then the Vosses, they're going to be a force, no doubt. I'm just excited for the future of the class."