Clay Millican's favorite thing about racing at The Strip at Las Vegas Motor Speedway is the overhead rumble from B-52 Bombers, F-16 and F-22 fighter jets, and a variety of other approaching and departing military aircraft from the nearby Nellis Air Force base.
The constant flow of air traffic provides a nice brief diversion from time to time for the popular Tennessee driver as he is intently focused on powering his 8,000-horsepower Parts Plus Top Fuel dragster to the No. 1 qualifying position and ultimately a race victory at the NHRA Mello Yello Drag Racing Series event at Bruton Smith's state-of-the-art multi-purpose motorsports facility that sits just north of the bright lights of Sin City's main drag.
Millican, who is off to a great start this season, hopes to keep the momentum going at the SummitRacing.com NHRA Nationals, April 5-7 at The Strip at Las Vegas Motor Speedway. Spencer Massey (Top Fuel), Robert Hight (Funny Car) and Allen Johnson (Pro Stock) are the defending winners at the fourth of 24 events that will be televised on ESPN2HD.
While Millican craves the sensory rush he gets from handling the controls of his 320 mph dragster, he says he often daydreams about sitting in the cockpit of a fighter jet, flying solo.
"I love the free air show we get when we are there," Millican said. "I love airplanes and I had a chance to ride with the (U.S. Air Force) Thunderbirds a few years ago and man, it's just a ton of fun to see all the different types of planes that are going in and out of Nellis (Air Force base) all weekend long. But, Bruton Smith has a great race track over there in Vegas, and that certainly helps you like going out there to race a whole lot, too."
And lately Millican has been doing a lot of great racing as the driver of a second team car for Bob Vandergriff Motorsports. His team, which is led by crew chief Kurt Elliott, has emerged this season as a top challenger right out of the gate. After losing two very close first round races at Pomona and Phoenix, Millican qualified fourth and advanced to the final round in Gainesville, Fla., ultimately losing a close side-by-side final round to race winner Antron Brown.
"After what we've done the first three races, I feel like that first win is so close," said Millican, who posted his career-best time and speed on his first qualifying attempt of the season at the Winternationals. "My confidence as a driver is way up there because I have a great team behind me and I am enjoying this opportunity."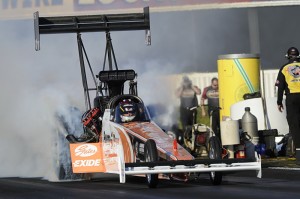 With five runner-up finishes on his NHRA resume, Millican is anxious to get that first victory. He's been a regular on the circuit since 2003 and competed in 150 events.
"I really don't let the fact that we haven't won an NHRA race yet eat me up," Millican said. "That's not my style. It is the one question that I get all the time, so I hope we can win pretty soon so that question will finally go away."
Despite the questions, he says he doesn't feel any added pressure to win.
"When I get in that race car I realize I am very fortunate to get to do what I do for a living, and I have a very nice deal with Parts Plus," Millican said. "I drove a forklift for many years. I am just enjoying everything here and enjoying being a part of Bob's team."
One thing is for sure, when Millican does win that first race, everyone will need to brace themselves for what will certainly be a wild and crazy winner's circle.
"I am not good working off of a script," Millican said with a laugh. "I can tell you the one thing I won't do is take off and run from the top end back to the starting line. I will leave that up to Bob because he's in better shape than I am. But I am ready to find out what I am going to do. I am a spur of the moment type guy so who knows what will happen, but I can't wait for it to happen."
He knows in order to win he's going to have to do it during a season that follows what many have called the most competitive ever in the history of NHRA Top Fuel racing. All of those drivers have returned to once again battle it out, including defending world champ Brown, seven-time champ Tony Schumacher, Massey, Shawn Langdon, Doug Kalitta, Brandon Bernstein and Morgan Lucas, among others.
"Top Fuel is turning into Pro Stock, the competition is so close," Millican said. "It's just unbelievable. But as a driver it's nice to know when you stage the car you can make a difference in the outcome of the race. That's how close it is now, that the driver is playing more of a role in each race and that's exciting to me."
While the excitement of Las Vegas' massive casinos and spectacular nightlife scene provides a great stress-reliever for many on the circuit to spend their time away from the track during the weekend, Millican says he and his wife might take in a show and hit a few nice restaurants, but he prefers to save most of his energy for race day.
"I go there all business," Millican said. "I don't drink and I don't gamble, so Vegas doesn't distract me too much. There's nothing wrong with anyone who likes to enjoy all that the city offers, but it's just not me. However, it's still fun to go there because they have a great race track and I get to do my job. That is all the fun I need."