Two-time and reigning Northeast Outlaw Pro Mod Association (NEOPMA) champion Mike Decker Jr. wrapped up the 2023 season with a $31,000 victory at the NEOPMA 31st anniversary race Sunday night at Maryland International Raceway. It was an all-Maryland final round, as Decker Jr. faced off against Chuck Ulsch for the season finale win held in conjunction with MIR's Superchargers Showdown.
"I'm going to thank God for giving me the ability to get that win, and I'm going to give Him the glory for my team to have the ability to recover to get that win," Decker Jr. said. "Without that, that wouldn't happen. To win that 31st anniversary race, it's not just another monthly race. It just shows the caliber of guys that I surround myself with on my crew. With the support I get from guys like the Tutterows and the relationships we've built, we've become a strong team and a contender that can win. I don't believe we had the best car. We didn't have the fastest car, obviously. But at the end of the day, we were gifted the win."
In qualifying, "Turbo" Todd Moyer drove Carl Stevens Jr.'s new twin-turbocharged Camaro to a 3.588-second pass at 227.08 MPH to qualify No. 1. That pass also set both ends of the NEOPMA eighth-mile record, as well as the track speed record for eighth-mile Pro Mod. Derek Ward posted a 3.599 at 211.83 in his screw-blown '69 Camaro to qualify second. Mike "Hollywood" Decker III drove his screw-blown Decker's Salvage Camaro to a 3.613 at 208.68 to end up third. Decker Jr. qualified fourth with a 3.621 at 211.69. Jay Santos recorded a 3.623 at 206.42 in his screw-blown '69 Camaro to round out the top five. Thirteen of the 16 qualifiers ran in the 3.60s or quicker.
Decker Jr. started race day with a 3.654 at 211.59 to defeat Bubba Greene and his 3.906. He lined up against fellow Maryland driver Fredy Scriba in the second round, winning with a 3.645 at 210.80 over Scriba's 3.687 at 204.82 in his nitrous-fed "Sorcerer" '69 Camaro. Decker Jr. had to face Moyer and his record-setting turbo car in the semifinals. Neither driver wanted to stage, then Decker Jr. got a holeshot advantage and followed it up with a 3.647 at 211.43, while Moyer slowed to a 3.719 at 217.28.
Meanwhile, Ulsch in his screw-blown '68 Camaro qualified No. 7 and picked up a first-round win over Andy Jensen, posting a 3.672 at 206.20. A consistent 3.678 at 205.79 followed in the second round to beat David DeMarco, who lifted to an 8.534. Ulsch was first off the line against Decker III in the semifinals and won with a 3.68 at 207.18 to Decker III's 4.358.
Both drivers had extra work to do before the final round. Ulsch's team asked the Decker team if they'd wait on them to change converters. The roles were reversed when Decker Jr.'s car wouldn't stay running after the team replaced a lifter that was damaged in the semifinals.
"We changed crank triggers, we changed boxes, that wasn't it," Decker Jr. said. "We had to diagnose the problem, so Hollywood was on the phone with Todd [Tutterow] trying to figure it out. It ended up being the flywheel. We put a flywheel in it in about 20 minutes. Pulled the transmission, pulled the flywheel, put another flywheel in, and had it running. Chuck would've waited there all night, and we would've waited for him."
With both cars buttoned up, the two teams rolled to the staging lanes for a final-round battle for the $31,000 prize. Decker Jr. was away first, allowing him to win on a holeshot with a 3.672 to Ulsch's 3.65.
"I was ecstatic," Decker Jr. said. "I looked up at the scoreboard and I'm looking at the numbers – while I'm still in the gas, mind you – and I see we went a .67 to a .65. I was like, 'Man, look at that.' Very thankful. Very grateful. I thank the Lord above for giving it to me. I'm grateful for my guys. On Hollywood's car, we had the head off of that thing three times this weekend. It's not like it was a walk in the park. They definitely put the work in and got the job done."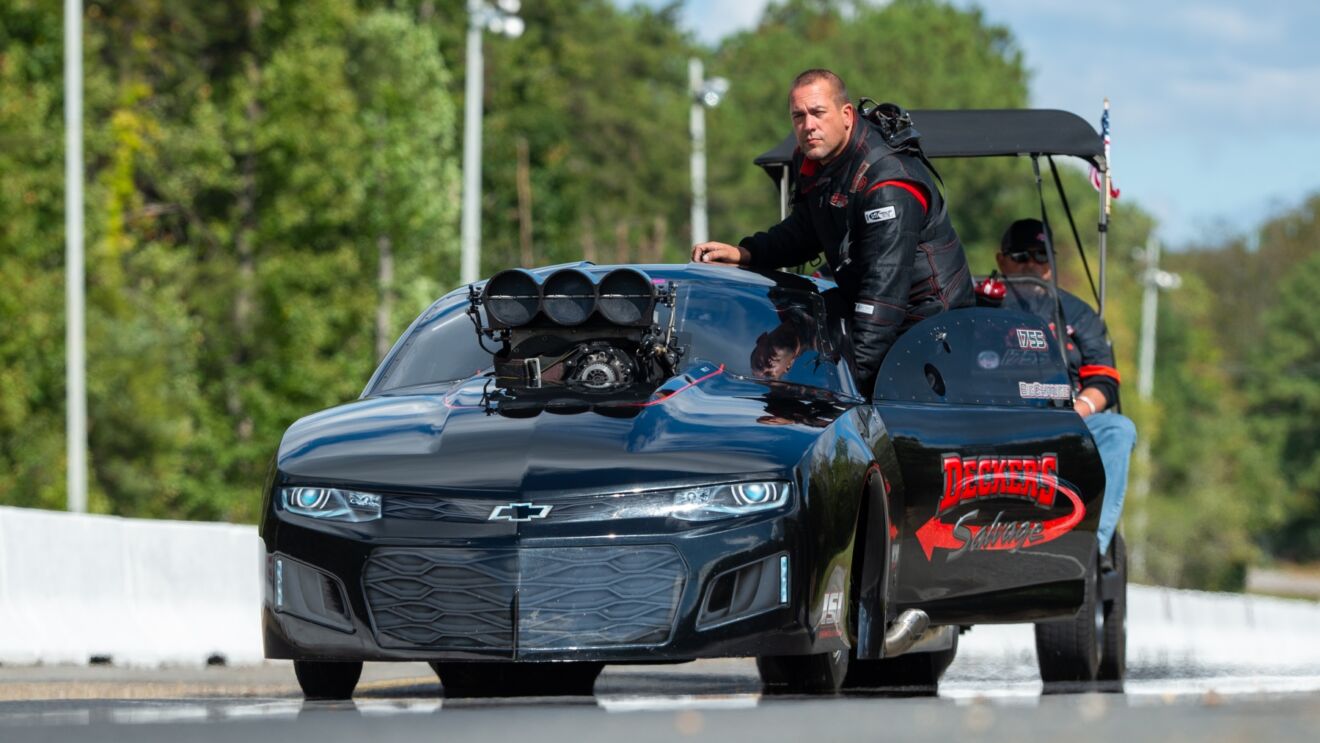 Decker Jr. praised John Mazzorana and the NEOPMA team, as well as Royce Miller and the MIR staff, for hosting the season finale.
"I thank Northeast for putting that race on and making that race what it was. We had some good cars there," Decker Jr. said.
Decker Jr., who won the last two NEOPMA championships, will not wear the No. 1 next year. Derek Ward, who walked away from a high-speed crash in the opening round of eliminations, clinched the 2023 championship in the all-supercharged class. The series started the season with two classes – one featuring screw-type, roots, and centrifugal superchargers and another pairing nitrous and turbo cars. NEOPMA later merged the two classes back into one midway through the season.
"We want to congratulate Derek Ward on winning that championship," Decker Jr. said. "He deserved it. Derek put the work in this year and he put a lot of testing in. Well-deserved for his team. I hope he has a speedy recovery."
The NEOPMA and its racers have battled rainouts all season, including the season opener at MIR, which was originally scheduled as the 31st anniversary celebration. The season finale wasn't without its rain delays, and the weather cooled off considerably, but the series was able to cap off the celebratory season as planned.
"We had great racing – almost every race was door to door," said John Mazzorana, founder and president, NEOPMA. "The only depressing part was Derek Ward crashing. We wish him a quick recovery. Otherwise, it was a wonderful race. We were hoping for more cars, but the cars we had were all top-notch. We had a good fan turnout despite the weather. We handed out around 200 small American flags to the fans, over 20 bigger American flags and a handful of Canadian flags to the racers. We tossed 31 or so t-shirts into the stands. We gave out our $31,000 reward. Everybody was very happy. It was a good, fun race."
Mazzorana and NEOPMA officials are in the middle of planning the 2024 season. Once finalized, the schedule will be posted at www.NEOutlawProMods.com.