"It's a right place, at the right time kind of sport."
Odds are, if you've been to an NHRA National Event or tuned in to an NHRA All Access broadcast, you've heard Alan Reinhart preach these words time and time again. On a hot and sunny weekend in Charlotte, nowhere was that more evident than around the Michalek Brothers Racing (MBR) team as they fought their way through the Top Alcohol Dragster field at the 10th annual NHRA Carolina Nationals.
"It was a surreal weekend, to say the least," said Corey. "As I said in the pre-race release that we put out, we have high expectations for ourselves and we challenge each other to perform every time we show up at the track. With that said, we're also realistic that we have a brand new team. In all reality, we would have said that qualifying and not hurting any parts at this race would have been a major success given the circumstances of being so new to having our own car and also dealing with the parts attrition that we dealt with in our first outing at Indianapolis. But once we got qualified, things really started to get rolling. It was eerily similar to the 2014 Charlotte 4 wide race at times. For some reason Q3 at this place has had a tendency to really catapult us into eliminations with a lot of momentum."
Momentum, paired with some fortunate breaks on both Saturday and Sunday, helped pave the way for MBR and the Champion Auto Parts A/fuel dragster to secure a spot in the final round against Shawn Cowie, the current #2 ranked Top Alcohol Dragster in the world. Michalek Brothers Racing battled their way past Justin Ashley, Brandon Greco, and Alan Bradshaw in 3 closely contested races to square off with Cowie in the final race of the weekend with the Wally on the line.
"I took a step back at one point to get a drink in the pits between the semi-finals and the finals and I was so fired up watching the team we have of Clay and Chase Copeland, Cory Cox, our helper for the weekend, J.P. Gutierrez, just trashing on our stuff making yet another 30 minute turnaround in our first National Event. Everyone in the pits got in on the act. My dad and future father-in-law, Doug Kotter were diving in helping out wherever they could, and Kyle was on top of everything from the moment we pulled out of the shop until we left the racetrack. With the people that we have and their dedication to winning and doing things the right way, I truly believe this team will be elite once we get some races under our belt."
In the final round, Corey took the early lead off the starting line with an .047 reaction time to Cowie's .132. From there, Cowie quickly closed the gap to take the lead at the 330' mark and he had the power to hold MBR off by 19-thousandths of a second at the stripe (approximately 8 feet) to take home the NHRA Carolina Nationals event title with a 5.295 at 272.39 MPH to Corey's 5.399 at 267.27 MPH. Although a losing effort, MBR's final lap marked a new team best elapsed time on their car and their first sub-5.4 second lap in only their tenth trip down the quarter-mile.
"I've been sick to my stomach since I looked at the time slip," said Corey. "My standpoint is that if I have an opportunity to turn on a win light by getting off the starting line first, even if it takes a perfect reaction time, that's my job. Shawn gave us a window to beat him and my reaction times in the first round and semi-finals would have taken home the trophy in the final. It sucks, honestly. But it's also fuel to do more in preparation for each race moving forward to make sure I work to never leave something like that on the table again."
Michalek Brothers Racing now shifts its attention to 2018 where the team is working towards both an expanded schedule and increased performance for their 2010 Spitzer A/fuel dragster. Team co-owner Kyle Michalek is pleased with how far things have come since the initial pieces of the operation were purchased in 2015, but knows there is a long road ahead to get on the same level of performance as the top cars in the class.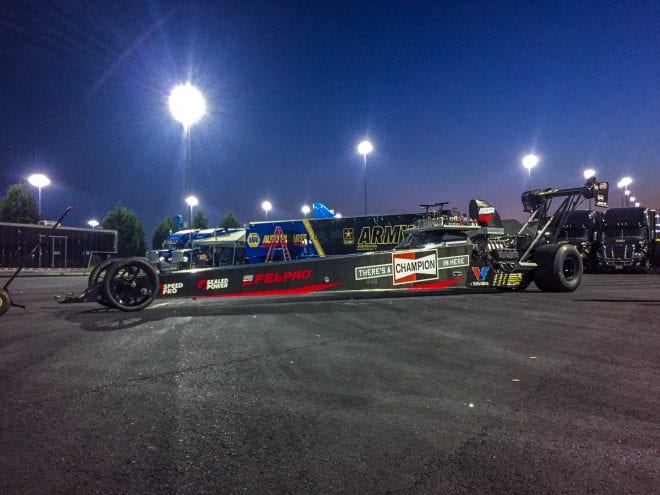 "Not only did we make it to the final round at Charlotte, we were also able to get the maximum number of passes down the track for the weekend," said Kyle. "At this point in the process, each additional pass is very valuable and provides opportunities for us to learn more about the car and the setup which helps us become an even more competitive team. Corey is doing a great job in the driver's seat and the car is starting to run consistently and not hurt parts, but we know we must find ways to become quicker and faster so we can confidently pull up to the starting line against anyone in the class knowing we have what it takes to get the win. I am incredibly proud of the progress this team has made working together, and I'm looking forward to next season with a lot of optimism as we closed out 2017 on a damn good note."
MBR would like to thank their brand partners from Federal-Mogul Motorparts, including Champion Auto Parts, Fel-Pro, Sealed Power, and Speed-Pro, for their continued supports as the team worked the past 2 1/2 years to build their operation from the ground up. Since that time, Simpson Race Products, Valvoline, and Hogan's Racing Manifolds have also joined the team and MBR is excited to once again to go to battle with them on board in 2018.