Every Pro Mod race, and especially the biggest and richest one in the history of the known universe, needs a cowboy, right?
Well, the DRAG ILLUSTRATED World Series of Pro Mod officially has one for the second straight year after standout driver Michael Biehle accepted his invitation from DI Founder and Editorial Director Wes Buck for the $100,000 winner-take-all race that takes place Aug. 10-11 at Bandimere Speedway.
Biehle has earned the nickname "The Cowboy" for his gunslinger ways behind the wheel of his turbocharged Mustang, an approach that has served him well throughout a successful Pro Mod career.
Which, of course, also makes him an ideal fit for the World Series of Pro Mod.
"I've got stories for days on my driving style and the crazy stuff I've done," said Biehle, the 2015 NMCA Pro Mod world champ. "I always drive like I'm trying to win a round, I always push it and sometimes I do some stuff I probably shouldn't. But I always hang onto it and keep it in my lane. As a driver, we all want to be the best driver we can be and handle situations that are thrown at you. I pride myself on handling the car the way I do. I keep fighting and trying to improve."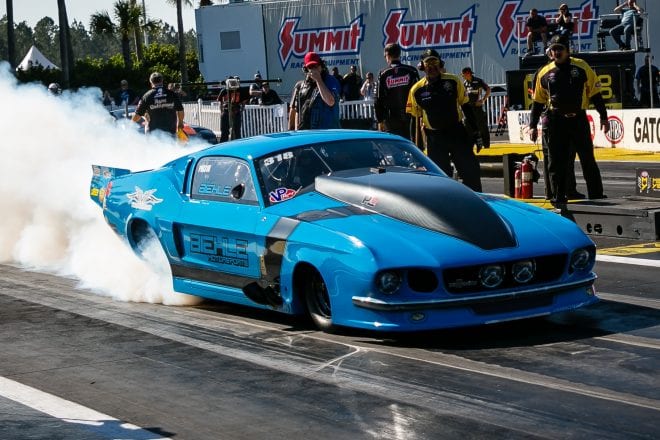 Biehle's situation at Bandimere Speedway was a new one last year at the inaugural WSOPM, as it was the veteran's first trip to "Thunder Mountain."
All things considered, Biehle termed his first time racing in that type of altitude a success. With the massive challenges posed on any first-time racer in those conditions, Biehle and noted tuner Jamie Miller got things figured out relatively quickly, advancing to the second round of last year's race before losing to eventual event winner Mike Bowman.
While that has Biehle excited for a return trip this August, his enthusiasm for the event is already at a high level after a thrilling and memorable experience a year ago.
"It was a blast. It was one of the best races I've ever been a part of," Biehle said. "Just the atmosphere and the challenge of everybody battling it out for $100,000, it was really cool. Wes [Buck] really made it fun and eventful. Going in you knew who you were going to be paired up with, but there were a lot of different things that just made it fun. It brought a different feel than what we're used to. It was just really fun with some of the baddest Pro Mods out there."
Racing at Bandimere Speedway for the first time and with $100,000 on the line, Biehle was prepared for a stressful stretch of days.
Instead, he soaked in one of the most enjoyable racing experiences of his career, one of many who noted the perfect mix of fun and intense competition that made up the weekend. It was also a no-brainer for Buck to have Biehle back for the second rendition of the WSOPM.
"If I had to define or identify the perfect participant for the World Series of Pro Mod, Michael would be it," Buck said. "This is a passion-driven racer and a real-deal wheelman. His confidence behind the wheel is unparalleled, and his self-belief and willingness to fight that Pro Mod Mustang down the quarter-mile is unbelievable. His crew chief Jamie is as good as it gets. The whole team, the whole family – they're great people with a first-class operation. That's the type of team – and Michael's the type of guy – that I want racing at the World Series of Pro Mod. We're excited to have him."
With a year under his belt, Biehle, who finished fourth in NHRA Pro Mod in 2016, has even bigger expectations, not only for himself but also for the entire event.
He has noticed the considerable buzz surrounding the 2018 race, and Biehle expects the talent level to be even more impressive this year as well, a considerable feat considering the top names that made up the inaugural event.
But after getting the Mustang to run well in his debut at the track, Biehle also isn't about to back down from anyone and he has his eyes on that six-figure payday.
"You're seeing more and more hype, and I think it's going to be even bigger than last year," Biehle said. "I hope this race is going to be around for a long time, to be honest with you. Last year, it was a challenge running on the mountain, but we liked it and we ran some good numbers.
"I think with everybody having that data now, it's going to be even faster and better, and even tougher to win. But we want to be part of it. We've got some good ideas coming back this year and hopefully we can take home that check."