Mia Tedesco's weekend at the NHRA Lucas Oil Series Division 3 opener at Lucas Oil Raceway Park in Indianapolis did not start well. Saturday morning, during the final Super Gas time trial session, the 21-year-old driver suffered a violent crash behind the wheel of her C.A.R.S. Protection Plus / WeFindParts.com Chevrolet Cavalier, careening off of both retaining walls shortly after reaching a speed in excess of 170 miles per hour.
"After you've done this for awhile, I think it's easy to take things for granted," Tedesco explained. "We went up for a time trial. It wasn't an elimination round, and the track conditions were perfect. The last thing on anyone's mind is an accident."
Nearing the finish line in what appeared to be a routine Super Gas run, like hundreds Tedesco has made in recent years, something went horribly wrong.
"The oil filter came loose, spraying 100+ psi of warm oil under the car moving at 170 miles per hour," Tedesco explained. "I saw some smoke, but there was literally nothing I could do. I was completely out of control before I had time to react."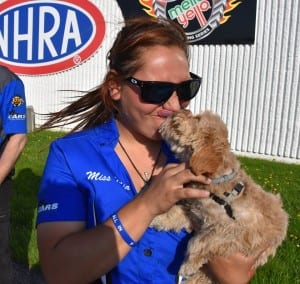 Tedesco's Cavalier spun completely around, first contacting the right hand wall with the left rear of the car, then spinning again to catch the left wall with the left front.
"I've been through one prior incident; I crashed a dragster several years ago, just after I'd started racing full size cars," Tedesco said. "That one was completely driver error. I made a mistake, and I knew I was going to crash before it happened – it was like everything was in slow motion. This accident wasn't like that; it was so sudden. Thank God I was able to walk away uninjured."
Thanks to the safety equipment in place and the quality of her RJ Race Cars built Cavalier, Tedesco was unharmed in the accident. In fact, within hours she was strapped into the familiar confines of the Hirata Family Motorsports A/Fuel Dragster, ready to make a blast in excess of 270 miles per hour.
Undeterred from the incident, Tedesco and her C.A.R.S. Protection Plus / WeFindParts.com / Aamco Transmissions team put forth a dominating performance that included top qualifying honors in the Top Alcohol Dragster category, and culminated in an event victory – their second win of the young season.
Tedesco paced a strong field of TAD entrants with a 5.294 ET at 276 miles per hour, and backed up that performance with the second quickest run in qualifying: a 5.302 at 270. She then defeated Brandon Greco in the opening round with a 5.379 ET, and knocked off John Finke with a 5.537 after pedaling to recover from early tire shake.
That set up a final round matchup with the unique automatic transmission entry of Brandon Booher.
"Greco and Finke had great cars, in fact the entire field at Indy was really strong. We were concerned with every opponent; but the Booher matchup really had our attention," said Tedesco. "They're very consistent. They're fast. And the automatic gives them an edge in terms of reaction time. Plus Brandon is an excellent driver. Coming into the round, we knew we'd have to be on our game to compete."
Tedesco and her team were up to the task. As expected, Booher took a slight lead on the starting line: .039 to .061, but Tedesco was able to power past with a 5.356 run to best Booher's slightly off pace 5.414.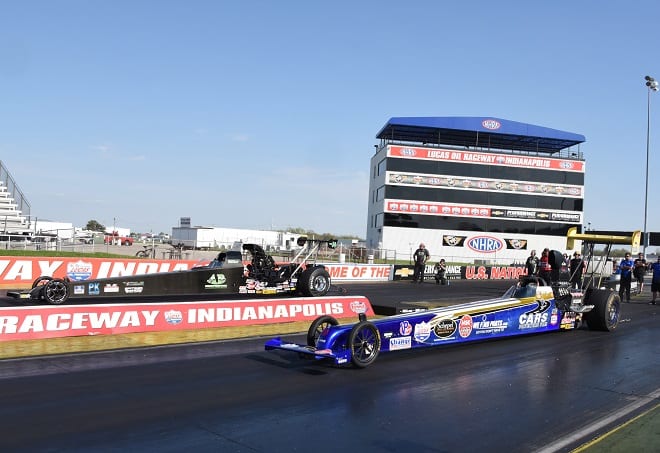 "It's such a treat to drive this car and work with the Hirata family and this team," exclaimed Tedesco. "We won the national event in Charlotte earlier this season, but we didn't have a great combination. We shook on several runs, and when we didn't shake we ate up parts. But these guys have just kept working. In testing we really began to turn the corner. I don't feel like we were dominant this weekend; it's not like we were low E.T. of every round, but we had a fast, consistent car throughout the event. I'm really proud of our guys."
For her part, Tedesco was extremely solid behind the wheel, varying just .003 in reaction time over her three competition rounds.
"I'm proud of that too," said the young racer who has staged for as many competition rounds as anyone in the country in recent years. "With my sportsman background, I obviously take a lot of pride in my reaction times. But these cars are slow to react; being a good driver is really as much about being quick as it is being consistent. I've put in a lot of work in our practice simulator to improve my reflexes and release. Where I used to be consistently .080, I'm down to .05's and .06's. I keep getting more and more comfortable in the car. I'm just happy to be able to do my job – the rest of the team works so hard to do theirs!"
The event victory marked Tedesco's second win in just four TAD appearances in 2015, and back-to-back North Central Region victories, as she won the 2014 finale in Bowling Green, KY. The win also vaulted her into 4th position in the national points chase.
In addition to C.A.R.S. Protection Plus, WeFindParts.com, and Aamco Transmissions, Mia Tedesco's Top Alcohol Dragster efforts are backed by Hirata Motorsports, NGK Spark Plugs, Schepel Motors, and Lucas Oil. The Tedesco Racing team also depends on Renegade Race Fuels, Hoosier Racing Tires, Abruzzi Transmissions & Converters, Quick Fuel Technologies and Wilkerson Racing Engines. Mia Tedesco thanked God, her family, and her team: Jason, Krusty, Josh, Kenny, Dave Hirata, Grayson, Chiyo, Molly, and LouLou.
Mia and the C.A.R.S. Protection Plus team will be back on the track May 15-17 at Summit Motorsports Park for the next NHRA North Central Region event. There, Tedesco plans to wheel the Hirata Motorsports TAD entry, and resume competition in the 9.90 category behind the wheel of her team's '66 Chevy II. To keep up to date with the latest news on Mia Tedesco and the Tedesco Racing Team, follow Miss Mia on Facebook and Twitter.