Montana's Derek Menholt earned the Aeromotive Wild Card Shootout win at the inaugural Drag Illustrated World Series of Pro Mod presented by One Cure and J&A Service at Bandimere Speedway Friday night. Menholt was awarded a $10,000 check and one of the final spots in the invitation-only World Series of Pro Mod Main Event, which has a $100,000 winner-take-all payout and will be contested on Saturday.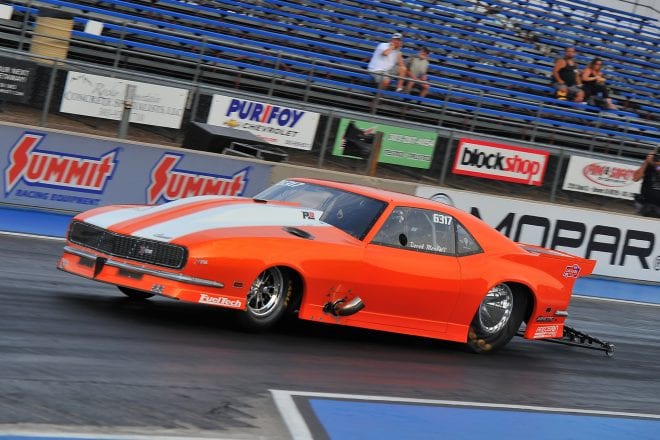 Menholt's day began with two shakedown runs as he and the other Wild Card Shootout participants prepared for eliminations. He received a bye run in the first round of eliminations, then pedaled his Steve Petty-tuned '68 Camaro to drive around Tommy Johanns' supercharged '53 Corvette in the semifinals. In the final round, Menholt charged toward the finish line and reached the stripe ahead of Daniel McKune in his supercharged '68 Firebird.
"I had to pedal it on both runs down the left lane, then we went right down the middle in the right lane," Menholt said. "We've had to switch gears twice to make it here this weekend. It's just been a great race for us so far."
Menholt's victory allowed him to secure a spot in the World Series of Pro Mod Main Event, made up of some of the best legal Pro Modified drivers in the world. He will be one of just a few drivers in the field who don't run the full NHRA J&A Service Pro Mod schedule.
"I feel good that we have a chance to compete with the drivers in the Main Event," Menholt added. "I don't think we're at their caliber even though we've tested all week, but I do have a feeling we can run with them – especially up on the mountain. We race at higher elevation most of the time."
Menholt, who was joined in the winner's circle by his crew members, family and friends, was grateful for everyone who played a part in his success.
"Pro Line Racing helped me out and Steve Petty is tuning the car this week. Tim McAmis Race Cars helped me get some things together to get here this week. Shane Molinari and his crew loaned us a part to make it up for the final round. I also want to thank Wes (Buck) and everyone from Drag Illustrated for putting this race on and all of the sponsors who helped make it possible. It's a fun event and I'd love to do it again next year," said Menholt, who will face Mike Bowman in his turbocharged '67 Chevelle in the opening round of the WSOPM Main Event.
Aeromotive Wild Card Shootout runner-up Daniel McKune received the 16th spot in the World Series of Pro Mod Main Event. He will face Aeromotive founder Steve Matusek in the opening round of eliminations.
The competitors entered in the WSOPM Main Event made three shakedown runs Friday evening as they get their tuneups sorted out for the $100,000 race. The second shakedown session included a burnout contest with a $500 prize offered up by Jim Whiteley to anyone who could do a longer burnout than he performed in his J&A Service '69 Camaro. Clint Satterfield and "Stevie Fast" Jackson both performed eighth-mile burnouts before making clean runs down the Bandimere quarter mile.
Blown Money Racing driver Mike Knowles was uninjured when his supercharged '67 Mustang made contact with the retaining wall in the shutdown area after his second run. The Grand Junction, Colo.-based driver is unable to return for Saturday eliminations.
The scoreboards were off throughout shakedowns and eliminations and will remain off for all Pro Mod runs until the final round.
In addition to the Pro Modified action, Friday's activities included qualifying for the MagnaFuel Pro Star 16 Shootout, MagnaFuel Quick Star 16 Shootout, JR Race Car 7.90 Shootout and the Reverse Race benefiting One Cure. Billy Verkler is the Pro Star 16 Shootout low qualifier with a 6.056-second pass at 232.39 mph in his supercharged Bos dragster. JJ Heber and his '06 Mustang sit atop the Quick Star 16 Shootout field with a 6.783 at 202.58. Athena Geurrero topped the 7.90 Shootout qualifying order with a 7.901, just one thousandth of a second away from the index. The Reverse Race, which features street cars racing to the 330-foot mark in reverse, is led by Zach Sackman, who cut the quickest reaction time of the 12 competitors. These four classes will go into eliminations Saturday afternoon.
The Drag Illustrated World Series of Pro Mod presented by One Cure and J&A Service will continue Saturday when gates open at noon. Action will begin with the final shakedown run for WSOPM Main Event drivers at 3:30 p.m. Drivers and teams will be available during Open Pits and Autograph Sessions from 4:30-5:30 p.m. Pre-race ceremonies will kick off at 6 p.m., followed by first round of eliminations for the World Series of Pro Mod Main Event at 6:30 p.m.
2017 WORLD SERIES OF PRO MOD FIRST-ROUND PAIRINGS
Steve Matusek vs. Daniel McKune
Stevie Jackson vs. Mike Janis
Mike Knowles vs. Steven Whiteley
Eric Latino vs. Danny Rowe
Michael Biehle vs. Clint Satterfield
Derek Menholt vs. Mike Bowman
Shane Molinari vs. Harry Hruska
Pete Farber vs. Jim Whiteley
For more information on the Drag Illustrated World Series of Pro Mod presented by One Cure and J&A Service, please visit www.WorldSeriesOfProMod.com.