Canadian-turned-New Yorker, Melanie Simmons Salemi, will be pulling the next gear in her racing career, moving from Top Dragster to Pro Boost in 2015. Pro Boost quickly became one of the most sought after classes in the PDRA, among racers and fans alike. Salemi will become the second woman to compete in Pro Boost when she makes her 2015 debut.
The 30 year old is teaming up with fellow Canadian and Pro Boost racer, Jay Santos. Both Salemi and Santos will have new '69 Camaros for the 2015 season built by Melanie's brother-in-law, Jim Salemi who owns G-Force Race Cars.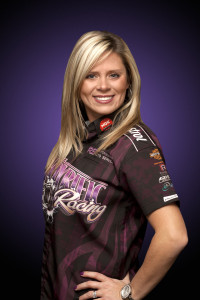 "Jay Santos gave me some financial sponsorship help over the last few years with my Top Dragster," explained Salemi. "My husband, Jon, actually tunes his Pro Boost car. He'll be tuning both our cars next season."
Besides pulling tuning duties Jon Salemi also owns Resolution Racing Services. Melanie works alongside Jon, handling the books for his business and also runs the office at G-Force Race Cars. With both career and personal life revolving around drag racing, Melanie also balances her time as stepmom to Jon's children, both of which are passionate about racing and are already getting their feet wet in Junior Dragsters, where Melanie herself got her start.
Melanie's father has always played a big part in her racing career and will continue to be a part of her career as she transitions to Pro Boost. "My father has always been my crew chief. If he wasn't for him I wouldn't even be in drag racing, but it's become my passion and basically my life now. I'm working with race cars every day. My stepmom, Sue, is kind of like our team organizer. She holds us together at the races, making sure we're all happy. Mike Stawicki of MSR Performance will be providing our horsepower and building our engines."
With her likeable personality, passion for the sport, and gender marketability, Melanie has quite an impressive list of partners on board her Pro Boost entry. "We have had an outstanding amount of support from Delta Faucet Canada, Brampton Pallet Inc., NGK Spark Plugs, Resolution Racing Services, G-Force Race Cars Inc., MSR Performance, Jackson Transportation Systems, ERD, Auto Sense Auto Parts, Auto Logic Service Expert, Castrol, Flatout Gaskets, and RS Performance Auto Service.
"We probably won't test until the springtime," Melanie added. "There are some things that need to be finished on the car. Once both of the cars are complete then we'll be able to do some testing. It will be a pretty cool experience I think. I know I have a lot to learn, but I have some of the best guys in drag racing behind me and helping me out. I'll take things slow and make sure that I do everything comfortably and safely."
Current plans are for Melanie to make her Pro Boost debut at the Mid America Open in St. Louis, Mo. May 28-30. While Melanie couldn't be more thrilled to slide into the seat of her '69 Camaro she's not ready to completely say goodbye to Top Dragster. "I'm not getting rid of [the dragster]. It's going to be sitting there ready to race. I have a lot of fun with it. We competed in two PDRA races last year where I competed in the Ultra 4 Shootout. My dragster was pretty fast. It went 3.89. I really enjoyed that.
"I've been racing for a long time. I started racing in 1996 with a Junior Dragster. Then progressively just got faster and faster as the years went on. We didn't have a large racing budget to do anything spectacular, but I think it was a good thing that I got to learn bracket racing and take slow steps to get to this point."
Having already been a 3.89 in the eighth, Salemi is accustomed to speed and will be able to focus her energies on adjusting to the differences between dragster and door car as she prepares for Pro Boost. Although the class may not be the final landing place of her career, Salemi recognizes the opportunity before her and knows it's another step in the right direction. "I don't ever want to put a cap on my racing career," Melanie said, speaking to her racing career goals. "I just want take it one step at a time. This opportunity that Jay is giving me is a pretty huge deal. I have to be focused on that."