Team owner Mel Bush has made evident just how dedicated he is to the growing Professional Drag Racers Association by stepping up to sponsor the organization's ninth event in the 2015 tour. Bush has supported the PDRA thus far by contesting cars in NAS Racing Pro Extreme and Precision Turbo Pro Boost with driver Tommy D'Aprile. After a complete overhaul of his program during the off season, Bush got a late start in PX this year and is still waiting for updates to be completed on his 409 bubble top Chevy for Pro Boost. However, the Florida businessman has never slowed down in his enthusiasm for his racing operation or for the PDRA.
"You can't say enough about the Scruggs family," said Bush. "They keep that thing going. You can't find better people than that. I just love those guys, Jason and Mitchell. They're doing a great job with the PDRA. They do whatever they have to do and go above and beyond. My wife and I enjoy being around those people, being around the PDRA as far as that goes. We look forward to every race. We missed the first three because the car wasn't ready yet, but we're on board now. It's great out there. It's a great bunch of people. I'm just hoping we can get some sponsors on board to help fund it and take some of the burden off the owners. That's one of the reasons I'm stepping up. I felt like I needed to. They're just so damn nice to me. I really wanted to do it, because they're just such a great bunch of people."
The Mel Bush Motorsports Sunshine State Shootout will be held at Bradenton Motorsports Park (BMP), which is only two hours from the team's shop. Bush is looking forward to having a major role in the team's home stop on the tour and expects a big crowd. According to Bush, BMP is already promoting the event heavily.
While the Pro Extreme operation got off to a bit of a rocky start this season, it appears that D'Aprile, tuner Brandon Snider, and the rest of the Bush Motorsports team have found a combination that is working well. They qualified third at the North-South Shootout just a few weeks ago, running a career best of 3.55 at nearly 216 MPH.
"We had little motor problems in the beginning but we think we got them ironed out now," Bush explained. "The first couple of races this year I thought we were running Nitro Funny Car with all the parts we were breaking. We went through two motors in one race. Both of them were brand new, and we flat tore them up.
"This car is lighter than the old car. It responds better than the other one, probably due to being lighter. It 60 foots quite well. In fact, I don't know if anybody has 60 footed as quick as we have. We've been mid .880s in 60 foot. We've got Brandon Snider on board tuning for us. He's doing a good job. We've got Kevin, my engine man, and Chris as crew guys. Things are going good. We're not going to be contenders this year, but we're there. Hell, at Maryland we ran a 3.55 at almost 216 MPH, which is by far the best run we've ever made. So we've got some exciting things going on."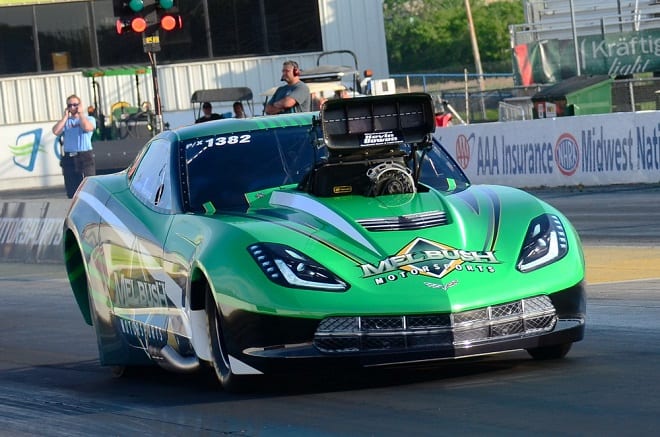 Friday after qualifying in Bradenton Bush and his wife Joanna are going to provide food for all the PDRA teams. Bush welcomes everyone to stop by and eat with them.
"We just want to give back," he explained. "There are teams in the PDRA that if you need something, even as far as a motor, they'll give it to you. You do not see that in other organizations. When you go to other organizations it's not a big family like it is in PDRA. I want to do anything I can do to help Jason and Mitchell Scruggs. That's my bottom line. Those people are unbelievable. They're the nicest people you ever want to meet.
"The PDRA is just a nice place to go. It's like a damn family picnic every time we go. It's like that with the employees and everyone. It's got to grow. It's too much of a fun place not to."