Second generation A/Fuel Dragster pilot Megan Meyer will begin her 2016 NHRA Top Alcohol Dragster campaign this weekend at the NHRA east coast opener, the 47th Annual NHRA Gatornationals, March 18-20. Meyer will compete in a nitro-injected dragster owned and tuned by her father, 2007 and 2015 Gatornationals event champion Randy Meyer.
"I feel a little extra pressure and a little extra confidence," Megan said. "We're confident because we won it last year, but this is a new car and a new driver. This is my first national event so I'm a little nervous about that. It's a bigger stage than a regional event. We had some great results with this car at Pomona, so I think we're heading in the right direction."
Gainesville Raceway is a special place for Megan, not just because of her father's history, but because of her own as well. It's where she earned her Super Comp and Top Alcohol Dragster licenses, but she's never actually competed at the historic track.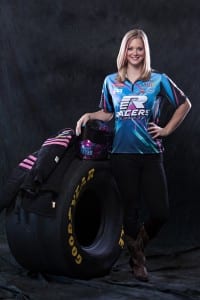 "I participated in Frank Hawley's Drag Racing School with my Super Comp dragster when I was 16 years old, and it was a great learning experience to transition from junior dragster to Super Comp. Two years later I was back on the track getting my feet wet with our Top Alcohol Dragster. I remember that day very well because a few of the Top Fuel teams stayed to test, and I felt very privileged to be able to run behind them for the very first time. This experience helped put everything into perspective as to where I could take myself in this sport. I grew better as a driver each time we returned to Gainesville, and last year I made a huge stepping stone of running a 5.29 ET pass and had the help of Dave Hirata to sign off on my TAD licensing pass. So it is very fitting to have my first NHRA National race at the Gatornationals."
The Gatornationals will be Meyer's first of 18 events scheduled for her true "rookie" season. One of the aspects she's most looking forward to is the opportunity to compete on a national level with drivers who she either grew up with, or grew up watching as Randy raced A/Fuel dragsters since before the 22-year old was born.
"There's going to be lots of tough competition this weekend. I'm thrilled to be able to say that I'm 'one of the guys' now. I'm excited to be able to race against Mia (Tedesco). She won the Gainesville regional last weekend. We've grown to be really good friends over the last few years because we both come from a bracket racing background," noted Meyer, who raced to the final round at her Top Alcohol Dragster debut in regional competition last summer.
This is also a debut weekend for Meyer's primary sponsor, Racers Evolved, an apparel company with designs for racers, by racers. The drag racing and motocross-themed line of apparel includes a "Megan Meyer Signature Series" designed to match the car. In addition to gradually unveiling the Racers Evolved A/Fuel dragster on their Facebook page this week, the company also launched their website.
"The main designs that we're promoting should all be available to browse. All of the designs will also be available for viewing on my new Augmented Reality hero cards. It's still very new technology, so there's a section on the hero card that explains how to use it. We'll have some giveaways and coupons on the Augmented Reality portion of the card, so it will be interactive for the fans. We're actually doing a buy one, get one half-off offer if I win the race this weekend. If you're not at the race this weekend, you can check out the designs at RacersEvolved.com."
Megan Meyer and the Racers Evolved A/Fuel dragster will take to the Gainesville Raceway quarter-mile for Top Alcohol Dragster qualifying sessions at 10:45 AM and 2:30 PM on Friday, March 18. A third and final qualifying session is scheduled for Saturday at 10:15 AM, followed by first round of eliminations at 5:45 PM. Eliminations continue on Sunday afternoon. FOX Sports will air Lucas Oil Series coverage from the NHRA Gatornationals at 9 PM ET on Thursday, March 24, with four scheduled re-air dates in the following weeks.