Standing next to his lime green 2013 Mustang in the staging lanes, Brad Medlock cuts an interesting image. A fireplug of a man whose calloused paws swallowed mine when we shook hands, his soft Arkansas drawl sometimes gets lost in the sounds of an active drag race.
It's his first time at the Nitrous Outlet Street Car Super Nationals Presented by FuelTech. The Strip at Las Vegas Motor Speedway is very different than what Medlock is used to. Having made his bones in street racing in his Corvette before he had ever seen a drag strip, racing at Bruton Smith's desert oasis of speed has made an impression.
"It's just an awesome event that I've always wanted to come to, a bucket list deal," he said under partly cloudy skies with near-perfect conditions. "The scenery, the back drop, the downtown life, the air shows, it's the whole combination. Plus, all the different cars from the West Coast that we don't typically get to see and just come mix it up with them all."
Medlock is no rookie. He arrived here, immediately making his mark with a pass of 4.626 seconds at 159.06, good enough for top qualifier going into Round 1 of eliminations later Saturday.
While not necessarily where he thought he would be earlier in the week, he didn't come here to mess around at the bottom of the ladder.
"Of course, with anything, that was the plan, but there's a lot of variables to get there," said Medlock. "And we may not stay there long, either; there's a lot of fast cars here. (Running well) was what I told (SCSN Promoter) Mel (Roth) that I was coming to do."
Formerly a regular at Prescott (Ark.) Raceway, he now races at Memphis International Raceway, a track currently sanctioned by IHRA that hosted the NHRA Mid-South Nationals until 2009 when the property was closed by its then-owners, Dover Motorsports.
His car runs a 5.4 mod motor with turbo and the 8.5 tires, of course, with a best-ever ET of 4.50 and a personal record pass of 163 mph. Medlock said the car has run smoothly, given the extreme change in weather conditions compared to running in the Midwest and South.
"Come out working pretty good and just switched over to alcohol, trying to keep things under wrap with that and try not to get too aggressive, too quick. Especially with the air change here, it's so much different than what we're used to running. So far, so good."
There are quicker and faster classes in drag racing, but the 8.5 class fits Medlock's personality well.
"It's just a little bit more of a challenge, obviously, getting off the line and you have to set your car up totally different, with the weight transfer and weight ratios," he said. "We had a lot of races around my area. It has a big following here in the West Coast. I don't know, I like the smaller tire and try to get it done with less."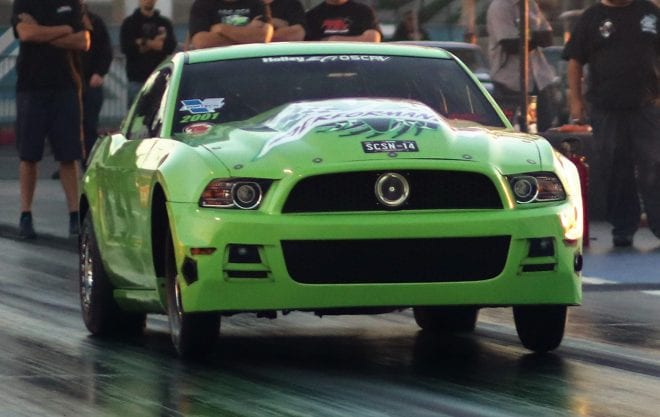 Showing up at SCSN for the first time facing racers from all over the nation, as well as Canada, Medlock is at something of a disadvantage. But he's quick to point out many of the racers here aren't used to a specifically-prepped radial track, thanks to The Strip's new 4-Wide layout. The left two lanes are set up for slick tires with the right two prepped for radial.
"This is the first time that they've prepped a radial prep at this race, so a lot of these racers haven't had the opportunity to show what they have and I think it shows that they've all picked up some, too," he said. "It's kind of a learning curve for everybody. Me, being the air is so much different, and them, a track they've never had to run on before. They're getting to apply some power they haven't done before, so everything's really close."
Street Car Super Nationals 14 is the season-ending race for Medlock and his team. His offseason includes pulling the motor and getting his parts freshened up. He's planning to run X275 at Donald "Duck" Long's Lights Out 10 Feb. 14-17, 2019 to kick off the year.
As for this weekend, he's focused on going rounds and going fast. Plus, at least for now, here is better than there.
"Just enjoying it. It's snowing back home!"