Competition in both GALOT Motorsports Pro Boost and Ronnie Davis Top Sportsman presented by MagnaFuel will have a little more flavor at the upcoming Mel Bush Motorsports Sunshine State Shootout in Bradenton, Florida. Mech-Tech Institute trains and retrains individuals in areas of metals, electricity, mechanics, refrigeration, and electronics, and is positioned as the leading U.S. college in the exclusive "Top-10 list" of the National Coalition of Certification Centers (NC3.net). Since the early 1990s, Mech-Tech has also fielded a very successful import racing team. As the PDRA ventures south toward Mech-Tech's Orlando campus the team has chosen to throw its hat in the ring with the quickest and fastest eighth-mile doorslammers on the planet.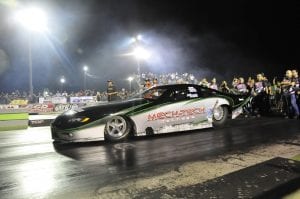 Isaias Rojas serves as the Vice President of Education for Mech-Tech's seven campuses (one in Orlando, six in Puerto Rico), but pulls double duty driving the Institute's Toyota Scion, powered by a 2JZ six cylinder engine. The Scion will be only the second import to compete in GALOT Motorsports Pro Boost. EKanoo Racing's Toyota GT86 stormed the Summer Nationals in June, making it all the way to the finals and effectively setting the bar for future imports in Pro Boost. Mech-Tech's Scion has recorded a best eight-mile time of 3.92, and Rojas feels certain the team will be competitive in Bradenton.
"With our small engine we can run side-by-side with the rest of the field," Rojas asserts. "We have a car good enough to be in the mid-qualifying range."
Rojas also drives a Pro Nitrous car for Mech-Tech, but will only enter Pro Boost at the Sunshine State Shootout. Tim McAmis is currently building Mech-Tech a new Pro Nitrous ride, slated to be ready for the 2017 season.
"I know for sure we can get more import cars to compete in categories like this. Mech-Tech has always been competitive. In the import's top-3 there is always a mech-technician," Rojas added. "There are going to be a lot of import cars running 5.90s in the quarter-mile, 3.90/3.80 in the eighth. The PDRA gives us a great opportunity to run safe. Also, with the EKanoo and Titan Motorsports crew, they are a great team. They can compete, and made it to the finals in their first race with the PDRA. It will be a pleasure to run against those guys and if we meet them in any point in racing, we'll enjoy a great match up."
Lazcano Racing Engines provides the power for Mech-Tech Racing and Jorge Juarbe masterminds the engine setups and computer programming. These vehicles work as laboratories for Mech-Tech Institute. All data that is obtained (construction, modification, programming, mechanics and performance) is applied to the Institute's Racing Mechanics Program.
Mech-Tech's Mazda RX-8 will also be competing at Bradenton Motorsports Park. Edwin 'Loquito Killer' Burgos pilots the Top Sportsman machine, which holds a quarter-mile world record at 6.19 at 230 miles per hour. Powered by a Mazda 20B engine, the RX-8 has been 4.05 in the eighth.
Watch the imports take on PDRA's regular domestic cars live via the Motor Mania Live Feed, September 29 through October 1. For more information on the event visit www.pdra660.com.