"Mean" Dean Marinis is known for being at the top of the X275 game and ranking among the quickest and fastest in the nitrous Pro Mod world. Despite having been "legit" for less than half a decade he's racked up a plethora of achievements that have made him a mainstay in both classes.
A die-hard New Yorker, Marinis has been interested in racing ever since he was a young child. "From bicycles to go karts, dirt bikes to jet skis, you name it, I've raced it," he says. At 14 he began building engines for his brother's '69 Firebird and though he was 16 when he competed in his first official drag racing event at New Jersey's Atco Raceway, Marinis mischievously admits he had often "borrowed" his older brother's license and gotten onto the track even earlier than that.
Over the years Marinis honed his skills on the local grudge racing circuit, specifically around the Conduit Avenue area near JFK airport in Queens. "We did a lot of match racing, and I don't even know how many people's cars I drove," he reminisces. Over the years, a whole lot of dollars were exchanged between Marinis and other big-name New York-based racers like Mike Castellana and David Hance. Driving so many different vehicles and experiencing countless different setups helped Marinis develop a special sense behind the wheel. That sense has allowed him to be able to almost instinctively know exactly what a particular car needs to run its best, and the skill proved to be extremely handy once Marinis decided to start class racing.
"I always said that if I raced the cars I did grudge racing in class races, they'd be front runners and set records," Marinis jokes. At the time, his fire-breathing orange 2000 Ford Mustang essentially was a highly-modified street car that was purpose built for grudge racing duty. As the scene in New York slowly died out, Marinis didn't have much of a choice but to make the jump and take things to the track.
In 2011, he slapped on a set of Mickey Thompson radial tires and entered the car in the X275 class at the YellowBullet.com Nationals. "I'd raced on radials before, but it was my first time with radials on that particular car," Marinis says. "We qualified number three at that race."
With his class racing career off to a more than decent start, Marinis improved his performance at each race he attended. "We won quite a few races the first couple of months we were out with the car, held some records numerous times over the years, and we even had the fastest big-block nitrous car for years on end. It was really cool how we were able to go from grudge racing to class racing so successfully," he says.
Since its long-gone grudge days, the car has gone through a variety of upgrades and received many enhancements. Marinis is especially proud of how much he's been able to achieve despite having a used engine under the hood. "I purchased both the motor and Powerglide transmission from the classifieds section of the YellowBullet forums," he explains. "It was originally a 525 CI setup done by BES/Bischoff Racing Engines, then it was a 576 CI, and now it's a 582 CI big block Ford with BMF Performance 350 heads and a Bryant Racing crankshaft." Oddly enough, Marinis never expected the motor to last. He confesses he originally expected to get only a few races out of it before it blew up, but it's been going strong ever since.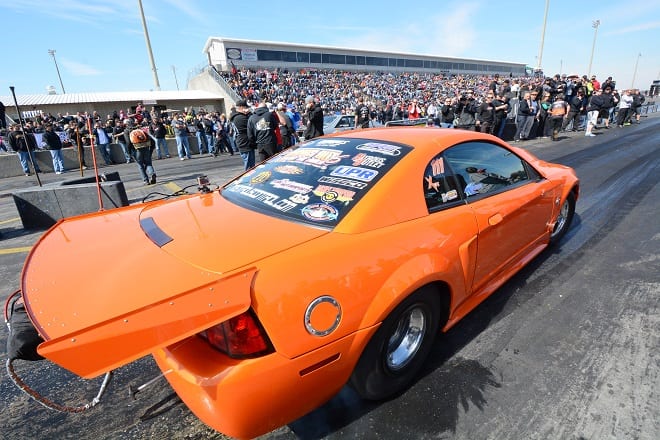 Since Marinis has been a nitrous guy for as long as he can remember, it only made sense that he'd work with Will Smith at SpeedTech to incorporate a nitrous system into the Mustang's build. As for why he never bothered to switch to turbocharged or supercharged power like so many other X275 racers have done, Marinis says it's simply because nitrous is all he knows. "I don't really have a choice at this point," he laughs. "With the nitrous, you build the motor, tune the motor, and then you don't really have to rely on anyone else for help." Sticking to what he knows has worked out well for Marinis, who tunes his car in addition to driving it, and credits NLR's NMS-1000 progressive nitrous management system for helping make his job easier.
In its current form, Marinis' car is home to a full suspension setup from Racecraft Inc., including K-member, control arms, spindles and more, as well as a Racecraft ProLite rear end housing. Santhuff shocks work nicely at each corner of the Mustang. Bob at Book Racing Enterprises oversees Marinis' carburetor program, and Marty Chance at Neal Chance Racing Converters works his magic managing the torque converter setup which works with a Turbo 400 transmission from Dave Klaput at Proformance. Fellow racer and X275 guru Ron Rhodes at Rhodes Custom Auto Works handled the car's roll cage and a few other components.
With so many big names on board his wheelstanding X275 Mustang, many would think that Marinis' racing operation is based out of a big-name shop as well. In fact, quite the opposite is true; Marinis maintains the car at his home in New York, and his crew guys Elvis, Vinny and Steven help as much as possible. "I'm just a little guy that's been lucky along the way," Marinis says. "We are far from being a million-dollar operation, we just work as hard as possible to be competitive and try our best to always give one-hundred percent."
That humble attitude is a big part of who Marinis is and it's a trait that's served him well over the years. He's earned a slew of number-one qualifiers as well as wins at races like Maryland International Raceway's Door Wars and Midnight Madness Friday night races. "I don't even know how many I've won at Cecil, it's too many to count," he hesitantly admits with a friendly smile. And, despite racking up multiple championships, including the X275 championship at Cecil County Dragway in 2012 and the X275 championship at Atco in 2013, Marinis never let the accolades go to his head or dull his diehard work ethic.
One of Marinis' most memorable wins, though, wasn't a typical eighth-mile X275 run. Instead, it was an unusual quarter-mile victory last year at MIR's World Cup Finals: Imports vs. Domestics race. In X275 vs. Hot Rod qualifying, Marinis placed second overall with a best run of 7.159 at 171.79 mph. "We actually went there just for testing, and my eighth-mile setup was working well, so we went into qualifying to get more passes on the car," he says, laughing about how his success was actually unintentional. Since it was his last race of the season and he did so well in qualifying, Marinis says he decided to "just go for it" in eliminations.
That decision paid off big by the end of the day when his "just testing" weekend had turned into a winning one. "Even despite the fact that my setup wasn't geared for the longer track, I just turned the rev limiter up to 9,500 and let it hang out there. I didn't care if it blew up or whatever, I just ran it as it was and lifted when I was comfortable enough with my lead." Despite his best efforts to do some damage, Marinis almost can't believe that he didn't hurt the motor at all that weekend. "When you're trying to break stuff, it doesn't always cooperate," he adds with a laugh.
Most recently, Marinis set a personal best of 4.513 at 158.56 mph during the Outlaw Street Car Shootout race at Cecil County last October. At the time, the run reset the national X275 nitrous ET record, too.
Although he no longer holds any records, Marinis is on a mission to change that in 2015. He made a valiant effort at Donald "Duck" Long's Lights Out 6 race at South Georgia Motorsports Park in February, but one too many unexpected
issues got the best of his racing efforts that weekend. Marinis qualified fifth in X275, had an easy win in the first round of eliminations, but wasn't able to get ahead in round two. "We had made some changes over the winter and were working to snug them up at the time. We've got everything sorted out now, though, so we should be in good shape moving forward," he affirms.
Getting (and staying) ahead in X275 is proving to be quite a challenge lately, but Marinis is up to the task. "It's a highly competitive class with a tight field," he acknowledges. "It's basically a full-time job to stay out front. The cars are getting quicker and faster. We used to be in the 5-ohs and now we're down to the 4.40s." Marinis and his team work on the car almost every single day to hopefully gain a competitive advantage, whether it's simply looking at data logs and trying to figure out where they could improve, to testing different cams, tune ups and gear ratios.
Marinis plans to do as much racing as his calendar will allow this season and that includes regularly running at both Cecil County and Atco. "There's a conflict between MIR Door Wars which I've won the last two years in a row, and the Holly Springs Spring Shootout, so we're not sure where we'll be and when just yet," he says, but notes he'll be running at the Battle of the States race in Memphis, Huntsville Dragway's Radial Fest, the YellowBullet Nationals, Summit Motorsports Park's Shakedown at the Summit, and SGMP's No Mercy 6 events for sure. As if that wasn't enough, Marinis is also aiming for the NMCA races at Joliet, Illinois, and Norwalk, Ohio.
Despite what it may seem, Marinis doesn't limit himself to just the radial tire world of X275. He's also done time behind the wheel of a nitrous-equipped Pro Mod '67 Camaro, owned by Harry Pappas, at North East Outlaw Pro Mod Association (NEOPMA) events.
While Marinis did well with the Camaro and posted a best of 5.95 seconds at 237 mph at Atco, he and Pappas are currently working on developing a new car. Their new C7 Corvette is being built by Jerry Bickel Race Cars and will initially run the same 820 cubic inch engine that's in the Camaro. "Nowadays, even 900 CI is considered small. So hopefully, by the end of this year or next we'll have an updated motor for that one," Marinis says. "We'd love to be able to find some new sponsors to come on board who can help. Being able to have some of the latest and greatest technology and equipment would allow us to push our program even further than we already have."
Marinis expects the new Pro Mod to be completed in June, at which point he'll add to his already incredibly busy schedule by running various NEOPMA and PDRA races with it.
If he had to choose between the small-tire X275 Mustang or the big-tire Pro Mod Camaro, Marinis adamantly states he wouldn't be able. "The Pro Mod is a lot quicker and faster, but the X275 car is really exciting because when you let go of the button you don't know if it'll stay on the ground, or wheelie, or spin and you'll have to pedal it—they're both really exciting."
Driving two different cars, often at the same event and even on the same day, can be complicated and sometimes even a little confusing. "There have been times where I've gotten into the radial car after driving the Pro Mod, and I'll let go of the button and think I forgot to turn on the nitrous because the power comes on so differently," he explains.
When asked how he's able to manage multiple cars and still be so successful, Marinis' advice is simple: "Get out there, work hard at it, and you never know what you can achieve when you put enough effort in."
Overall, though, Marinis can't believe his luck at being able to do what he loves and for having so much opportunity. From his old grudge racing days, to being at the forefront of the extremely competitive X275 class and having a new Pro Mod in the works, it seems as though the future is bright.
This story originally appeared in Drag Illustrated Issue No. 98, the Outlaw Issue, in April of 2015.