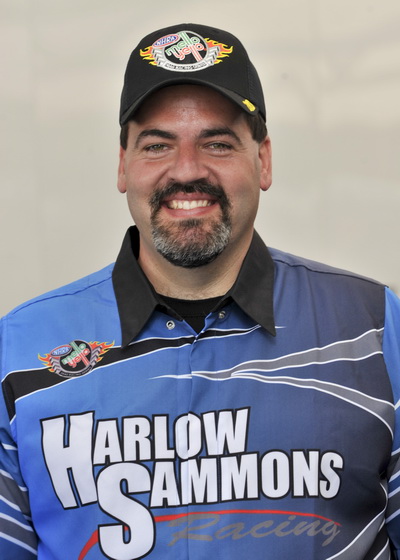 NHRA Pro Stock driver Chris McGaha (left) has acquired additional equipment to appropriately expand his in-house program to a more competitive level in 2014. McGaha, of Odessa, Texas, plans to run all 24 races in NHRA's Mello Yello Drag Racing Series in 2014 with his new Harlow Sammons/Southwest Performance & Machine Chevrolet Camaro.
McGaha, a former Competition eliminator racer, graduated to the ultra-competitive Pro Stock category in 2011 and has been gunning for his first win in the class ever since. His best performance to date was reaching the semifinals at the NHRA Gatornationals in Gainesville, Fla., in his rookie season, and he currently holds a career best time of 6.515 at 212.59 mph.
"Our plan for next season is the same as it was this year; we plan to race all 24 events, and if we can stay in the top 10, then we'll keep going," said McGaha, who will selectively race the circuit if he should fall out of NHRA's prestigious top 10.
The machinist and Vice President of Southwest Performance & Machine is certainly set up for success with his newly acquired equipment. McGaha says he was "in the right place at the right time" when 2009 Pro Stock world champion Mike Edwards made the decision to sell his highly competitive operation in its entirety.
"It started back at the Brainerd race last year, when we went over there with the intentions of asking Mike if we could rent a motor," said McGaha. "He told us no, but then he came over to talk to us at the race in Las Vegas, and then again after Pomona, and now here we are."
In the transaction, McGaha acquired the 2013 Chevrolet Camaro that Edwards piloted last season – a car that was arguably the best in the class as Edwards earned 15 No. 1 qualifier awards, qualified in the top half at all 24 events, won six races in eight final rounds, and led the NHRA Pro Stock points for 16 races.
In addition to the exceptional Chevrolet Camaro, McGaha also purchased Edwards' truck and trailer and the contents of his engine shop in North Carolina, including all of the engines, transmissions, rear ends, and components.
The one thing McGaha had truly hoped to add to the package was Edwards as crew chief. McGaha has long held a high level of respect for the driver who has so far collected 42 national event victories across NHRA's sportsman and professional categories, and their relationship extends back to his sportsman racing days when Edwards, on two separate occasions, sold McGaha cars to race in Competition Eliminator.
"Oh believe me, I asked Mike if he would be my crew chief," said McGaha. "We tried our hardest, but he wouldn't do it. He was really nice about it, and his exact words to me were, 'If you want to go testing, just call me.' But no, he isn't going to be my crew chief."
McGaha is currently in talks with a few reputable crewmembers and potential crew chiefs in the Pro Stock community to round out his growing operation, and he looks forward to debuting his Harlow Sammons/Southwest Performance & Machine Chevrolet Camaro at the season opening Winternationals at Auto Club Raceway in Pomona in February. Notably, McGaha ousted Edwards, who was then driving the Camaro for the first time, in the opening act at the Winternationals in 2013.
"I can't wait to get out there, but it's a little nerve-wracking because now it's all going to be up to me," admitted McGaha. "I basically have the fastest Pro Stock car out there. Heck, I don't know if anybody has ever had the chance to do something quite like this. But here I am, right where I've always wanted to be: driving a Chevrolet Camaro with a real chance of winning Pro Stock races."