We often joke and dream about wanting life to be a walk down easy street. But, the best stories – the best lives – are the ones built on struggle, a hardship that must be overcome. The true champions are the ones who, when faced with adversity, don't give up. They may not win every battle, but they keep fighting. A quick glance at best-selling books and movies will quickly prove this to be true. They feature sacrifice, pain, hope against all odds, a victory to be won.
At not quite 18 years old, Mayce McCreery is a high school senior with an impressive resume. She's a model, an accomplished archer, and a winning drag racer. She began racing three years ago, first sharing a Junior Dragster with her brother as the pair got their "lead feet" wet and their father, Pat McCreery of Nyes Racing Engines, tested their need for speed and ensured they would share his passion for the sport before investing in two dragsters. That first year, Mayce walked away with her first win.
In her sophomore season, Mayce became better friends with the Moser family. Pat builds engines for several of the Moser cars, and the progressive friendship between the families grew as Mayce got on track. "They're family to me," Mayce said of the Moser family and team. "I really love them. We made a deal in my second year, and I drive their car now. This will be my third year in that car."
It was last season that was truly Mayce's breakout season. She went to eight finals, winning five and securing the Muncie Dragway points championship. "Last year was when it really just boomed," she said energetically. "I got into a Drag Illustrated article last year. It was at that point I began to realize that maybe I could make a career out of this."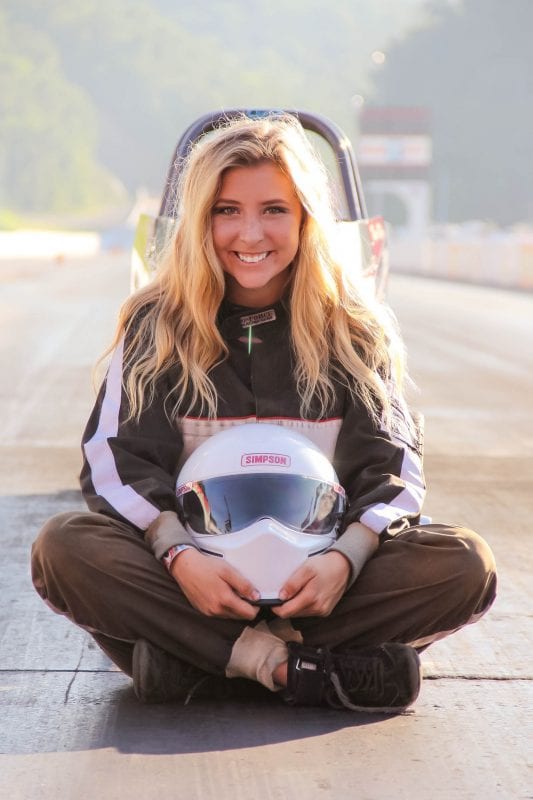 As a fourth-generation racer, the need for speed was all but bred into McCreery. She admits, though, getting behind the wheel didn't come without some hesitation. "I grew up around it, so I just felt like it was my way of life. I've been around racing since I was a week old. Literally, I was born and a week later I was at the track. But I have to admit that when I got in a Junior for my first actual pass down the track, I was bawling my eyes out, completely nervous. But when I left the line, I immediately started smiling and everything was fine. I don't know what rushed through me, but tears were instantly gone. Right when I left the line, I could just see my future. It felt like this is what I was meant to do."
Now, McCreery says racing is "cemented" in her life. No longer a hobby passed down through the generations, it's truly a passion she owns. She credits much of her success to Moser Engineering and the Moser family, as well as her father. "My dad is a great coach. He doesn't crack under pressure. He's so calm, cool and collected. He's so focused and excited for me to race. He's definitely taught me a lot of things, especially on the sportsmanship side."
This season will be McCreery's transition year in which she can qualify to run both Juniors and full-size cars. She'll also graduate high school this year and enter the University of Northwestern Ohio in the fall, pursuing a four-year degree in Sports Marketing. She's already gained irreplaceable experience in motorsports marketing, handling social media and promotional design aspects for her father's company.
As McCreery now coaches her high school's archery team, which just qualified for states, and is preparing to enter her fourth and final Junior Dragster season with a strong relationship to one of the industry's most respected companies, it seem as though she's got it made.
But the best stories are the ones built on struggle, a hardship that must be overcome.
Over the last four years McCreery has had to give up exercising, working, and archery in attempts to combat a painful disease affecting her chest. Now, she worries it may affect her racing, as well.
"I have costochondritis," she explained. "It's basically inflamed tissue in my sternum, which causes chronic chest pain. It's like a hidden disease. It doesn't look like I'm suffering, but really it's a very painful thing I deal with every single day. If suddenly I can't race anymore, this would be the reason why. It's really taken its toll on everything I'm doing.
"There isn't a cure. I've been to five doctors and plenty of tests. They told me if I just stopped doing everything it would go away eventually. Well, I've had it for four years. I quit archery; I quit my job; I turned down other job offers; now it's to the point where I have to wonder, Am I going to be able to race this year? It's awful, to be honest. If I look like I'm dying in the staging lanes, you'll know what's up. It really is constant pain. Just sitting and talking is painful, and more so if I'm driving or walking. It's a daily chore. When I get out of bed, my whole chest and back is locked up. You hear it all cracking and pulling."
The disease, while visibly unnoticeable, is also well-hidden by McCreery's energetic and upbeat nature. "I just know I have to take on a day," McCreery says of battling her debilitating pain. "I know I'm going to be in pain, and it's going to be excruciating when I'm sitting in class. It's been four years that I've had it, so I've found ways to try to deal with it. I can keep a straight face when I'm dying in pain. I've got to try to continue on with my life and keep doing what I can. Every day I try to find something I can do to keep myself going."
A hardship that must be overcome. Every day McCreery lives the quiet life of an overcomer, smiling through the pain, choosing to enjoy the small gifts of life, fighting to pursue her passion. The true champions are the ones who, when faced with adversity, don't give up. They may not win every battle, but they keep fighting. Mayce McCreery has all the makings of a champion.
This story originally appeared in DI #118, the Hottest 2017 Issue, highlighting drag racing's fast, fierce and forward-thinking women, in March of 2017.