When referring to World Championships, Matthew McDaniel can boast about his perfect record as he claimed the 2023 WDRA Summit Box World Championship presented by SunCoast Performance during his first attempt at a world title. McDaniel is no stranger to winning on the first try, as the decorated racer kicked off his success with a Division 9 Top Dragster championship during his first year of racing in 2005.
Throughout eighteen seasons of competition, McDaniel has accumulated race wins and cash prizes at various racetracks in the southeast and even earned a repeat Top Dragster division championship in 2016. After years of racing as much as possible, McDaniel's weekend schedule lately has been filled with tee-ball practice and games in support of his five-year-old son, Malaki.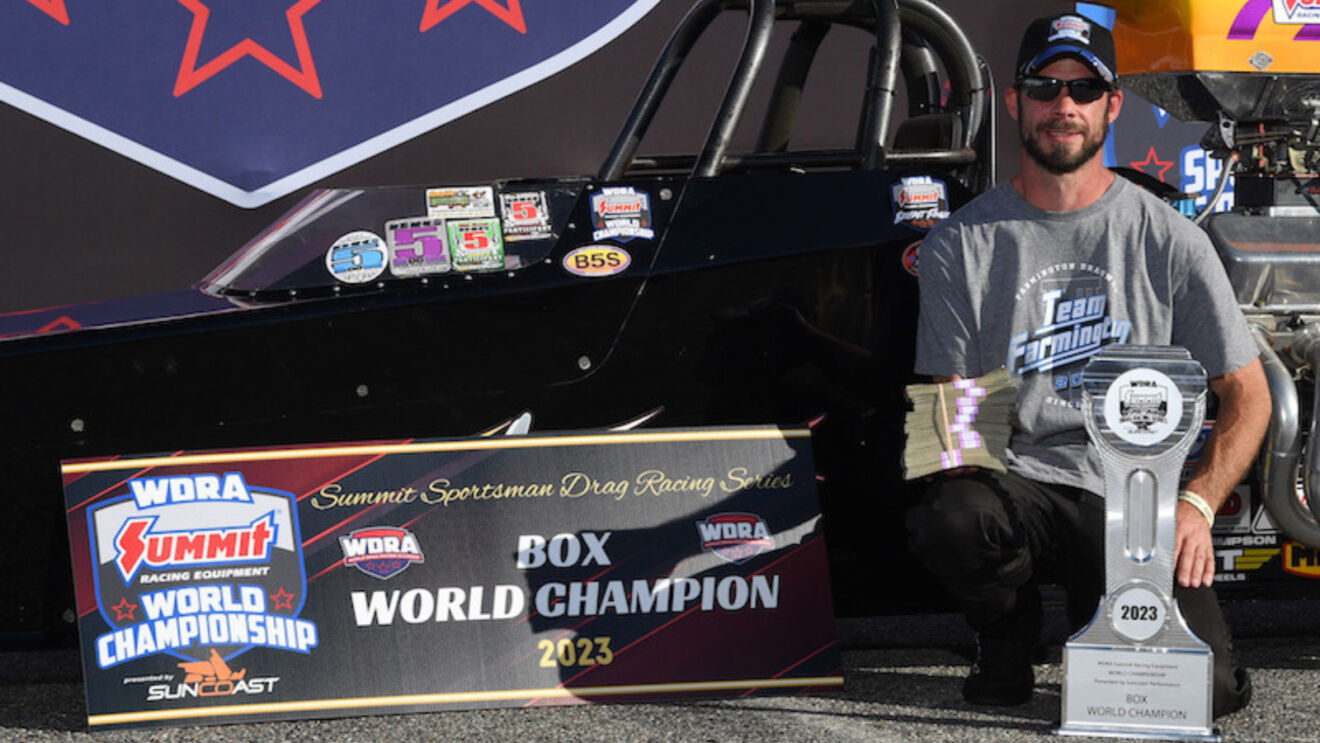 In fact, due to managing his business and unforeseen circumstances at his home track, Farmington Dragway, McDaniel didn't have many opportunities to compete before the biggest race of the year. He explained, "I won the first race at Farmington, which ended up being the only one when they ran into an issue while repaving the top end. I have barely raced with them being closed all season, and was surprised when they said the WDRA was going to let us have a team at the Bracket Finals. I'm thankful the WDRA allowed us to compete when they didn't have to."
McDaniel left his Forest City, North Carolina home and traveled to Darlington Dragway with his parents and borrowed the dragster belonging to his father, Don, for the third time this season. He illuminated win lights to defeat the other track champions of Brian Mollison from Sumerduck Dragway, Tristian Sholar from Gulfport Dragway, Rodney Gomes from Grand Bend Motorplex, and Kevin Crawford from Darlington Dragway before staging up for the $20,000 door car versus dragster final round.
Jared Ledford, representing Mid Michigan Motorplex, launched with a .009 red light to end his back-to-back World Championship aspirations, while McDaniel was .021 green and ran dead on his 4.66 dial for the win. McDaniel started the day with a pair of .005 lights before settling into a .020 reaction time average and running dead on three out of five rounds on his way to the 2023 WDRA Summit Box World Championship. McDaniel remarked, "I wish Malaki was here to see this, and I can't wait to see him when I get back home."
After the winner's circle celebrations, McDaniel talked about how great equipment can make all the difference. "Dad's car has been flawless, running between a 4.659 and 4.683 all weekend. When we tore my motor down for the winter, we saw it needed more than routine maintenance, and I honestly didn't have the money to do it, so Dad offered his car for me to run Farmington. This makes three races in it and now he might not get it back," he joked.
McDaniel's victory awarded him twenty thousand dollars to assist with motor repairs as well as the billet WDRA Rod trophy and free entry into any WDRA member track event next season with the WDRA Champion Card. Additionally, each WDRA World Champion earned an Alliance Race Wear custom fire suit, one free class at the Roy Hill Drag Racing School, a Technocraft Trailer Cabinets $1,000 gift certificate, a set of Viking Drill Bits, a Contingency Connection Championship Package, a trailer safety package from JJ Supply of NC, and Renegade Race Fuels gift certificates thanks to the support from each sponsor.
After winning nine rounds at the first Farmington points race, McDaniel said racing five rounds for $20K is a no-brainer. Speaking of competing with WDRA, he said, "Winning the World Championship hasn't sunk in yet, but this has been a well-run event. Between this and the Bracket Finals a couple of weeks ago, I've had a great experience."
For more information about the World Drag Racing Alliance (WDRA) and the Summit Sportsman Drag Racing Series, visit our website at www.racewdra.com.