Bristol Dragway is set to host the NHRA Thunder Valley Nationals and the remainder of the NHRA New England Nationals, and Matt Hagan, driver of the Operation Healing Forces/Johnson's Horsepowered Garage Dodge Charger SRT Hellcat Funny Car, gears up for his 318th career start. With his eyes firmly set on the winner's circle, Hagan is ready to unleash his formidable skills and add another triumph to his already impressive record.
Currently leading the Funny Car standings with a razor-thin 14-point advantage over Ron Capps, Hagan's hunger for victory is palpable. Returning to a track that holds special significance, Hagan knows that a strong performance at Bristol could catapult him further ahead in the championship race.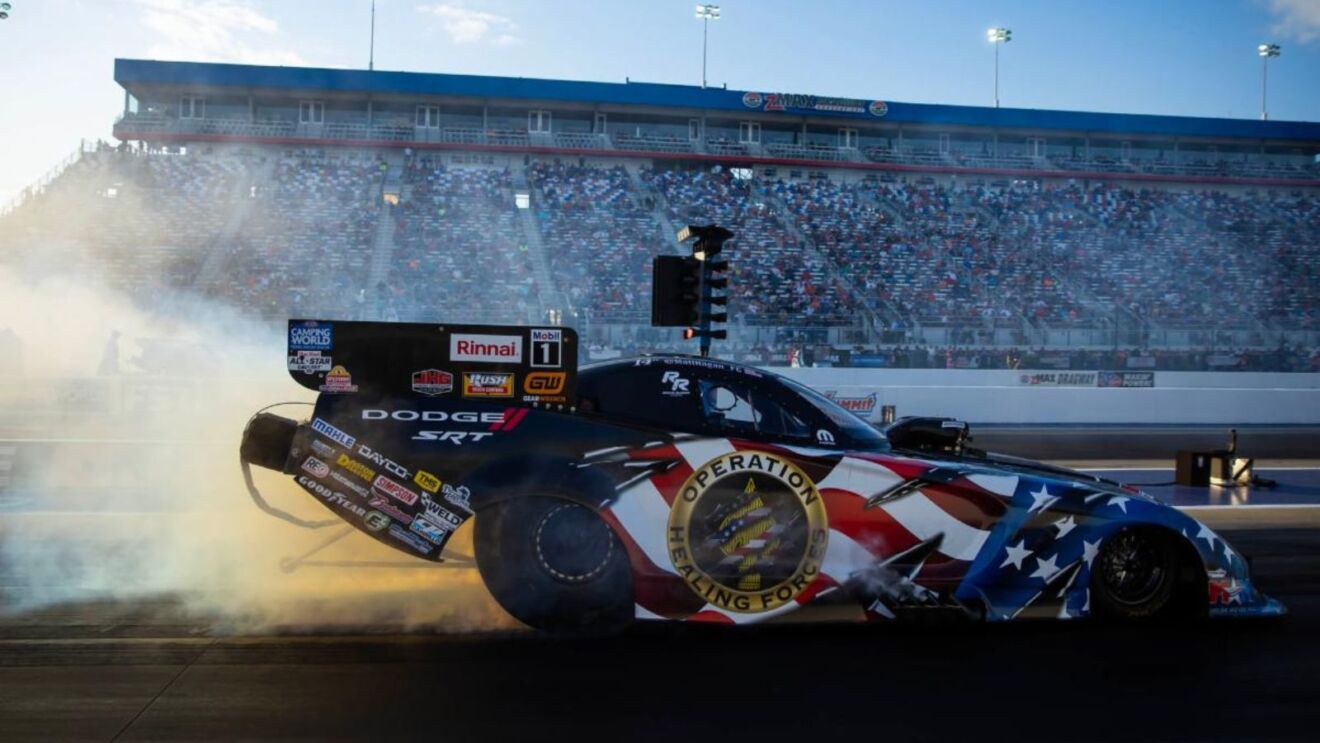 Bristol Dragway holds fond memories for Hagan, who claimed a resounding win at the track in 2015. In a thrilling showdown, he showcased his mastery of the Funny Car class, posting a time of 4.164 seconds at a speed of 303.23 mph. That victory saw him narrowly defeat the formidable Ron Capps, who put up a valiant fight with a time of 4.186 seconds at 307.02 mph.
Hagan's success at Bristol didn't end there. In 2016, he blazed his way to the finals once again but unfortunately fell short in his quest for a Wally. Undeterred by the setback, Hagan is determined to rewrite history and emerge victorious this year.
While Hagan has yet to secure a No. 1 qualifying position at Bristol, his track record speaks volumes. The talented driver holds the title of the fastest run ever recorded at Bristol, setting an awe-inspiring mark of 330.34 mph on October 16, 2021. As he prepares to unleash his powerful Funny Car once again, Hagan aims to channel that record-breaking speed into securing a top qualifying spot this time around.
Expressing his enthusiasm, Hagan shared, "Bristol is one of our home races, and I have a lot of folks who come out to support us. It's always special when I can win there. We're going to give it our all this year to bring home the Wally from Bristol."
Reflecting on the current season, Hagan acknowledges the unpredictable nature of drag racing and its ever-changing conditions.
"Whether first half or second half of the season, we've always had a lot of great momentum," Hagan continued. "I don't feel like we've had a streak of races this season yet that have been the same. It's been hot, cold, different track conditions, you name it. We're having to dig back through notes to figure out what calls to make on the line, since some races have been so extreme. Weather has been unpredictable. You can have all the momentum in the world, but you have to have good notes to go off of. I feel like we do have great notes, since our team has been together so long. I'm looking forward to getting to Bristol and also getting to run the Epping eliminations as part of the race weekend."
Whether in the first or second half of the season, Hagan has consistently maintained strong momentum. Armed with an arsenal of invaluable knowledge, Hagan believes they are well-equipped to tackle the Bristol Dragway and the upcoming Epping eliminations, which promise to deliver another electrifying weekend of drag racing action.