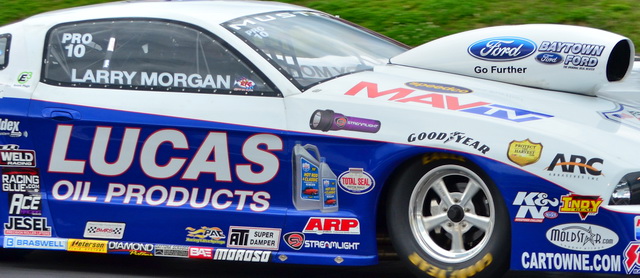 Instead of taking the normal route preparing for NHRA's U.S. Nationals at Lucas Oil Raceway, Larry Morgan decided to try a different approach for the Lucas Oil/MAVTV Ford Mustang this year.
Morgan participated in last weekend's World Series of Drag Racing in Cordova, Ill., and took part in a Pro Stock match race against longtime rival Warren Johnson.
"It was a good time," Morgan said. "You might have to get Warren's version of the story on that though after my parachutes didn't deploy after a run and I blew out a front tire trying to skid to a stop right in front of him. He seemed to get a kick out of it; the rest of the weekend he called me Larry 'Skidmore' Morgan."
The mishap notwithstanding, Morgan was able to accomplish a number of his pre-Indy goals in a fun environment.
"We had a real good time," Morgan said. "We met a lot of good fans and had a blast. There were 20-some nostalgia Funny Cars there. It was really a neat deal.
"I wanted to get some runs on some tires before we got to Indy. We made a few passes for the crowd and it all worked out great."
With nearly a full Pro Stock field expected at Indy, Morgan said any extra time behind the wheel is beneficial.
"I've got to be on my game from the very start," Morgan said. "There's no room for error because there will be too many good cars there. We've got two nighttime qualifying sessions, which are going to be the two that are the most important.
"We've also got a new motor we've been working on, so we'll bring it along, too. I've done well at Indy in the past and we're excited to see what we can do there again this year."
Qualifying for the Chevrolet Performance U.S. Nationals gets under way at 6 p.m. EDT on Friday. Qualifying picks up with two sessions starting at 2:30 p.m. on Saturday and will conclude on Sunday with two final sessions starting at 11 a.m. Eliminations will begin at 11 a.m. on Monday. ESPN2 will air the qualifying sessions on Sunday at 1 p.m. EDT and eliminations at noon on Monday.
(Photos by Ian Tocher)