Jack Beckman raced to Royal Purple Raceway's first three-second Funny Car run to close a record-setting qualifying session and take the qualifying lead Friday at the O'Reilly Auto Parts NHRA SpringNationals presented by Super Start Batteries.
Spencer Massey (Top Fuel) and Shane Gray (Pro Stock) also were qualifying leaders at the NHRA Mello Yello Drag Racing Series event near Houston.
Beckman stopped the timers with a track record time of 3.988 seconds at 318.17 mph in his Infinite Hero Dodge Charger R/T. He has 10 No. 1 qualifiers in his career, but hasn't been at the top of a qualifying order since August 2013, a span of 36 races.
"I remember at Indy last year after we hauled butt Saturday night and the forecast was hot and nasty for Sunday and there wasn't any chance of anyone getting around us and then Sunday was overcast and cool and (Matt) Hagan took the spot," Beckman said. "I am not counting anything until this deal is over. The thing I like better is the three (qualifying bonus) points because we are 10th in points and that's going to help us out."
Beckman, who ended a lengthy victory drought earlier in the season at Charlotte, says his Charger really hooked up with crew chief Jimmy Prock's tune-up in the cooler evening conditions.
"It felt like the car started moving right and you don't want to yank the steering wheel and upset the balance and smoke the tires and I am trying to nurse the thing back," Beckman said. "In three or four tenths of a second it's stunning what goes through your mind. You are like please hold on, please hold on. The thing put me back in the trunk and I thought we were going to move way up; but I didn't think it was a three-second run."
Del Worsham drove his DHL Toyota Camry to the second spot with a 4.023 at 314.97 and Ron Capps was third with a 4.038 at 319.67 in the NAPA Auto Parts Charger.
In Top Fuel, Massey set both ends of the track record, taking the top spot with a performance of 3.734 at 330.07 in his Red Fuel dragster.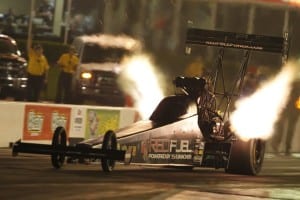 "It was an amazing run," Massey said. "It gets tricky out here when it gets hot and sticky. I stood on it and it was straight as an arrow. It was dark but when you can see header flames that means it's going to be a good run. It proves there's good numbers at night. It's our first night session of the season and Todd (Okuhara, crew chief) knows how to turn the knobs on it and it did exactly what it was supposed to do."
Fort Worth native Massey says doing well at any race in the Lone Star state is at the top of his wish list.
"I've never been No. 1 in my home state and I've never won here or in Dallas either and that's huge on my bucket list," said Massey, who has seven No. 1 qualifying positions in his career, but none since June 2013. "I am one step closer to being No. 1 qualifier (at a Texas event)."
Defending world champ Tony Schumacher qualified second in his U.S. Army dragster, posting a 3.754 at 326.24. Recent Las Vegas winner Richie Crampton is third with a 3.758 at 323.66 in his Lucas Oil dragster.
Gray, the 2013 runner-up at this event, led Pro Stock with a track record time of 6.536 seconds at 211.43 mph in his Gray Motorsports Chevy Camaro.
Gray moved from 11th to first in the qualifying order between the two sessions, but he said his team didn't make too many adjustments on his race car.
"We changed motors and put some gear to it, that's about all we did," he said. "We had kind of an experimental motor in the car for the first run. It still needs some work. The race engine we put in it for the second session surprised all of us. These Pro Stock cars are very finicky, so we'll see if we can get [two more] good runs up and down the race track tomorrow with the combination we have and then go into race day and take it one round at a time."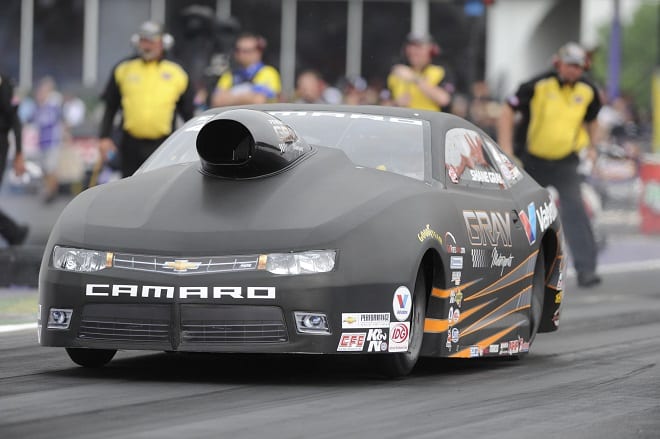 Gray returned to the seat of the team's 'black car', one that he has previously had success driving.
"I just jumped in this black car and it took off, for whatever reason, we haven't figured that one out yet," Gray said. "Me and that car, we go a long ways back. I'm glad to be back in it."
Jason Line qualified second with a 6.549 at 211.59 in his Summit Racing Camaro and Greg Anderson was third in his Summit Camaro, posting a 6.559 at 211.23. Local favorite Erica Enders-Stevens, a Houston native and the defending winner of the event, sits fourth overall with a 6.563 at 211.33 in her Lupe Tortilla/Elite Motorsports Camaro.
Qualifying continues Saturday at 12:30 and 3:30 p.m. for Sunday's 11 a.m. eliminations.