When Marty Chance was 12 years old, he was removing and reinstalling transmissions for his father, Neal, and his racing transmission business. A year later, he was tearing transmissions down for a builder. By 14, he was a builder, assembling automatic racing transmissions that were sent all over the world. But by the time he was in high school, Chance saw his first converter and he knew he found his calling.
"I just wanted to mess with converters," Chance says. "Why does this work? How does this work? I just found myself thinking about converters all the time and that's what I wanted to do from that point."
That passion translated into Neal Chance Racing Converters, which has become a staple in the drag racing and converter world.
Marty Chance and his family have been dedicated to innovation, developing products like the lockup converter, the bolt-together converter and the NXS full billet converter, many of which have helped revolutionize and change the face of converter racing.
But it didn't come without struggle. Even as they were setting records in the 1990s, Chance aimed to push further. That came at a massive risk and a great expense, as Chance took the ultimate chance wagering everything on technology.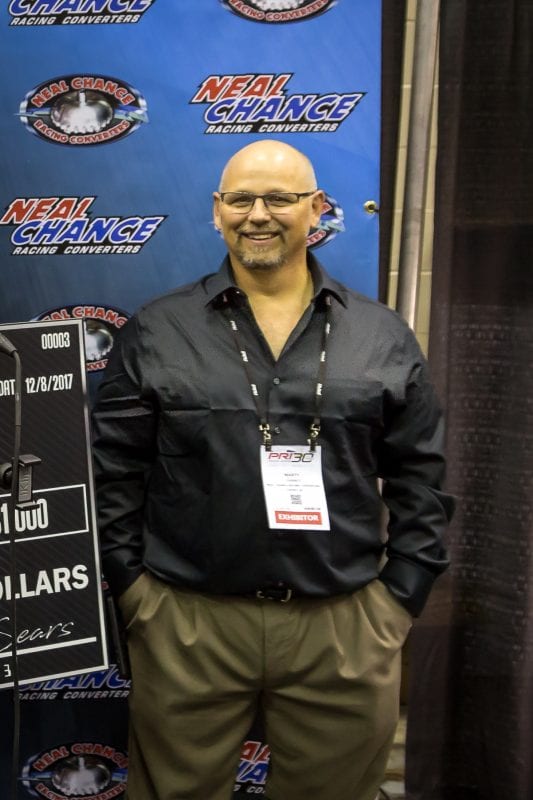 "About 20 years ago, we were setting world records, here comes Neal Chance Racing Converters on the clutch scene, eating up all these clutch classes and they're making rules against us to try and slow us down," Chance remembers. "We were having tremendous success, but it wasn't enough. I knew that to take it to the next level we were going to have to gamble everything and, I mean, roll the dice. It either was going to be bankruptcy or we would knock a home run. There was no in-between. We were betting on technology. Needless to say, technology paid off."
Being located just outside of Wichita, Kansas, proved to be a blessing for Chance, as the close proximity to multiple aerospace companies gave him the opportunity to hire engineers at the forefront of technology. But that step forward wasn't exactly conventional.
"I took my credit card to the bank, opened an account and I said max my credit card out and put it all in my checking account, and that's how I financed the start of Chance Racing Converters," Chance says. "We were definitely the Cinderella story, and the game-changer was 20 years ago, gambling everything on technology."
It has worked out, in part because of Chance's tireless work ethic and endless desire to innovate. Instead of looking at technology as the great unknown, he has chased it and embraced it. For him, the reason is simple.
"If the reason you're doing something is that's the way you've always done it, that's not a good enough reason," Chance believes. "You didn't ask all the questions. I needed someone who challenged me in every area. It's what you need if you're going to grow past you.
"That's what it takes to innovate. You have to be able to think beyond your biases. If you're going to make something better than what is already there, you have to think outside the box. You can't do what you've always done, and you have to make mistakes. Even when something fails, it's not a failure because you learned something."
While there were bumps in the road, there have been plenty more successes, such as bringing the bolt-together converter to the industry in the 1980s. From there came products like the first billet components for torque converters, the billet drive cover, the billet turbine and the all-billet torque converter. They developed the 10-strut mechanical diode and the first split-blade torque converter, as well as the NXS full billet converter, which helps shortens the learning curve going from a clutch to a converter, continuing to stack up wins and records all across the sport.
"I think what drives me is, one, doing what said can't be done," Chance says. "The best way to get me to do something is tell me I can't do it. I think I always had the odds against me. I didn't come from money and I wanted to do stuff that had never been done, and that's what we've done.
"Let me say this in the most humble way I can because I don't mean anything out of arrogance. I'm blessed and I know it, but Neal Chance Racing Converters has brought more innovation to the racing converter industry than all the others combined."
Chance's impact touches multiple classes and a huge number of standout drivers, but he's recently enjoyed great success in the drag radial world, applying the technology he's developed to the ultra-successful classes in radial racing. It includes the likes of Lights Out 9 winner Stevie "Fast" Jackson, Keith Haney and many others, but it's another challenge Chance has embraced.
"Anytime something new comes out, it poses a new challenge," Chance asserts. "It means you can't relax. You've got to get up, start all over and work your butt off, and if you don't, you're not going to be on top. It just depends on how bad you want it. So that's what drives us.
"Radial tires, what a great challenge, and then you've got all these new classes coming up. No-prep? Holy cow, it's a whole new set of challenges. No-time racing and no-prep racing is the next big, big thing. Does that mean radial racing is played out? Absolutely not. It's everywhere and it's not going to die anytime soon."
The company has continued to push forward with new innovations as well, but Chance believes the best may be yet to come. They are on the cusp of releasing a new product, one that has Chance convinced it could set his business apart. It is something more than six years in the making, but Chance is confident in calling it a "potential game-changer." It's just one of many things that has him optimistic about what 2018 could mean for his business.
"I'm off the charts (excited)," Chance beams. "2018 is going to be the biggest year ever for new technology. By the end of this year, the game will change. We have so much new stuff on the table. I just hope there's enough time to develop it all. It's the greatest time in the world to be alive. Technology is phenomenal and we can barely keep up with it. I am so blessed to be in an industry that I can be excited that I'm going to work because I get to do something I love."
This story originally appeared in DI #131, the Outlaw Issue, in March of 2018.