Last October, longtime bracket racer and PDRA tech director Ken Kershaw debuted a new Chassis Engineering-built '15 Camaro. It was one of the first cars produced by Chassis Engineering since the company returned to its roots of building complete cars.
For decades Chassis Engineering has manufactured components for drag cars and street rods. While the company took time off from building complete cars, the return was a natural fit and one that can now aptly showcase the in-house parts.
"It's a really cool deal," Kershaw says of the car. "Clayton [Murphy, Chassis Engineering owner] and I got together a few years ago. He wanted to get into building cars again. I've known him for a long time so I wanted him to build my car. That allowed me to be pretty hands-on with it. We decided it would be kinda like a shop car. It's a new-style chassis that he designed."
The Camaro is equipped with Chassis Engineering's new XTR 25.1G certified chrome-moly chassis and a Five Star Race Car body.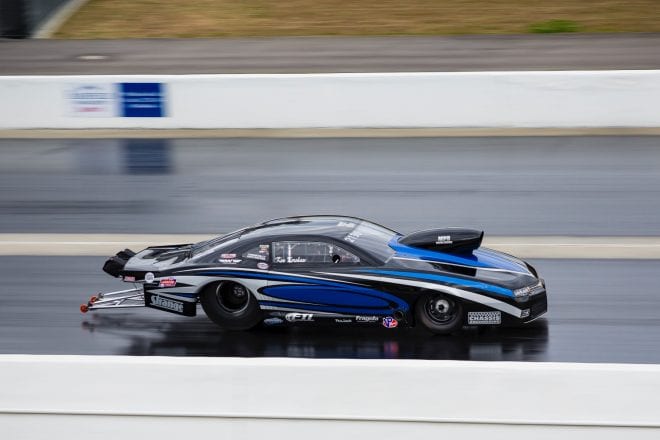 "We've had a lot of help with the car," Kershaw continues. "Strange Engineering got us the best parts that money can buy. They work great. Greg at FTI with his converter/transmission plant – it's unbelievable how that thing works. We've had eight or nine races on it, and Greg has been involved every step of the way and has been hands-on. Tim at MPR built the motor and it's making awesome power. Jason at Brand X travels with us. He did all the paint and bodywork on it to make it look nice. Lord knows I would have ended up with a can of spray paint on it. So he made it look pretty. Tommy and Jason over at Mickey Thompson helped us out with getting the right tires and making 'em so they work. We've just had a little bit of help from everybody."
As a shop car for Chassis Engineering, Kershaw's Camaro tests new products and designs. "We built all Clayton's new designs into the car, and it's working really well. Clayton has built five cars like mine since mine was started: my Camaro, two '68s, a '70.5 and a Mustang. A lot of the guys are seeing now that he can make a car work well."
The Camaro's 632 ci engine features a sheet metal intake, dual carburetors and one stage of nitrous. Its setup can be contested in the popular Outlaw 632 class that was birthed in Kershaw's and Murphy's home state of Florida. The class has now been picked up by the PDRA and is gaining notoriety around the country.
Kershaw pilots the Camaro himself when he's able, but when he's working PDRA events as the series tech director, he taps Matt Buck to wheel it. Buck took the car to the finals at the PDRA season opener in April. In addition to building the car, Murphy also handles all tuning duties.
After debuting the car at Donald Long's No Mercy race last October, Kershaw drove the car at Orlando in January and at Long's Lights Out 9 in February this year. He also plans to drive it at some NHRA Top Sportsman races and local 632 events near his Florida home. The car was built with the intention of competing in several different styles of racing and so far that's working out well for the team.
Kershaw has largely been a bracket racer over most of his career, hitting the IHRA and NHRA circuits, also competing in Outlaw 10.5 several years back. The introduction of this car is the first time he's raced heads-up since then. The team has already seen great success and is looking forward to further building their program through the addition of a team car.
"Jason from Brand X hauls the car," Kershaw points out. "We'll be running two cars when his is done, both Chassis Engineering cars. His is the '70.5 Camaro. By June or July we'll hopefully have the motor done and he'll be able to race with us, too. It works really well [to have a two-car team]. He's real excited.
"I hope we'll put it in the winner's circle again soon. I want to thank everybody that's been involved in it. And most definitely thanking my wife for putting up with me building and racing this thing."
This story originally appeared in DI #133, the Sportsman Special Issue, in June of 2018.