Maddi and Macie Gordon are no strangers to NHRA competition, having competed in over 100 Junior Drag Racing events. The 2023 NHRA Sonoma Nationals marked their first National Event, and it was only the second time they had raced at Sonoma Raceway despite it being somewhat of a home racetrack for the Paso Robles natives.
As their years in the NHRA Junior Drag Racing League wound down, Maddi and Macie came up with a plan to go racing in bigger dragsters. At the end of 2021, the Gordon family purchased a Top Dragster that both girls tested and raced in during the 2022 season. Maddi won the first race in the dragster at a quarter-mile race Super Pro race in Phoenix, and Macie finished runner-up at a Super Pro (comparable to NHRA's Super Comp) bracket race in Bakersfield. The car is now Macie's full-time ride for the 2023 season; so far, she has collected a Win at the Division 7 National Open in Sacramento.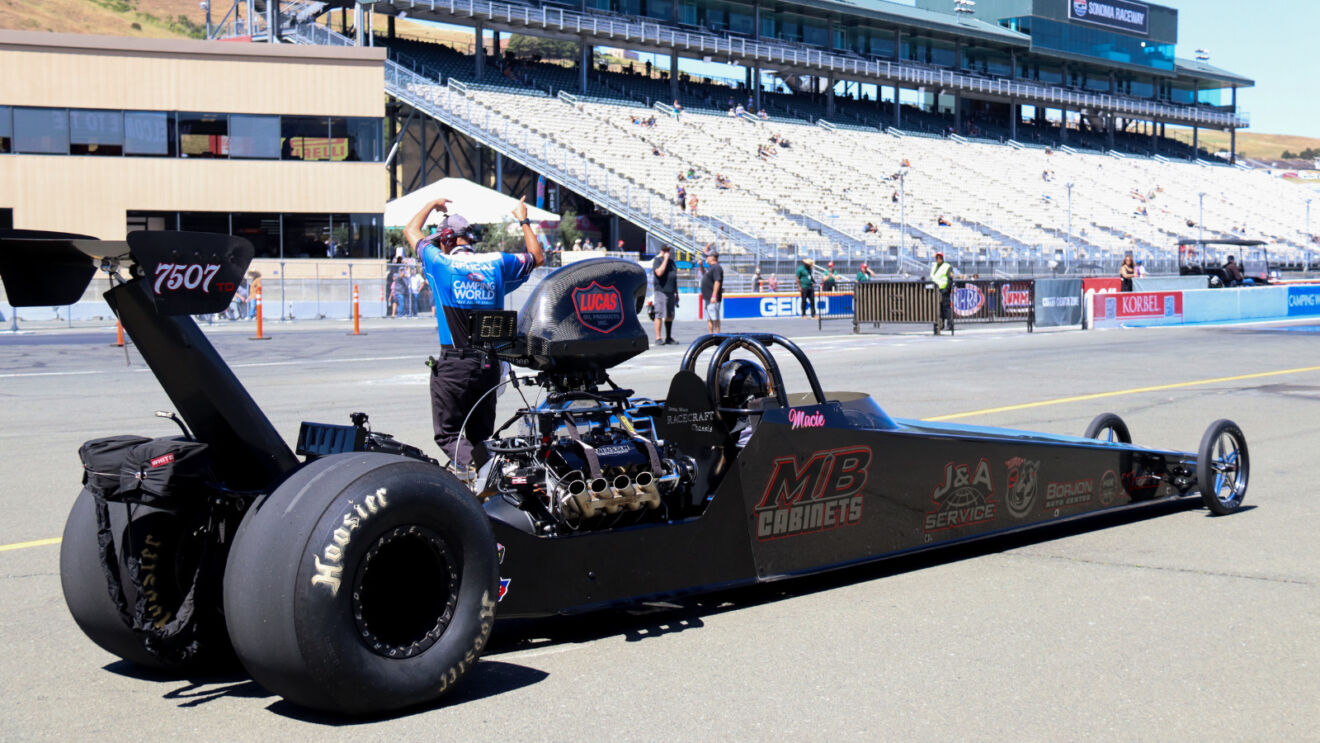 In November 2022, the family found a Super Comp car that was suitable for Maddi and eventually for her dad, Doug Gordon, once he steps out of the Top Alcohol Funny Car. Maddi was able to test the car briefly before the Thanksgiving E.T. Bracket Nationals in Las Vegas, where she had a semi-final finish on day two and a runner-up finish on day three of the event. In the 2023 season, Maddi had a runner-up finish in Bakersfield in the Super Pro category and is still hunting down her first Super Comp victory.
Maddi was entered in the 23-car Super Comp field at the NHRA Sonoma Nationals, a class that races on an 8.90-second index. During the three time trials on Friday, she recorded an 8.872, 8.808, and 8.940. Maddi earned her first National Event round win Saturday morning on a double breakout. Her 8.894-second pass, combined with a 0.013 reaction time, was enough to hold off Beau Hicks. Maddi cut a 0.003 light in round two but was on the wrong side of a double breakout with an 8.889 run to Bill Webber's 8.897.
Macie competed in the 32-car Top Dragster field and recorded 6.781, 6.796, and 6.836-second qualifying runs. Due to an on-track delay Friday evening, the third qualifying run for Top Dragster was pushed to Saturday morning. By the time Macie made her first elimination run, Maddi had already run two eliminations. Macie also collected her first National Event win, defeating Malcolm Synigal with a 0.008 reaction time and 6.850-second run, 0.06 seconds over her dial-in time. Macie went -0.004 red in the second round against Hannah Cook.
Both girls took a lot of positives from the weekend and learned more about their cars and driving strategy. When they are racing the dragsters, they collaborate with their dad, and when the team is running the Beta Motorcycles Morro Bay Cabinets Top Alcohol Funny Car, they are involved in discussions about the clutch and blower with their grandfather, Mike Gordon.
They will return to the pits with the family's Beta Motorcycles Morro Bay Cabinets Top Alcohol Funny Car in Topeka next weekend for the Menards NHRA Nationals. Maddi is the clutch specialist, while Macie is the cylinder head technician, jobs they've had since 2020 when schools were closed, so they were able to commit to a full schedule of racing while completing schoolwork online. The girls travel to all events with the family in between work and school.
Maddi has worked full-time at Morro Bay Cabinets since graduating high school in 2022. Following in the footsteps of her dad and grandfather – she's studying the family business and perfecting her fabrication skills. She is also preparing to make more licensing runs in the funny car at a Monday test session in Brainerd after the Lucas Oil NHRA Nationals. This is something Maddi has had in her sights for a few years. Now she'll have a great opportunity to make the required runs to upgrade her competition license and get more comfortable in the car. Her plan is to take the seat full-time in 2024.
Macie is preparing to start her Senior year at Templeton High School and has been taking college prep courses this summer. While at the Seattle event, she was finishing finals in between rounds. After high school graduation, she will continue to race while attending college to study accounting.
The girls will be competing again at a Super Pro race in Bakersfield October 20-22.